Who is Hunter Schafer's Girlfriend? Grab the Details of her Relationship!
Published Tue Nov 26 2019 By Travis
Though she does not like to think herself as an activist, Hunter Schafer is definitely someone who was doing her best to fight the system hell-bent on restricting trans-people from the bathroom of the sex they identify with and not the one listed on their birth certificates. Hunter Schafer was the plaintiff who got on the ACLU's court case against North Carolina for HB-2.
The case not only brought a lot of attention to the similar disparity in other parts of America, but it was also responsible for shooting the star of Hunter Schafer into the sky. Hunter went from a 17-year-old high school girl to be one of the leading faces of transgender right in America, and with the recognition came fame.
Hunter was soon hired by multiple fashion outlets for photoshoots and modeling jobs, which allowed her to bring even more attention to the plights of transgender people living in America. Her appearances in various fashion shows also attracted the attention of creators of 'Euphoria,' who asked her to audition for a role, and while her acting career was also taking off, she was also finding love.
Is Hunter Schafer in a Relationship? Who is Her Girlfriend?
Hunter Schafer is a busy person; if she is not doing a photoshoot or modeling, she is busy with the activism work. So, there is particularly little time for the actress to engage in other aspects of her life. But we humans are social creatures, and no matter how much we try to drown ourselves in work, there will always be a yearning for intimate connections.
The 'Euphoria' 'Jules' actress was once rumored to be in a relationship with another trans-person Massima Desire. The couple was pictured together, being intimate about three to four months ago, but they never confirmed their relationship publicly.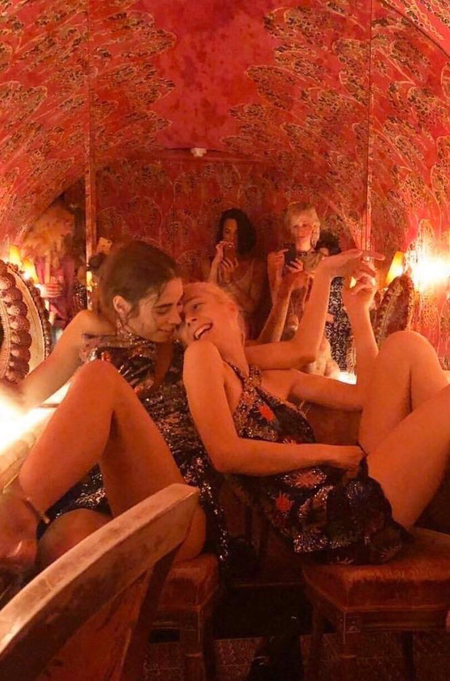 Source: Reddit
There are no pictures on her Instagram or other social media platforms, which points to the two being in a relationship, so we cannot confirm if Massima is Hunter's girlfriend.
On her Instagram, there are pictures of her and promotional clips of the show, but other than those, she is frugal about posting her personal and private life, which is why we cannot confirm if she is in a relationship with someone else either. Fans are crazy about the actress, and they would go crazy if one day, she decides to share her relationship status.
Hunter Plays Jules on the HBO Show 'Euphoria'
After becoming the face of the resistance against North Carolina's bathroom bill, Hunter was approached by different companies to be the face of their products. The bill was repealed, and she started to appear in various magazines and fashion shows around the world. She was still modeling and working on getting other restrictive laws relating to the transgender people repealed when her agent told her about the opportunity to audition for HBO show 'Euphoria.'
Hunter wanted to try her hand in acting, but she did not expect a chance to arrive so soon, which is why she was hesitant at first in taking the job. But after multiple trips to the audition room and numbers of script pages later, the actress was interested in the story where she was asked to portray Jules, who is also going through transition and shows destructive behaviors because she does not recognize the body she is in.
Watch: Rue and Jules shared intimate moments in the show Euphoria
The creator of the show, Sam Levinson, and Hunter spent hours incorporating her own experiences into the show, and it all jelled for a story Hunter wanted to be part of, and she appeared in all eight episodes of the show playing opposite to Zendaya's character 'Rue.'
Also Read: Zendaya Is Rumored To Be Dating Her 'Euphoria' Co-Star Jacob Elordi
Before you leave, make sure to head on over to our Entertainment section for all the latest news and gossip on your favorite celebrities. Also, do not forget to visit Glamour Fame to be in the know of all the happenings in the world of show business.
-->