Who is Jania Meshell? Unraveling the Connection with NBA YoungBoy
Jania Bania, also recognized as Jania Meshell, is a prominent American model, YouTuber, social media figure, and businesswoman. Her fame stems from frequent modeling snapshots shared on platforms like Instagram, where her follower count exceeds 3 million.
Jania's influence extends to her YouTube channel, where she shares vlogs on subjects encompassing fashion, beauty, and lifestyle matters. Her multifaceted online presence has solidified her status as a notable figure in the realms of fashion, social media, and entrepreneurship.
Is Jania Meshell Dating Dejounte Murray?
Jania Meshell has drawn a lot of attention due to her romantic involvements, particularly her connection with professional basketball player Dejounte Murray. People have been buzzing about their relationship, and there have been talks and rumors about them being together or breaking up.
Dejounte Murray is known for playing basketball for the Atlanta Hawks in the NBA. He has achieved significant feats, like being selected for the NBA All-Star Game and leading in steals.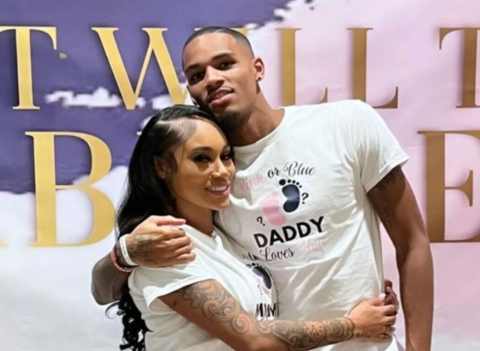 Their relationship has been a topic of discussion on social media, with many speculating about their on-and-off status. Fans have even noticed that Jania got a tattoo of Dejounte's name for the second time, sparking more curiosity about their relationship.
Recently, Jania shared the exciting news, and she included Murray in her post, indicating that they might still be together. The situation seems a bit complex, with fans closely following their journey and trying to figure out where they stand.
Why did Jania Meshell break up With NBA Youngboy?
Jania Bania, a 23-year-old social media sensation, remains unmarried. She was previously involved with NBA Youngboy, an American rapper. Their relationship, marked by an on-and-off dynamic, garnered significant media attention. However, they kept the details of their initial meeting under wraps.
Jania Meshell and NBA Youngboy's relationship was tumultuous, marred by incidents like the rapper's caught-on-camera confrontation with Jania in a hotel hallway. Their connection was toxic and involved instances of violence. By mid-2018, they decided to separate due to the unhealthy nature of their relationship.
NBA Youngboy, also known as YoungBoy Never Broke Again, released his album 'Top' on September 11, 2020, generating discussions across social platforms. The song "To My Lowest" from the album gained particular attention, with people speculating that the rapper was addressing his ex-girlfriend Jania Meshell.
NBA Youngboy Song For Jania Meshell
Quoting a chorus from the song:
"You hurt me deep when I was down to my lowest
I needed you, you ain't give a fuck 'bout me growing
All this pain I've been showing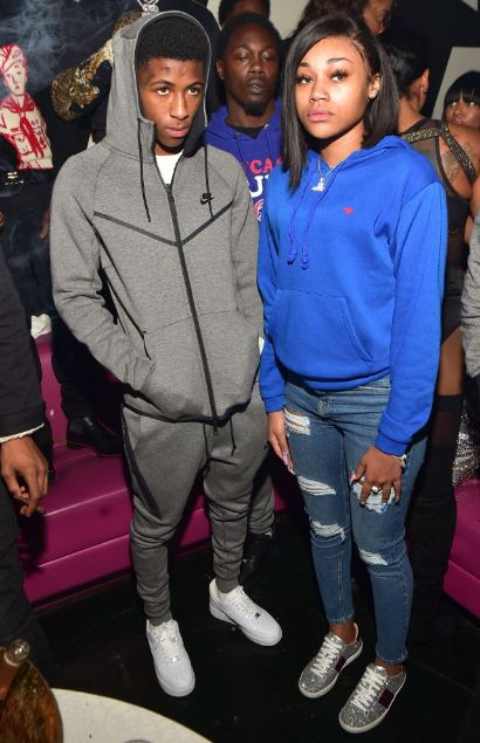 He expressed his sentiments through these lines, also touching on the theme of responsibility in raising their child:
It ain't no reason another man should have to raise my son
Claim that you bleedin', another man shouldn't have to bust your gun"
How Many Kids Does Jania Meshell Have?
In 2019, Jania Meshell welcomed a child into her family, having been in a relationship with her former partner Kentrell Gaulden, a renowned rapper. Their young child is currently 4 years old.
Despite gaining attention for her associations with well-known athletes and rappers, Jania has not publicly disclosed any details about her marital status.
Recently, this prominent figure shared news of her expecting a baby girl later this year, and in her announcement, she tagged her sweetheart Dejounte Murray.
While her intentions regarding establishing a family unit with her boyfriend remain undisclosed, it appears she is focused on securing her future through her career. It's possible that they might consider marriage once they feel adequately prepared.
Also See: Taylin Gaulden: Getting to Know YoungBoy Never Broke Again's Adorable Son
Tattoo and Surgeries
At 23 years old, Jania Meshell has adorned her body with multiple tattoos. Her inked designs can be found on her right upper thigh, left upper arm, and left shoulder, showcasing her personal and artistic expressions through body art. Jania holds the belief that individuals can alter their bodies according to their desires.
However, reports indicate that she experienced complications from a plastic surgery procedure she underwent. Dissatisfied with the size of her breasts, she sought to make them larger through surgery. Unfortunately, the procedure did not go as planned, resulting in unfavorable outcomes.
Post-surgery, Jania faced issues including blood clotting within her bloodstream. This led to severe discomfort and unbearable pain throughout her body, even hindering her ability to raise her arm. The botched surgery brought about unexpected and challenging consequences for her health and well-being.
What Happened Between Jania Meshell and King Von?
King Von's sister, Kayla B., is determined to protect her late brother's honor. She confronted NBA YoungBoy's ex, Jania Meshell after a video of Jania enjoying a party surfaced. In the video, Jania was seen dancing in a revealing black dress until a song by King Von played. She stopped dancing and turned her attention to the DJ booth upon hearing Von's song.
Kayla caught wind of the video and responded strongly on Twitter. She wrote, "You have not gone keep playing with my brother! I ain't say st the first time but stop playing acting like you wasn't getting F**ED!" This incident highlights Kayla's determination to defend her brother's memory and the tensions between those connected to King Von and Jania Meshell.
Jania Meshell's Net Worth
Jania Meshell enjoys a luxurious lifestyle, complete with an extravagant home and high-end cars. Her earnings from YouTube videos are estimated to range from approximately $30,000 to $40,000, and her modeling career brings in an estimated $25,000 to $35,000. These figures contribute to her overall wealth.
Based on these sources of income and calculations, Jania Meshell's net worth is approximately estimated to be $1.5 Million as of 2023.
Active in the Social Media World
Jania Meshell initiated her Instagram presence in 2018, but she became actively engaged on the platform around 2019. Her Instagram username is @janiameshell.
Her alluring and captivating posts garnered significant attention, boosting her demand in the modeling realm. Many of her posts achieved over 150,000 likes within just a few days.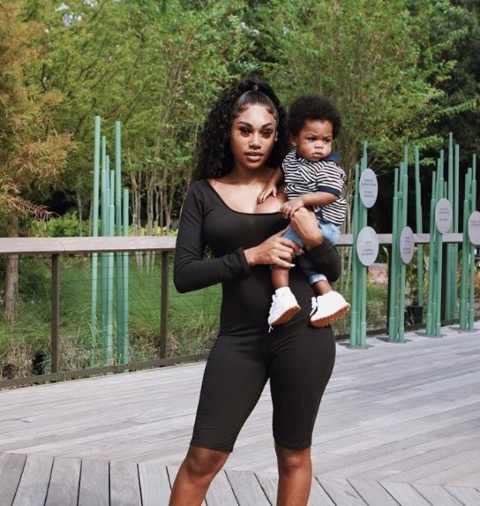 As of now, Jania has emerged as a prominent influencer, amassing a substantial following of over 3.1 million on Instagram.
In April 2019, she launched her own website called "Lash by Jania Meshell," where she offers a variety of cosmetic products tailored for women, ranging from lashes to bonnets. Furthermore, she commands a substantial following of more than 610,000 on her Twitter account.
Height, Weight, and Body Measurement
Fans are often curious about the physical attributes of their favorite celebrities, as these details can set trends and inspire others. In the case of Jania Meshell, her physical features contribute to her appeal.
Jania stands quite tall at 5 feet and 6.5 inches, which is roughly equivalent to 1.69 meters. Her weight is approximately 55 kg, equivalent to 121 lbs on the pounds measuring scale.
Stay With Glamour Fame
-->