Who is Melissa McCarthy's Husband Ben Falcone? Details of their Married Relationship
Published Fri Dec 27 2019 By Matthew
Learn all about Melissa McCarthy's husband, Ben Falcone.
From an undercover CIA agent in 'Spy' to a convicted business tycoon trying to get back into the business world in 'The Boss,' Melissa McCarthy has played it all. The 49 years old comedian actress named one of the Time's 2016 Most Influential People survived almost everything thrown her way and shines bright at the pinnacle of her acting career. Not just that, after getting rejected by most fashion designers for a dress due to her plus-sized body, she didn't just design a dress for herself but even started her clothing line focusing on plus-sized women and claimed back her self-worth.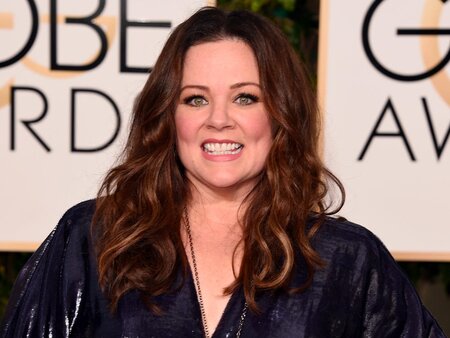 The 'Spy' actress Melissa McCarthy
Source: Business Inside
The 'Identity Thief' star Melissa made quite a big name for herself as a comedian actress in the Hollywood industry, but what of her relationship? Well, if you follow the actress's life, then you must know she has been married for almost over 14 years now to Ben Falcone. How did it come to be? Here's the full story.
Who is Ben Falcone?
The air marshal in the Bridesmaids who shared a very passionate time involving a foot-long sandwich filled with meat and cheese with Melissa in the end credits; that's Melissa McCarthy's husband, Ben Falcone.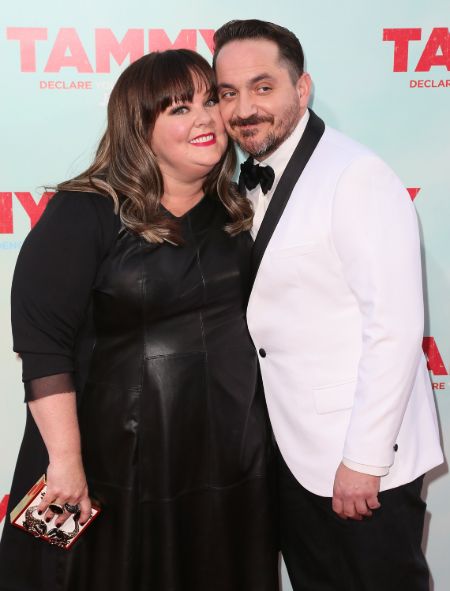 Melissa McCarthy with her husband Ben Falcone.
Source: Articlebio
Born Benjamin Scott Falcone on August 25, 1973, in Carbondale, Illinois, Ben is an actor, comedian, and a filmmaker. Melissa's husband appeared in quite a lot of movie cameos with her before starring with his wife in the self-directed and co-written movies like 'Tammy', 'The Boss', and 'Life of the Party'.
First Meetings: Comedy Class
The pair were once at a party together but wouldn't go on to meet until ten years later. Must've been fate when both keenly interested in comedy met at a comedy writing class at Groundlings comedy school in Los Angeles.
Back in 1998, Melissa went to a comedy writing class. While everybody was being loud and presenting weird characters, Ben got up to the stage and played out a silent one. He played the role of a guy who liked his new roommate. Ben's peculiarity caught Melissa's fancy.
Watch: Melissa McCarthy's 'Romantic' Anniversary Gift for Husband Ben Falcone
In The Ellen Show, she said,
I immediately was like, 'Oh, he's strange. I like him. And we were friends from, like, day one.
Talking about their first meeting, Ben said in the US Today,
From the very first time we spoke, we were on the same page.
The pair would go on to have a seven-year-long dating history before tying the knot.
Married Seven Years Later
After waiting for seven years, Melissa and Ben finally tied their marital knot on October 8, 2005. The couple has managed to stay together for a little more than 14 years now.
Melissa, speaking in an interview with More magazine, said,
I got hit with the lucky stick with Ben.
To which Ben added,
We got hit with the same lucky stick. From the very first time we spoke, we were on the same page. We love each other, respect each other, and try not to sweat the small stuff. And we make each other laugh.
Both have quite a blessed life, staying married to each other.
They Share Two Daughter Between Them
The husband and wife share two daughters. Their first daughter Vivian Falcone was born on May 5, 2007. The second daughter, Georgette Falcone, was born on March 22, 2010.
Also See: Melissa McCarthy Set To Replace Steve Harvey As Host Of NBC's Little Big Shots
The youngest, Vivian, shares a very close resemblance with her mother because of which she played the younger version of Melissa in 'The Boss.' The mother of two describes her youngest as the one having all the weird scenarios in her head.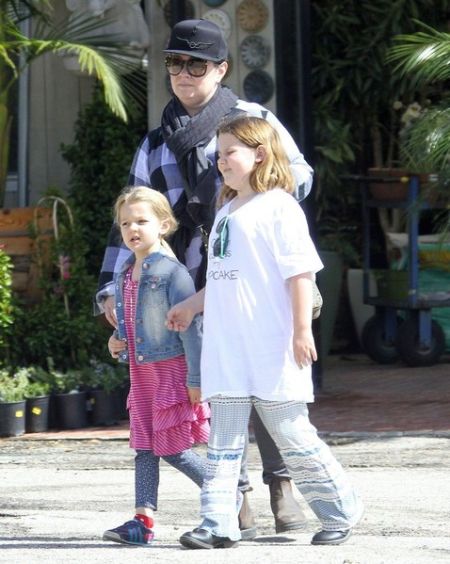 Melissa McCarthy with daughters Vivian and Georgette.
Source: Zimbio
Talking about Georgette, who is very much into make-ups, in The Ellen Show, Melissa revealed,
She tries to go right down the stairs and out the door, and I'm like, wait, what? Full face of makeup, shirt in like a ponytail holder, and like a heeled boot.
Despite her busy schedule as one of the highest-paid actress, McCarthy doesn't ever miss spending time with her daughters. She's had help from her husband, Ben Falcone, who even wrote a book about being the father of two. The book is titled 'Being a Dad is Weird.'
For more articles on celebrity relationships and love life, check out the entertainment section at Glamour Fame.
-->