Who is Shiloh Jolie-Pitt? Detail About her Lifestyle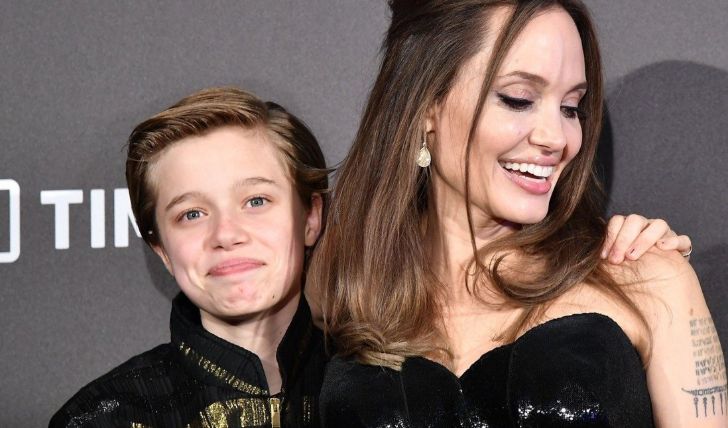 Get to Know Shiloh Jolie-Pitt: The Star Child is All Grown Up!
Shiloh Jolie-Pitt has got the best of both her parents. Daughter of arguably the most successful and attractive actors, Angelina Jolie and Brad Pitt, Shiloh was the couple's first biological child. Brangelina, as the couple was famously known before their infamous divorce, also has two biological kids and three adopted ones.
Shiloh's first three siblings, Maddox, 20, Zahara Marley, 16, Pax Thien, 17, were all adopted internationally. Angelina and Pitt welcomed their fifth and sixth child, a twin, Knox Léon and Vivienne Marcheline, in 2008. Shiloh, 15, recently accompanied her superstar mom to her upcoming movie Eternal's premiere in London. Fans noted the little girl who used to rock tomboy look in the past is all grown up.
Brad and Angelina to Educate their Children Traditional Way!
When Brad and Jolie announced their split in 2016, many questioned how their separation would mold their children's future. It was not until April 2020 that the court declared the couple divorced and soon decided on their children's fate; Brad ad Angelina was given shared custody of their six children.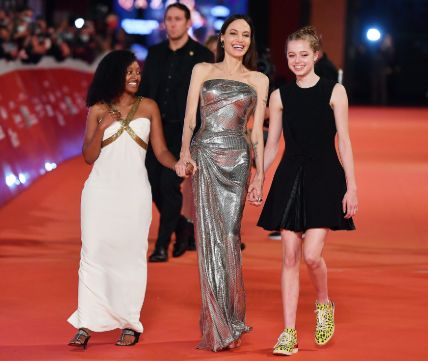 Jolie and Pitt decided they wanted traditional schooling for all their children.
Photo Source: People
The media that went frenzy when the duo announced their split, with some speculating its impact on their children's upbringing, were now assured that the pair were on the same page as parents. Jolie and Pitt revealed they are changing their kids' education style to traditional schooling, and the ruling was no different for Shiloh.
Don't Miss: David Boreanaz's Kids: Learn About His Family Life Here
The Academy-Award winning actress once revealed that all of her children were on their educational venture, and all were learning different languages. The actress specified, Shiloh was learning Khmai, which is a Cambodian language. Not much is known about Shiloh's life, who is in her early teenage years, but because she was Jolie's first biological child, her birth alone was a huge deal back then.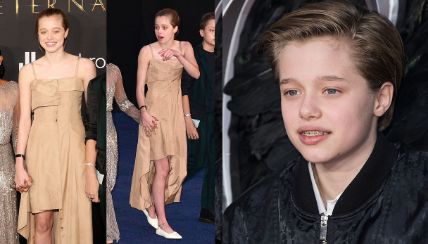 Shiloh was born in Namibia in 2006.
Photo Source: Remo News
When Jolie was pregnant with Shiloh, she and Pitt traveled to Namibia to avoid the intense media scrutiny around their child. Shiloh was born on May 27, 2006. Then married-couple, Jolie and Brad sold baby Shiloh's picture for $4.1 million, all of which were donated to UNICEF.
Shiloh Jolie Wears Mom's, Dior Dress!
Fans are in awe of the 15 years old, who has seemingly gone through a massive style transformation. Starkly known for her tomboy couture, Shiloh would often wear her trademark polo shirts, jacket, and trousers at events as a child, but the teenager recently revealed a much more dainty look as she wore her mom's Dior dress for the U.K Eternal's premiere.
Not the first time Shiloh restyled her mom's old dress.
Source: ET Canada
Shiloh reused her mom's Dior dress, the ones Angelina wore back in 2019 at the Los Angeles global press conference for Maleficent: Mistress of Evil, but the 15 years old did give the dress a fresh twist. The full-length gown was tailored to Shiloh's knee-length, and she styled it with plain black ballet flats and a pair of hoops.
Recommended: Does Halle Berry Have Kids? Learn All the Details Here!
It appears the philanthropist mother has taught her kids better, as her daughters are often spotted wearing her hand-downs. A while back, Zahara wore her mom's shimmering gold Elie Saab gown, and just last week, Shiloh restyled one of her mom's old dresses.
For more information and news on your favorite stars, stay connected to Glamour Fame.
-->