Who is the Wife of Crown Prince of Saudi Arabia, Mohammad Bin Salman?
Published Thu Aug 08 2019 By Chester
Unfold the under wrap marital details of Saudi Arabia crown prince Mohammad Bin Salman.
Since there are lots of rumors buzzing about the crown prince of Saudi Arabia Mohammad Bin Salman and his sizzling extramarital relationship with the actress Lindsay Lohan, we have come up with details of the low-key wife of Prince Mohammad.
For a moment we thought the Crown Prince was still single and 'bout to mingle, but Salman is married to Princess Sara bint Mashoor bin Abdulaziz Al Saud in Saudi Arabia.
Prince Mohammad and Princess Sara.
SOURCE: Keyword Basket
The Royal pair got married in 2006, and by reports, they share four children. The princess did not travel around Mohammad during his tour in the US last year, so there is not much of a public image to display.
Besides, precise information about the royal family and their princess is kept under wraps for security purposes and strict policy that Saudi Arabs follow towards female privacy and confidentiality.
Notably, don't deceive Salman's wife with Princess Sara bint Talal bin Abdulaziz Al Saud, the so-called "Barbie Princess" who is the cousin of Mohammad Bin Salman.
Who Is Game Of Thrones' Missandei Actress Nathalie Emmanuel's Boyfriend? Learn The Details Of Her Relationship And Dating History! >>>
Coming back to the burning gossips of Mohammad and his tangy relationship fumes with the model Lindsay, the internet is circulating with rumors regarding Lohan and the crown prince of Saudi Arabia getting close, flying around, showering with presents and even offering her credit cards.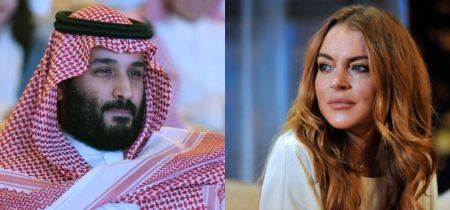 Rumors are flying about Lindsay Lohan getting close' to the Saudi Crown Prince.
(SOURCE: Parlho)
As per sources of Page Six, the couple met around a year ago at a Formula One Grand Prix race and since then they are going strong.
However, both the parties deny the whole thing and share they are actually real-life good friends, and that's it. Claiming all the things we've been reading in tabloids and magazines are just whispers.
So far, critic and media claims there is something hitching between the two, but all the associates in the situation are silent about it. Well, being a member of the trillionaire family and living an envying life of riches, Salman is just enjoying his life.
John Cena's New Girlfriend Shay Shariatzadeh Dating History - Who Was Her Boyfriend Prior To The WWE Superstar?
Stay tuned and connected to find more intriguing articles on the burning internet sensations.
-->