Who Is Richer, Rihanna or Beyonce? Check Out How Much The Top Female Musicians Earns
Published Fri Jun 14 2019 By Travis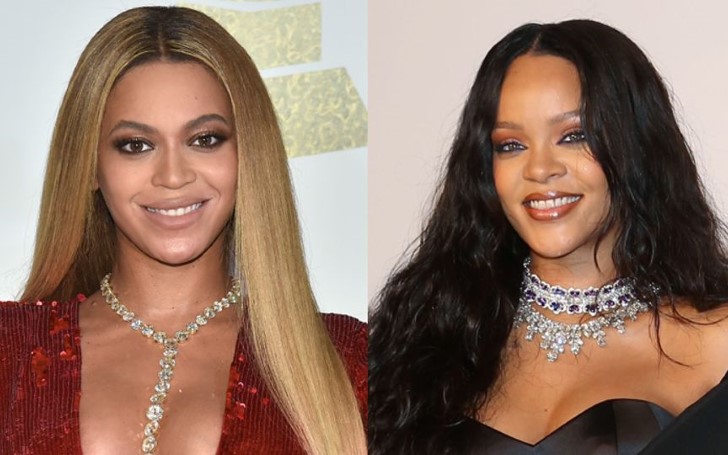 Beyonce is the pioneer for the female music industry, no one's really bigger and more beloved than Beyonce. Rihanna though slowly and surely covering up the grounds, she may never have the influence that the name Beyonce does but Rhinna is without a doubt one of the most influential people in current culture.
Beyonce started out as the lead singer of the hit R&B group Destiny's Child but since 2002 she charted her own solo career, starting with her monster hit album 'Dangerously in Love', and leaving 'Destiny's Child' in 2007. Beyonce's albums are always on top of critics' list and Billboard charts.
The measure of her popularity and fame was on full display when she released her eponyms album in 2013, with no promotion she dropped the album in its entirety on December 13, 2013. The album went on to sell 800,000 plus copies in just three days, most albums with months of promotion and hit singles can't even hit that kind of number.
She did the same thing again in 2016 when she surprise released 'Lemonade' which again made its way to the top of the charts. With 23 Grammy Awards, over 160 million records sold worldwide and the only artist to have her 6 consecutive solo albums to debut at number 1, Beyonce has stamped her print on the music industry.
She has been able to amass a $450 million net worth on her own through her endorsements and record deals. She only appeared in Coachella sorry sorry "Beychella" last year and she was still able to make $60 million for the year of 2018. And most recently, her husband, Jay also became the richest musician of all time as his net worth surpassed a staggering $1 billion.
Beyonce is the pioneer for the music industry, everything she touches is gold, but Rihanna is not far behind. Rihanna had her announcement into the music scene after the cosign by Beyonce's mogul husband Jay-Z on the Grammy-winning symbol. Since then Rihanna has gone on to sell more than 250 million records worldwide.
Since 2016 she has not released music as a solo artist but turned her head towards entrepreneurship. She started her own beauty line 'Fenty Beauty', based on her name Robyn Rihanna Fenty.
During her 2016 world tour, Rihanna was paid $25 million to promote Samsung. This was not what made her the richest female musician in history. She is the part owner of the streaming site Tidal which has gone on to sell its stake for millions of dollars. But this was also not the thing that pushed her over the hump, she started as creative director for 'Puma' and soon her involvement ' helped Puma' with a 13% increase in sales.
She started her fragrance line, 'Reb'l Fleur', which brought in $80 million in total sales. In 2018, she started her retail beauty line which sold $100 million in the first week. According to business insider 'Fenty Beauty' is valued at $3 billion, so yeah Rihanna is leaving the competition behind with business dealings.
Rihanna demonstrating her perfume Reb'l Fleur
SOURCE: Rolling Stone
From her $20,000 per week mansion in London to her $300,000 per week yacht ride across 'Cote d'Azur' she is not afraid to flaunt her wealth and the way her beauty lineup is going, her company will be worth $25 billion by 2025.
From real estate dealings to beauty products to perfumes to clothing line, Rihanna has been nothing but amazing in her business dealings. She is not going to outshine Beyonce when it comes to her public perception but she is definitely going to end up as the first female billionaire of the music industry.
Rihanna at the Met Gala dressed up as the pope.
SOURCE: T: The New York Times Style Magazine
Starting out as a pop singer to now dating a billionaire heir to making herself into a business mogul, Rihanna (rih-ann-ah and not rih-an-nah, as it is supposed to be pronounced according to riri) is not stopping and like her song with Drake in her 2016 album, Anti, she is nothing but 'Work, work, work, work, work' and her bank account shows.
-->