Rihanna's New Luxury Fashion Line Is A Groundbreaking Moment for Fashion
Published Tue May 14 2019 By Chester
Rihana the first ever lady of color to collaborate with one of the leading fashion line 'Moët Hennessy Louis Vuitton'.
Robyn Rihanna Fenty professionally Rihana has always fascinated us with her unique sense of stylings and wardrobe collections. She is regarded as one of the 'trendsetters' in the Hollywood music industry significantly to modern pop generations.
Well, the 'Pop Queen' is back at it with the revolutionary and trendy fashion collaboration with on the world's largest luxury group 'LVMH' aka 'Moët Hennessy Louis Vuitton'. With this, the singer broke yet another barrier becoming the first ever women of color to launch her own label under "LVMH".
'The Shine Like a Diamond' star shared the news on Friday regarding her new Fenty lineup on Friday, May 10.
View this post on Instagram
Through the deal, Rihana will be provided a luxurious mansion in Paris. 'The Wild Thoughts' hitmaker will become the first celebrity since 1987 to launch a new house with the multinational luxury goods trademark. The last one being Christian Lacroix.
Also, Read: Rihanna Flaunted Her Legs During A Romantic Date With Boyfriend Hassan Jameel
Besides, Rihana is also the first ever lady to create an original brand at LVMH, a fashion company that grossed more than $500 million dollars in sales with many different branches of beauty products and campaigns.
While rejoicing over the fact, Rihanna said in an interview to USA Today,
"Designing a line like this with LVMH is an incredibly special moment for us."
Rihana, 31, furthermore, thanked the chairman and CEO of LVMH, Bernard Arnault, for providing her with 'such huge opportunity to develop a fashion house at such luxury sector with no contracts and other business limits'.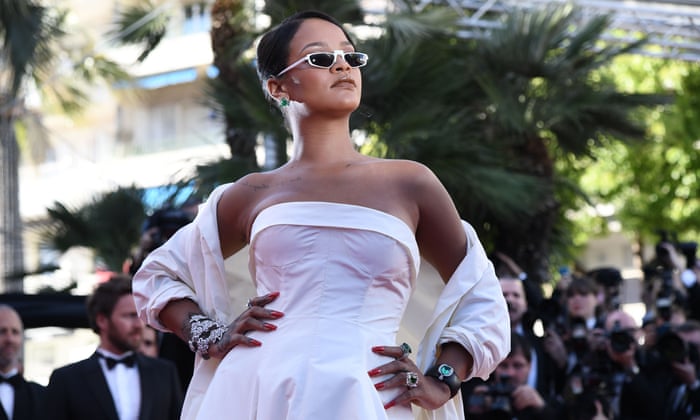 Rihanna launches an upmarket fashion label with LVMH group
SOURCE: The Guardian
The singer is happy about all the privileges and openness she has been provided by the company that allows enhancing her creativity and sense of style without any barriers or restrictions.
Chris Brown Released in Paris with No Charges; 'Heartbroken' Over The Possibility Of Being Locked Up & Away From Daughter >>>
Coming to the statement by Arnault regarding the new collaboration with fashion icon Rihana, Arnault shares,
"Everybody knows Rihanna as a wonderful singer, but through our partnership at Fenty Beauty, I discovered a true entrepreneur, a real CEO, and a terrific leader."
Well, we definitely like to congratulate Rihana for her success and achievements, as well we are proud of her new collaboration representing women of colors and eagerly waiting for 'Rihana X Fenty' collections to drop.
-->