Yolanda Hadid Surgery - Did She Remove All Her Implants and Extensions?
Published Mon Dec 30 2019 By Travis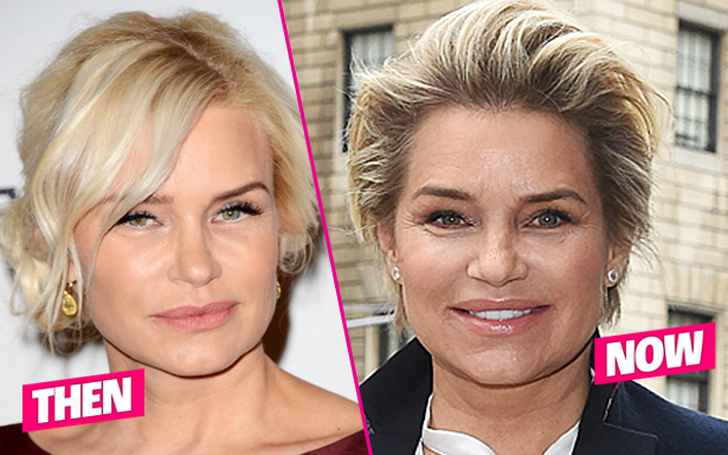 Yolanda Hadid is an actress and reality star, but she is most famous for being the mother of Gigi, Bella and Anwar Hadid, all supermodels working for IMG models. Yolanda was born on 11 January 1964 in the Netherlands, and she was discovered by Eileen Ford, and she modeled for Ford Models for years.
At the height of her fame, she also married her first husband, Mohammed Hadid, in 1994, and the couple's first child Gigi was born in 1995, followed by Bella a year later and Anwar three years after that. The marriage lasted until the turn of the century when the couple called it quits and got divorced in 2000.
Yolanda Hadid is an actress and the mother of Gigi, Bella and Anwar Hadid.
Source: Instagram
But with time comes wrinkles and saggy body parts, and Yolanda made her career as a model whose curves and face were her asset. As the model explained later on in her life, she was given an idea as to what a beautiful woman is supposed to look like. So, in order to fit the narrow constraints of the people in her business, Yolanda Hadid plastic surgery started.
Yolanda Hadid Plastic Surgery – The Model/Actress said She got Work Done All Over Her Body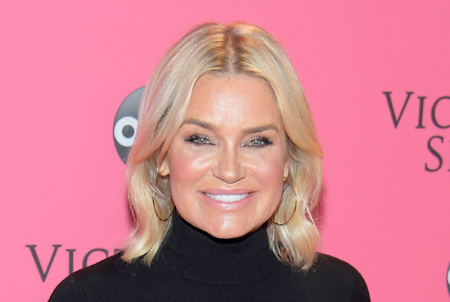 Yolanda Hadid got breast implants, botox, fillers, hair extensions to help with her career.
Source: Page Six
Yolanda Hadid Plastic surgery was due to the people around her who tried to fit her in their narrow vision of what a beautiful woman should look like. So, in order to stay relevant and still find work, the Supermom decided she needed to get some work done on her body. But the cosmetic work was not the only thing she got, implants, fillers, botox, everything was used to keep her youthful look intact.
The actress later revealed, all the chemicals on her body resulted in the actress suffering from some complications. Yolanda revealed she started getting rid of all of her plastic surgery work once she realized the damage they were doing to her body.
Yolanda Hadid Plastic Surgery – Getting Rid of Her Breast Implants, Botox, Fillers, Hair Extensions and all the Other BullSh*t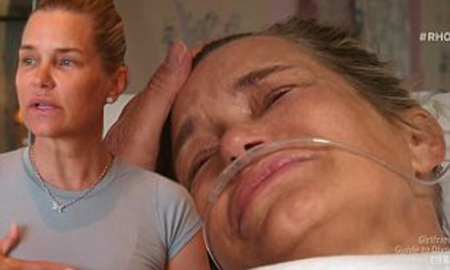 Yolanda Hadid got surgey to remove all of her plastic surgery work.
Source: Mail
You could tell Yolanda Hadid went under the knife just by looking at her, her botox filled face was leathery, and fillers used on cheeks made it all puffed up and gave an unnatural look to her appearance. The botox was used to hide her wrinkles and give a smooth finish to her face, but all the plastic surgery in the world comes with a cost.
Yolanda also got her breast a couple of sizes larger after getting silicon place in her boobs, but the complication with the silicone was the reason for the actress wanting to be rid of all the plastic surgery work done on her body.
Also Read: Erica Mena Plastic Surgery Details - Everything You Need to Know
In 2015 the actress revealed her breast implants were leaking silicone into her body, and it was getting dangerous. This resulted in the actress getting the implants removed, and recently, she wrote on her Instagram page, "Your health is your wealth, so please make educated decisions, research the partial information you're given by our broken system before putting anything foreign in your body."
Going Free - Removing All Her Implants and Plastic Surgery Work to Live a Healthy and Happy Life
Yolanda Hadid shared this picture on her 55th birthday to commemorate her being free of all the plastic surgery work.
Source: Instagram
If you ask Yolanda Hadid's plastic surgery experience now, the actress will definitely say it was a mistake on her part. She should've never gone through with it, and in the same post on during her 55th birthday in 2019, the actress said she made a mistake getting the implants and after getting rid of the cosmetic work resulted in her getting her freedom.
The actress wrote, "It took me many years of undoing some bad choices I made for myself before I finally found the freedom to sustainable internal beauty and acceptance of what is the best version of myself by no standards but my own … It's on us to learn to love our selves and celebrate our unique, one of a kind beauty at all ages as we move through this journey called 'life.' Beauty has no meaning without your health."
Yolanda Hadid said she is plastic surgery free and living her best life.
Source: Instagram
Yolanda Hadid also used her birthday to announce she was 55 years old and free of all the plastic surgeries for the first time in years. She also stated she was "back to the original 1964," self, the actress meant back to her natural days.
The model/actress wrote, "Finally back to the original 1964. Living in a body free of breast implants, fillers, botox, extensions, and all the bulls—t I thought I needed in order to keep up with what society conditioned me to believe what a sexy woman should look like until the toxicity of it all almost killed me."
Also Read: Mary Kate Olsen Plastic Surgery - The Real Truth Here
Plastic surgery is a big commitment; it sometimes gives the person who gets them, confidence, and way to deal and a rejuvenated sense of self-worth. But before you get surgery, one must learn about all the consequences of what extensive surgeries can do to you and your body. If the risk is smaller than the reward, then definitely do it, but Yolanda Hadid plastic surgery admission is a cautionary tale and also a learning experience for people looking to get plastic surgery work done.
Before you leave, make sure to visit Glamour Fame to be in the know of all the happenings in the world of show business.
-->