YouTube Star Jojo Siwa Opens Up About Her Sexuality Lauren M Johnson
YouTube star Jojo Siwa shared the news of her sexuality with a quirky picture on Twitter.
Jojo Siwa just shared a picture of herself with a t-shirt that read, "Best. Gay. Cousin. Ever" in her Twitter account. Her fans were quick to comment on the picture with loads of positive comments.
The 17-year-old also shared her feelings via an elaborated Instagram Live on Saturday, where she said, "Personally, I have never ever been this happy," along with mentioning how she's not ready to put a label on her sexuality.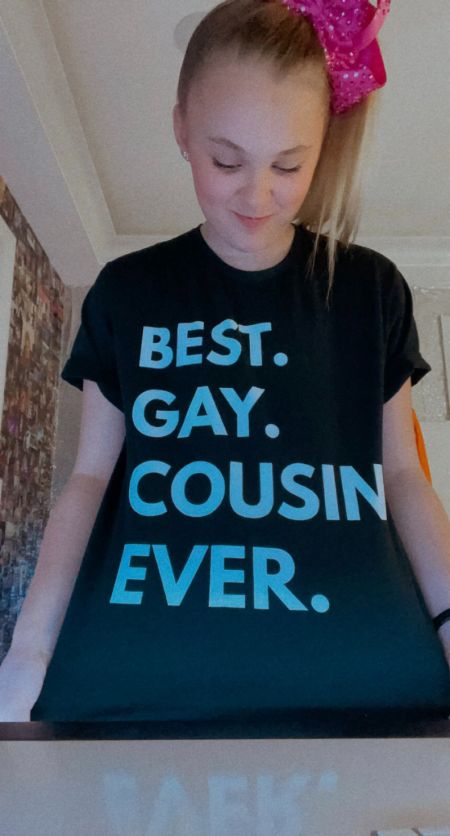 Jojo Siwa Twitter post about her sexuality.
Photo Source: Twitter
The YouTube star candidly revealed that "I'm not ready to say this answer because I don't really know this answer ... I think humans are incredible people,"
"Right now, what matters is that you guys know that no matter who you love, that's OK and that it's awesome, and the world is there for you!"
The young celebrity says that she's just felt that way her whole life, "I always believed that my person was going to be my person and if that person happened to be a boy great and if that person happened to be a girl great!"
Although the video was taken positively by most of her fans with endless congratulations and well wishes, it did have a downfall as well.
Watch: JoJo Siwa comes out as a member of LGBTQ community l GMA
Barely hours after her confession, 50 police officers stormed her house in Los Angeles, California, alleging that an incident occurred at her home.
Later on, Siwa clarified the situation along with videographer Nate Javi that she was indeed swatted, "Basically, there's this thing called swatting," Jojo explained. "We're at our house, and all of a sudden, there was a whole bunch of police telling us to come outside the home,
We went outside, hands up, because you have to obviously follow the rules, and then the police were saying that somebody had called and made a claim."
You may also like: Who is Rob Riggle Wife? Here's Everything About His Married Life
For more news and updates about your favorite stars, please stay connected with us at Glamour Fame.
-->