Who is Zion Williamson's Girlfriend in 2021? All About His Love Life Here
Published Thu May 20 2021 By Frances
Is Zion Williamson single? Find out all the details here.
NBA player Zion Williamson became the 4th youngest player to play in the All-Star game in 2021. Honored as NBA All-Rookie First Team in 2020, Zion ranked first among his competitors in points per game, leading him to become the first rookie after Michael Jordan in their first 20 contests.
The Jordan Classic Award winner, Zion, is a respectable athlete in his field. With his popularity, many fans are curious to know whether Williamson is currently single or not.
Zion Williamson is Currently Single As of 2021
It is good news to Zion Williamson's fans around the world that he is currently single now. Though he was in love with his high-school sweetheart, at the present day, he is focusing on his career than being distracted from it.
Zion Williamson is ambidextrous.
Photo Source: Pinterest
The couple met each other in Spartanburg Day School. As per Goosipcop, Zion Williamson was senior to his ex-girlfriend Tianna White. Known about Zion being a popular basketball player since his high school days, his lover was also popular as she was a cheerleader and a volleyball player.
All details here: BTS, Justin Bieber, Lady Gaga And Many Appearing in Friends: The Reunion HBO Max Special
Like a scripted high school romance, Zion and Tianna were popular couples in their school. Nobody in the school ever expected that the duo would drift apart, but sadly, they parted their ways in a mutual understanding.
Fans also encouraged Zion not to leave his beautiful girl after looking at the pictures of the love birds' prom datesbut it is not necessary that one need to fulfill the fans' demand forcibly.
Zion Williamson's Personal Information
Zion Williamson was born on July 6, 2000, in Salisbury, North California. At the age of five, his mother, Sharonda Sampson, divorced from Lateef Williamson and married Lee Anderson.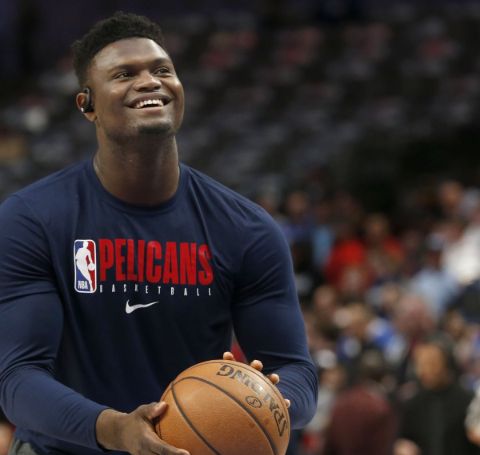 Zion Williamson is the first rookie to win the first 20 contests after Michael Jordan.
Photo Source: The Guardian
His name was given by his mother resembling the biblical location near Mount Zion near Jerusalem while taking advice from his grandmother to name him "something extra special." With having a special name, Zion stands to his name being extra in the basketball arena by resembling himself as the basketball legend Michael Jordan.
Don't miss: Edinson Cavani Extends One-Year Contract With Manchester United
On top of dunking his shots effortlessly during a match, Zion Willamson is also generous. During the current covid pandemic, he pledged to pay the salaries of the employees of Smoothie King Centre for 30 days due to delay in the 2019-20 NBA session.
If you want to read more similar articles and get the latest updates and news on your favorite celebrity, do visit us at Glamour Fame.
-->