10 Best Face Masks Which Will Change Your Face in 2019
Published Sun Dec 30 2018 By Arina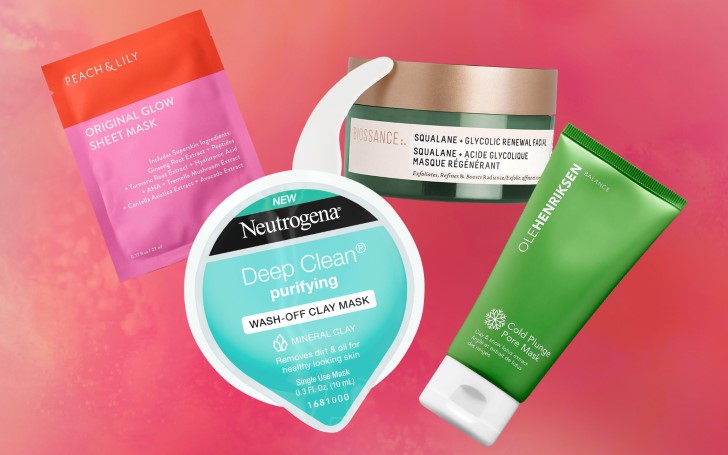 Finding the best masks can do a wonderful job for your skin. The various ingredients used in the mask helps to tighten, brighten, exfoliate, plump and hydrate the skin which overall helps to enhance the complexion of the skin.
We can find countless face masks available in the cosmetics market. However, it is difficult to determine which works best for your skin types.
Today, we have enlisted the top-rated masks that contain high quality and effective formula which helps to transform your skin.
10. Aztec Secret Indian Healing Clay
SOURCE: Amazon
If you are searching for the deep pore cleansing mask then, this is particularly for you. The natural calcium bentonite clay ingredients formula in the mask delves deeply into the skin and clears off all the impurities from the skin. Moreover, the mask has the incredible power in refreshing and soothing the pores.
9. Tatcha Violet-C Radiance Mask
SOURCE: Tatcha
The mask has the powerful Japanese beautyberry which is super rich in antioxidants and vitamins C. It will instantly reveal remarkably softer smoother skin. Besides this, a gentle 10 percent AHA complex body lotion of seven fruits helps to debris and improve the skin texture and gives youthful skin.
You May Also Like: Best Products to Have Attractive Glow and Beauty on Your Face
8. Belif True Tincture Chamomile Mask
SOURCE: Maskepedia
The wash off type mask is an infusion of Chamomile Tincture extract. The organic flowers instantly soothe and hydrate rough dry and flaky skin. Additionally, it also helps to revitalize and stress skin into a radiant complexion.
7. Dr. Jart + Cicapair Tiger Grass Nightly Re.Pair Mask
SOURCE: Glamour
This overnight mask will provide you an intense moisturizer to your skin and deliver maximum benefits. In addition, it also relieves redness caused by the dryness and leaves the skin dewy, refined and healthy in the morning.
6. The Body Shop Tea Tree Anti-Imperfection Night Mask
SOURCE: BanglaShoppers
This product is specially formulated to take care of blemishes and imperfections while you are at sleep. Infused with salicylic acid and Community Trade tea tree oil, the mask helps to reduce the size and the number of imperfections. Besides, you can wake up to clearer, refreshed, purified and toned feeling skin.
You May Also Be Interested: Best Natural Hair Products of All Time
5. I Dew Care Take It Easy Calming Calamine Mask
SOURCE: Ultra Beauty
This product is specially crafted with a combination of Hawaiian Cay and Pink Calamine. The clamping mask hydrates, brighten and soothe red, dry and flaky skin. On top of that, it also helps to detoxify and gives you clean, moisturized and supple skin.
4. Fresh Vitamin Nectar Vibrancy-Boosting Face Mask
SOURCE: Fresh
The product is a vitamin fruit complex featuring concentrated citrus fruit that helps to gently refine the appearance of the skin. It also helps to soften, smooth and improve clarity. This highly innovative mask is formulated with a proprietary vitamin fruit complex which improves and revitalizes minerals providing healthy-looking skin.
3. Glow Recipe Avocado Melt Sleeping Mask
SOURCE: Glow Recipe
Avocado Melt Sleeping Mask is creamy and heavenly with a wonderful smell. This sleeping mask helps to nourishes and soften dry, tried skin overnight. Moreover, it also helps to eliminate dry flakes and dull skin so that you can wake up with glowing and plumpy skin.
You Don't want to Miss: Find Out The Fancy Face Creams For Your Skin Only, Suggested By Dermatologists
2. Summer Fridays Overtime Mask
SOURCE: Cult Beauty
An overtime clarifying mask is packed with vitamin A, K, and C. The pumpkin exfoliates and hydrates skin for blinding brightness. On top of that, it also helps to polish away dead skin cells for the luminous effect.
1. Neutrogena Brightening Hydrogel Mask
SOURCE: Neutrogena
This mask is made of a unique 100 percent gel material. Enriched with vitamin B3, the hydrating face mask leaves the skin luminous, evenly toned and radiant. Furthermore, it is gentle to the skin and non-comedogenic so that it would not clog pores and is suitable for all types of skin.
These are the best heavenly smelling face masks in the form of clay, gel, and cream. They undoubtedly work wonders providing multi-purpose for different types of skin.
-->