With the accumulation of high-end name and fame, it's not uncommon for celebrities to collect the vehicles to suit their lifestyle and preferences. Their collection starts from classic Lincoln continental to modern Pagani Huyara.
Their ride ranges from cheap cars to extravagant and expensive luxury cars exceeding 8 to 10 million dollars. Below are the list of the top 10 vintages and the most unique cars owned by famous celebrities so far.
10. Justin Bieber: 1965 Lincoln Continental
SOURCE: Auto Evolution
This famous Canadian singer Justin Beiber owns restored 1965 Lincoln Continental which he actually received on his 21st birthday back in March (2015). The Believe singer has been spotted taking his new ride on the road along the Beauty And A Beat's friends John Shahidi and Sammy Shahidi the other day.
It appears the brothers purchased the classic for $20,000 then had some proper tuning work done to it for several months before they would gift it to him.
9. Kendall Jenner: 1969 Chevrolet Camaro SS Convertible
During 2015, in August Kendall Jenner was seen driving her only muscle car Chevrolet Camaro SS Convertible around Beverly Hills. This first-generation Camaro debuted in September 1966 up to 1969. With a rear-wheel-drive GM F-body platform, it was available as a two-door coupé or convertible.
See more: Kendall Jenner Goes Braless and Flashes Her Nipple On The Red Carpet At British Fashion Awards
8. Rowan Atkinson: Aston Martin V8 Vantage Zagato
SOURCE: Reddit
In 1998 a famous comedian, widely known as Mr. Bean, Rowan Atkinson, purchased the first right-hand drive car and had it converted to Aston Martin Owners Club racing series C2 specification.
The conversion was undertaken by Aston Martin Works Service and total rebuild cost was around 220,000 GBP. The famous Tadek Marek 5.3 V8 engine was reworked to produce an estimated 482 bhp. It retired racing in 2007.
7. David Beckham: Aston Martin V8 Vantage
SOURCE: news-af
The former soccer star David Beckham owns a classic Aston Martin vantage in an uncommon deep red color. The Beckhams were seen in their Aston Martin cruising around Madrid, Spain in 2015.
Also see: David Beckham Was in Party with Super Model Helena Christensen in Miami
6. Kylie Jenner: Ferrari 458 Italia
SOURCE: Best Ride
The famous model from a Jenner family, Kylie Jenner owns this 2011 frankfurt premiered convertible variant Ferrari 458 Italia white in color. It features an aluminum retractable roof that can be opened in just 14 seconds.
With a minimum top speed of 320 km/h, this incredible beauty was gifted by her boyfriend Tyga on her 18th birthday who reportedly spent over $320000 on it.
5. Paris Hilton: Bentley Continental GT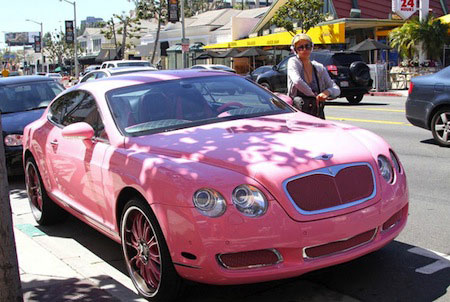 SOURCE: Celebrity Cars Blog
Hotel heiress Paris Hilton is no stranger to the finer things in life. The well-known socialite is obsessed with the color pink, from her nails to her pets, the love for color pink has extended to her $250,000 Bentley Continental GT which she has turned completely pink.
She has a customed pink dashboard, paint job, and hand dyed pink leather seats. Even her gear stick is dripping in rose pink Swarovski crystals. The seats of the car are also hand stitched with her signature to give it that Paris Hilton twist.
4. Jay-Z: Maybach Exelero
SOURCE: Luxury World
The multi-platinum recording artist, Jay Z has some of the most unattainable vehicles in his collections. The coolest car is by far the Maybach Exelero with beautiful V12 engine producing 700 horsepower and goes 0-60 miles per hour in just 4 seconds.
Not only is it one of the fastest cars but priced over 8 million dollars making it one of the most expensive cars in the world.
3. Brad Pitt: BMW Hydrogen 7
SOURCE: Zercustoms
The megastar for almost three decades Brad Pitt uses his platform to advocate for a wide range of social and environmental issues. This is clearly displayed in his vehicle of choice - the BMW Hydrogen 7.
BMW Hydrogen 7 is a limited edition car produced in the mid-2000s which actually burns hydrogen as a source of energy. With only 100 total produced vehicles, only public figures like politicians, media figures and businessperson were chosen. Pitt has been lucky enough to have landed on this particular sedan.
2. Leonardo DiCaprio: Fisker Karma EV Speedster
SOURCE: Luxury Launches
Leonardo DiCaprio is known for his environmental activism especially when it comes to cars. Not long ago, he invested in Fisker; a plug-in hybrid car company and purchased a Fisker Karma EV Speedster for himself, which is an over $600,000 vehicle.
This Fisker is a fresh take at hybrid vehicles, with the look of a high-end luxury sports car and running on electric power for up to 50 miles. Unfortunately, the company went bankrupt back in 2014, but reportedly DiCaprio has still been seen driving his Fisker.
1. Nicki Minaj: Lamborghini Aventador
SOURCE: Pursuitist
Nicki Minaj drives a Lamborghini Aventador launched on 28 February 2011 which costs about $400000. She had her Aventador painted bright matte pink with some bright pink rims to match.
Also Read: Nicki Minaj Defends Her Sex Offender Boyfriend Kenny Petty
Not always is the life of a celebrity as glamorous as they would have us believe, but there remains no doubt one of the best upsides to being part of the Hollywood elite has access to cars that most people could only dream of.
-->