19 Kids And Counting: What Happens When A Duggar Family Member Cheats?
Published Wed Sep 04 2019 By Sea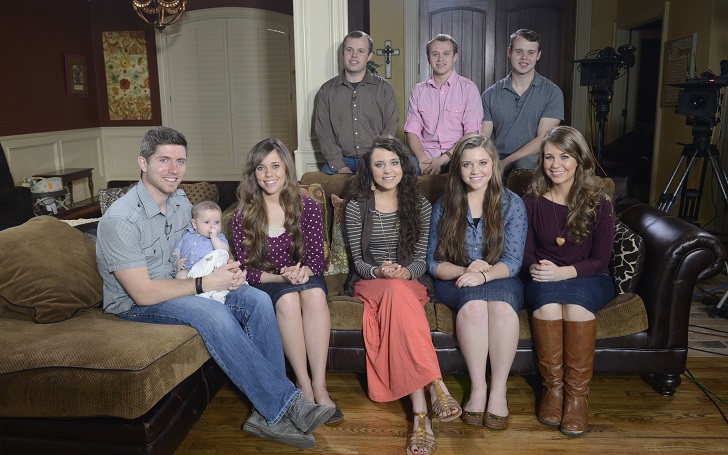 Of all the crazy rules, the ones pertaining to love and marriage are the ones most fumed on if it is broken.
The Duggar Family immediately reminds you of the many, many members of the Duggar parents, Jim Bob Duggar and Michelle Duggar. Over 30 people in the same era. In addition to that, some more familiar people may think of numerous rules they should follow. In terms of romance and dating, the parents have it strict for their children.
The strictest rule of it all is no kisses before saying 'I do' at the altar. Apart from that, there are many others, some even more bizarre. They are an extremely religious family, so it is understandable that Jim Bob and Michelle would go to such lengths to keep them in line. No kissing, no illicit activities, no family planning items, no hugging anyone straight-faced; and absolutely no hand-holding, if you're not married. The members don't seem to mind being bound by them anyway. They don't date, they court, and they have to be in supervision of a family member at all times before marriage.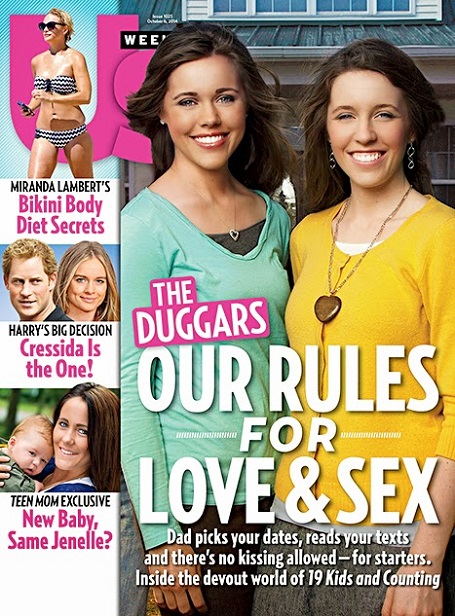 The romance rules are strict for the Duggars before marriage.
Source: US Magazine
Hugging sideways, wearing clothes to cover from neck to toe; all of it is to ensure 19 kids and 14 grandchildren find their perfect partners to be with forever. So that they won't give degrading looks to anyone that might not follow their dress code. But what if someone bends away from the rule. Many of the rules, including other than romance related, have been broken obviously. No one can strictly follow them knowing that other people of the world are free from them. What happens then? They get a stern talking to, but what else.
Waves were sent when the eldest, Josh Duggar, 31, publicly confessed, in 2015, to cheating on his wife, Anna Duggar (née. Keller).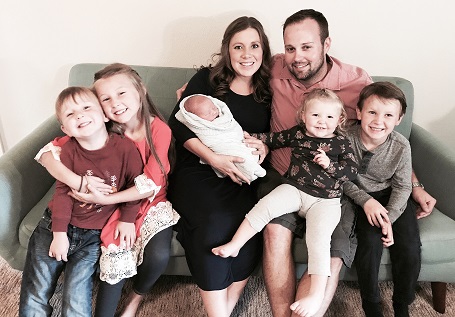 The eldest Duggar, Josh, has five kids with wife Anna and is expecting another one.
Source: Us Weekly
Josh released a statement on the Duggar family website on August 20, 2015, that explained he'd been unfaithful to his wife by secretly viewing adult contents on the web, and that he was grieved to cause hurt to the family and Jesus, above all.
"I have been the biggest hypocrite ever. While espousing faith and family values, I have secretly over the last several years been viewing p****graphy on the internet and this became a secret addiction and I became unfaithful to my wife. I am so ashamed of the double life that I have been living and am grieved for the hurt, pain and disgrace my sin has caused my wife and family, and most of all Jesus and all those who profess faith in Him."
The father of five apologized at the end, "I humbly ask for your forgiveness. Please pray for my precious wife Anna and our family during this time." His parents were devastated to learn of his infidelities.
It was not his honesty that made him spill the beans though. He was actually caught when his alleged account on the infidelity website, Ashley Madison, was leaked alongside millions of other users on August 19, a month after his fourth child, Meredith Grace Duggar was born. His child molestation allegations from 18 years ago were revealed that May which he admitted to later as suggested by their faith in God. His sisters, Jessa and Jill Michelle, were among his molestation victims as a teenager. It all led to TLC canceling their '19 Kids and Counting' series.
Watch: Jill and Jessa Speak Out as Josh's Teenage Victims
The pair may not have been the only ones caught in all the cheating scenarios. They're humans after all, and it may not be uncommon in the community. Derick Dillard, the husband of Jill, was suspected of swaying out of the rule after he shared a bible passage via social media that seemingly pointed to infidelity.
So what was done in effect of all this? One thing you need to know is that Jill and Jessa both have covenant marriages. Accordingly, divorce is an option, and it takes a long and concrete process for finalizing it. The thing is, however, divorce is frowned upon in the Duggar community.
The covenant marriage is a little more extensive than a traditional wedding and is only offered by three states in the entire United States. It ties the married pair for longer while if they choose to part ways. The couple must prove one of infidelity, the commission of a serious crime or physical abuse to proceed for the separation. They must wait at least two years for the divorce to be granted and longer if they have minor children. Counseling is also a compulsion for the grant.
Anna, by the way, chose not to divorce Josh after his incident. It could have left her and Josh alienated from the community which would be a grave thing to be in for people of that family. Besides, everyone would be just pointing fingers afterward. Even earlier in 2019, Anna was rumored to be splitting from Josh, but Anna herself shut the talk down.
Watch: Anna Duggar Talks About Josh's Betrayal
Soon after Josh's confession, he was sent to deal with addiction to the unsavory activities at a faith-based rehabilitation center in Illinois. He was even punished with his head being shaved forcefully. Anna, meanwhile, lived with her in-laws in the Duggar compound. She needed the support after just giving birth to Meredith. As Anna appeared to blame herself for the activities of her husband over the years of their marriage, fans suspected she was made to feel that way because of all the victim-blaming culture in the family.
Though it's not a big thing, Joy-Anna Duggar and her husband, Austin Forsyth accidentally shared a full-facing hug when she accepted his proposal in July 2017. They were pardoned later.
Dating Duggar style is hard, as the members often confess, and breaking the rules is something they don't want to do. It's not anyone would want to do if they were a Duggar member. But they are only humans, and there are rehabilitation camps for when such an event ever occurs in the family. Divorce is a no-no after all.
-->