The 30th Annual Palm Springs International Film Festival Hosted Dinner and Awards Show at The All-star Film Awards Gala
Published Tue Jan 08 2019 By Jessica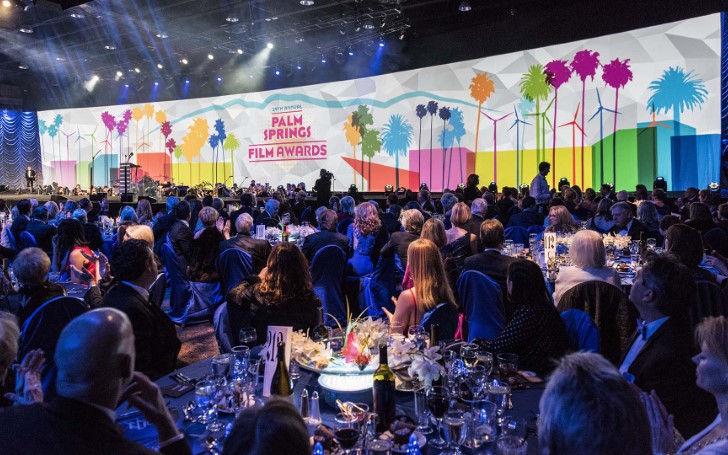 Another glorious night for the 30th Palm Springs International Film Festival.
Every year The Palm Springs International Film Festival (PSIFF) hosts events on January to honor and encourage talented artists in the Hollywood film industry.
Following its rituals, since last week, the 30th Palm Springs International Film Festival is taking place in Southern California, where the PSIFF hosted dinner for hundreds of stars.
Emily Blunt with Mary Poppins Returns co-actors at 2019 Palm Springs International Film Festival
SOURCE: Hollywood Reporter
TV Personality Mary Hart once again did an amazing job hosting the nights.
The glorious night witnessed high profile actors coming together, to name few; Rami Malek and Bradley Cooper received their Awards for their outstanding performance in their respective movies released last year.
You may also like: Darren Criss Becomes The First Filipino American To Win Golden Globe
PSIFF didn't forget to praise notable movies from last years like If Beale Street Could Talk, Beautiful Boy and Roma.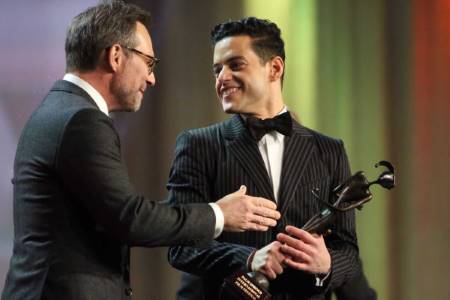 Rami Malek receives hi Breakthrough Performance Award at 2019 Palm Springs International Film Festival

SOURCE: The Desert Sun
The night started off with the young rising star Timothee Chalamet winning the first award of the night; Spotlight Award, Actor for Beautiful Boy, presented by Laura Dern, one of his co-actors in Little Women.
Bohemian Rhapsody's star Rami Malek received the Breakthrough Performance Award for Bohemian Rhapsody, presented by Christian Slater, with whom he worked in Mr. Robot.
Also read: Check Out How Your Favorite Celebs Dressed In The Golden Globes Red Carpet
Malek thanked his girlfriend in his speech:
"Thank you, Lucy Boynton, you have been my ally, my confidant, you are my love. I appreciate you so much"
And on behalf of the cast of Mary Poppins Returns, its stars Nathanael Saleh, Emily Blunt, Joel Dawson, and Pixie Davies accepted the Award in the category of Ensemble Performance. Film director Rob Marshall presented the Award.
Bradley Cooper receiving his award at the 2019 PSIFF stage
SOURCE: Rob Hopwood
The highlight of the night included A Star Is Born's star Bradley Cooper receiving his Director of the Year Award, presented by Sam Elliott.
Stars of BlacKkKlansman, Adam Driver and John David Washington presented the Career Achievement Award to Spike Lee.
The film If Beale Street Could Talk won Regina King Chairman's Award. The film's director Barry Jenkins presented the Award.
See as well: Lady Gaga Wins Golden Globe For Best Original Song and Claims Woman In Music Are Not Taken Seriously
Gary Oldman presented the Award for the Sonny Bono Visionary for Roma to Alfonso Cuaron.
Similarly, Olivia Colman received The Palm Desert Achievement Award by The Amazing Spider Man's actress Emma Stone.
Besides, winning the awards, the celebrities stole the night by arriving at the event looking all stylish.
-->