50 Cent Keeps Trolling Vanderpump Rules' Lala Kent's Producer Beau Randall Emmett
Published Wed May 01 2019 By Jessica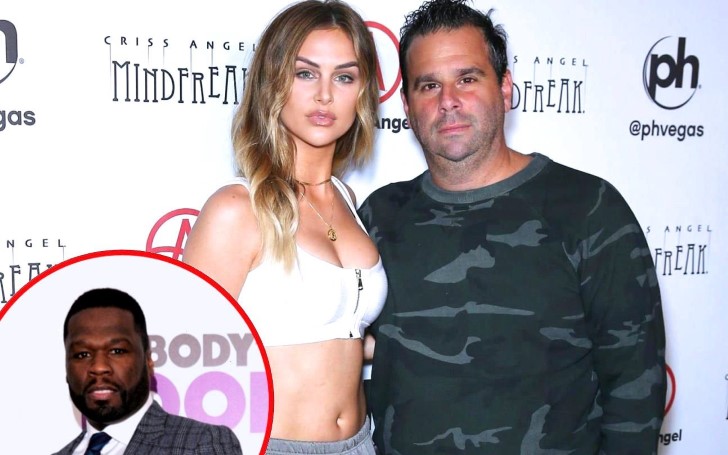 50 Cent publicly trolls Vanderpump Rules' Lala Kent's Producer beau Randall Emmett on social media.
US Rapper 50 Cent wants his money back and he will do anything to get his money back from those who owe him his money. Even if it means to take the money matter publicly to social media and point out his borrowers.
The rapper says that he is yet to be received $1 million from Vanderpump Rules' star Lala Kent's producer fiance Randall Emmett, 48.
Recommended: Jessica Alba Stuns In Dior Dress As She Kisses Cash Warren While Celebrating Her 38th Birthday In Morocco
Taking to social media, the 43 years old rapper shared a series of detailed post to showcase his economic issues with Emmett.
SOURCE: 50 Cent Instagram
50 Cent also made sure to command the producer to return his money by Monday in the shared threads.
According to the clip shared by the 'Straight To Tha Bank' rapper, Emmett bought a Range Rover to Lala after they made love for the first time.
''I let him hit it the first time and we were inseparable; he would just send me, like, really expensive gifts. The first night we banged, I got a car the next day. He was like, "Do you want a Range Rover?"' said Kent in the clip.
50 Cent responded to the clip saying: ''10 seconds left in the 4 quarter h*** are Winning. Do you want A range rover, yes, b**** yassss. Then just run out and s*** a d***. LOL smh.''
Kent also participated in the feud by taking to social media writing: "She swears she's a thug from south side Jamaica queens & she's up in here watching Bravo. Someone has forgotten where they come from. Coming for me on the gram!? I smell fish coming from fifty's direction."
50 Cent, whose real name is Curtis James Jackson III also shared screenshots of the conversations he had with Emmett which showcases that his kindness was mistaken for weakness.
Also see: Jenni Farley Thinks Roger Mathews Is A Bad Parent!
The post also suggested that Emmette was having a health problem and immediately needed to seek medicine, "Please fifty no more." said Randall in a conversation between the two.
50 Cent, however, was still not having it and responded with a warning: ''Keep playing with me and get ya f***ing head cracked in front of everybody.''
It was also revealed that the rapper provided loan to Emmett six years ago and he only paid $250,000.
The rapper shared a selfie taken by Emmett at an event where 50 Cent can be seen in the background.
50 Cent wrote: "'Money by Monday Randall" in the picture, with the caption that read: "Look at this fool taking selfies, you better get me my money fool."
As for Kent, she says the rapper is being blatantly misogynistic by the way he is acting to the situation to her fiance Emmett.
The actress posted a clip from Vanderpump Rules and said it was 'to diminish the validity of the #MeToo movement.' She also suggested her fans to not be silent in such situations.
Don't miss: How Many Of The '90 Day Fiance' Couples Are Still Together?
As 50 Cent wasn't done here (nor he seems to be anytime soon), he reposted the clip and wrote: "Hey how is the Range Rover? There's no difference between Harvey Weinstein and Randel Emmett! This is a reality, not reality TV. Bravo B**** @bravo."
Celebrities like Chrissy Teigen has responded to the matter with a joke on Twitter.
-->