Who are 6ix9ine's Children? Learn About His Family Life Here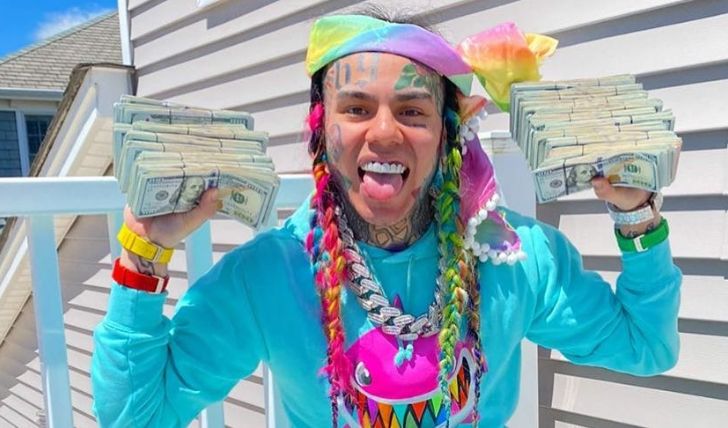 6ix9ine is a Father of Two: Learn More About The Singer's Life Here!
A controversial celebrity, marked by his aggressive rapping style, quirky persona, perpetual legal issues, and celebrity feuds, 6ix9ine or Tekashi69 doesn't come off as a father figure. But the rapper is a father of two daughters, though one can't say how doting of a father he is, as he was found guilty in a sexual assault of a minor back in 2015.
Daniel Hernandez was born on May 8, 1996, in New York City. His childhood was characterized by disruptive family dynamics and extreme poverty. His single Gummo, Kooda, Keke, and Gotti made him an overnight sensation. Hernandez had his daughters from two different relationships. Learn more ahead.
Who are Tekashi69's Daughters?
Hernandez was 18 when he welcomed his first daughter, Saraiyah Hernandez, born on October 29, 2015. But as per his baby's mama, Sara Molina, who was also 18 during Saraiyah's birth, 6ix9ine is not a great father. Molina describes the rapper as an absent father who doesn't think of his daughter as a priority.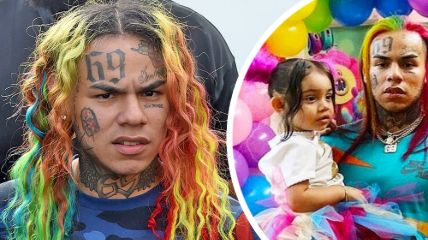 The rapper welcomed his first daughter when he was 18. Photo Source: Capital extra
6ix9ine's second daughter, Briella Iris Hernandez, was born on November 19, 2018. But as per sources, the rapper had kept his second daughter a secret. The fact only came to light when he was sentenced to 2 years in prison after testifying against the Nine Trey Gang; that was when the rapper developed the reputation for being a snitch.
Don't Miss: Who is Nancy Lee Grahn's Daughter? Learn About Her Family Life Too.
As the tattooed singer spent his time in prison, his second daughter's baby mama, Marlayna M, wrote a letter to the judge, hoping that the rapper would be released earlier. Surprisingly the trick worked. Marlayna's letter read, Our daughter recently turned 1 year old. He has yet to meet or hold her. I hope for him to be able to not miss this next year in our daughter's life and he fan [sic] finally hold her."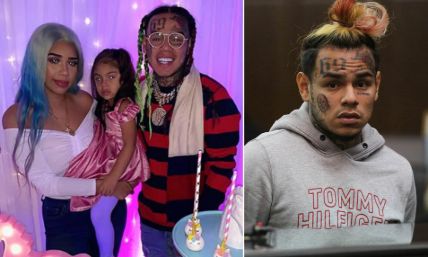 6ix9ine was sentenced to 2 years in prison in 2019.
Photo Source: Daily Mail.
Last year a headline read 6ix9ine wasn't allowed to see his daughter. The rapper's attorney, Lance Lazzaro, said Hernandez wants to be part of his daughter's life, but Saraiyah was standing in the way. In her defense, Molina told TMZ that she had given the rapper a chance, but he had yet again disappointed her and their daughter.
6ix9ine Claps Back at Molina for Calling Him a Deadbeat Father!
Looks like the Bebe singer is done with Molina criticizing him. Clapping back at his ex-girlfriend and baby mama Molina, 6ix9ine claimed his mother has been seeing his daughter every week. "I bought her [Saraiyah Hernandez] all of this, all my money; I bought her all of this. Everywhere she goes that's' me," Hernandez adds.
6ix9ine refuses, or is he not allowed to see his daughter? Source: Hollywood Life
6ix9ine reveals he paid $20K for his daughter right after he was released from prison, whereas Molina says that was the first amount he'd sent in the last five years. Posting a video on Instagram, she says, "My daughter has less than $100,000 in the bank for her. College and everything."
Recommended: Does Halle Berry Have Kids? Learn All the Details Here!
6ix9ine's relationship with his first daughter and Molina is a well-covered topic; However, fans have been curious about his bond with his second daughter; not much is known about his relationship with his second family. In the past, the rapper claimed the second daughter wasn't his.
For more information and news on your favorite stars, stay connected to Glamour Fame.
-->