'90 Day Fiance' Star Ashley Martson Admits She Still Loves Jay Smith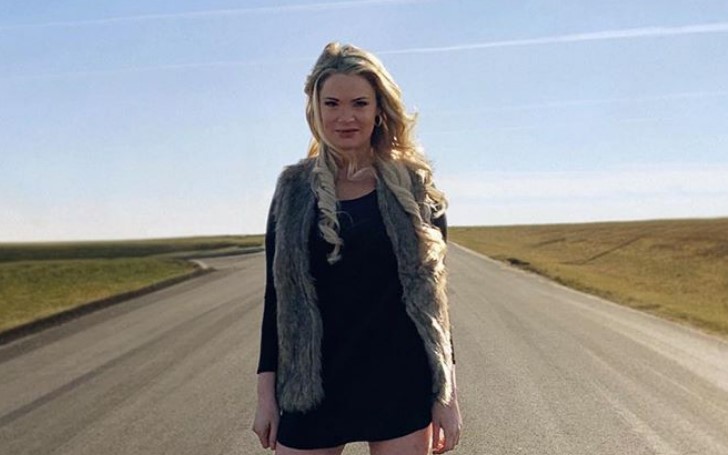 Ashley Martson is admitted she still loves Jay Smith, despite all that he has done.
This is certainly not a right way to end a year nor welcome the new year. Apparently, Ashley Martson of '90 Day Fiance' uploaded a picture on her Instagram, with her eyes all wet. And the reason for her lamenting was none other than Jay Smith.
And this time, the reality star crying not because Jay did something wrong to her, but it's cause Ashley still misses him. This is so right on the example of 'Holy Grail' by Jay-Z featuring Justin Timberlake. Well, the song suits Ashley from all ends.
Ashley Martson crying over Jay Smith, admits she still loves Jay Smith.
Source: Ashley Martson's Instagram
We have seen her wailing when Jay cheated on her; moreover, their age gap is something we found very untasteful, and not to forget how Jay treated her. But after all those things, if you come and say you still miss that guy, well, girl, you need some help.
Taking to her Instagram, Martson wrote, "he is as raw and real as I can be. I'm fighting the tears just typing this. This year has been tough. This photo was taken the night of my birthday party in New York City accidentally. We had just split, and I filed for divorce for the second time. The tabloids attacked me at my events all week about my failed marriage. He showed up at my party, unannounced. We were civil and had an appearance the next day, so it was okay. He said Happy Birthday."
She further added, "He had drinks and hung out with his friends. As I walked out the door and got in the Uber with @ritzy_rina, I just lost it. The tears came pouring out. It was the moment I knew. I knew I failed. I failed my marriage, myself, my children. My heart was broken into a million pieces, and the walls completely caved in around me. Everything I kept bottled in poured out of my eyes in the back of this Uber. My best friend, who is a true best friend, didn't even ask. She just began crying as well. She saw me hurt for so long and try and act like I was okay even though she knew I wasn't okay. She felt my pain, and we both just cried — the whole ride to our hotel. I never felt a hurt like this in my life. Ever."
Watch: Ashley Walks Out On Jay After Addressing His Cheating Scandal | 90 Day Fiancé
Ashley added, "I'm not blaming all this on him. That's not why I'm posting this. I just want men and women to both know it's okay not to be okay. It's okay to cry it out. It's okay not to be strong all the time. It's okay to fail. What's not okay is to let it destroy you. You can, and you will get back up and begin to pick up the pieces. To this day, I still hurt. I still love him. I just have come to terms with the fact it's over, and I'm going to be okay. So all of you who are struggling, please know these feelings are temporary, and you will get back to yourself. Time truly does heal wounds."
Martson concluded, "There is no more Ashley and Jay. I'm leaving this post with the final time I speak on us or our marriage. It's about to be a new year, and I'm ready to start a new chapter and not look back. Thank you for all your support through this hard time, and a special thank you to @xdestiny_lynnx @ritzy_rina @dolceaestheticsny and @michellee_727 you guys are amazing, and I can't imagine fighting this battle without you. #90dayfiance #tlc #happilyeverafter"
We understand how she must be feeling, and we agree, breakups are sometimes hard to deal with, but we saw her grinding on Kamil Nicalek at some night club, and we don't understand what's going on her life. Before she was entertaining Nicalek, she claimed she is done with Jay and '90 Day Fiance,' after her divorce was finalized.
Watch: 90 Day Fiancé's Ashley Smith Says 'Life Is Much Better' After Split From Jay Smith | PeopleTV
But again, she wants the world to know she still misses her cheating ex, which doesn't make sense to us. Well, wait, that's not all, there were rumors back in September, there was a chance of reconciliation between Jay and her, to which Ashley denied.
We don't intend to bash Ashley or anything, but, things have gotten out of her hands, it seems. All we want her to be wise what you wish for, and of course, be reasonable with your feelings if possible. It's the new year, hope she finds her peace this year and embarks on new goals than to cling on past mistakes.
For more information on your favorite celebrities' lifestyle, stay tuned to Glamour Fame, and don't forget to sign up for the newsletter.
-->