Darcey Silva Plastic Surgery - The Post Surgery Results Startled the '90 Day Fiance' Fans; Get All the Details Here
Reality star Darcey Silva is known for her appearance in the TLC show, 90 Day Fiance; Before the 90 Days. Silva had two relationship attempts on the dating show, and sadly both didn't work out.
Apart from the reality show, the mother of two is also a well-known businesswoman who runs a clothing line called House of Eleven with her sister, Stacey Silva. Celebrities like Nicki Minaj, Jessica Alba, and Demi Lovato are also a fan of her clothing brand.
Except for her clothing line and failed relationships, Darcey is also known for her cosmetic surgery. Silva's transformation over the years has undoubtedly shocked the fans. Let's get the full details about Darcey Silva's plastic surgery.
Darcey Silva Is Not Only Known For Changing Partner But Also For Plastic Face
If you are following Darcey Silva from the beginning of the 90 Days Fiance, then you can clearly see her transformation. Well, one can clearly state that the businesswoman went under the knife not once, not twice but numerous times.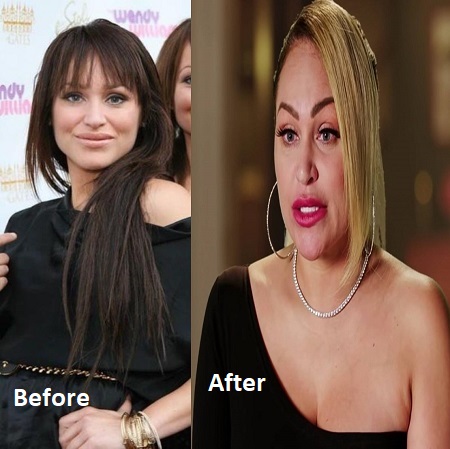 One can barely recognize Darcey Silva after her numerous surgeries.
Well, even if you compare the pictures of Darcey from the past and now, one can barely recognize if it's the same person. Though fans have criticized her for her plastic face time and again, she has always "embraced plastic surgery" and "does not feel shame" for doing it.
During an interview with ET, Silva admitted that she has gone under the knife numerous times, especially after giving birth to her kids. She further added,
You May Also Like: Kurt Warner Plastic Surgery - Internet Thinks He Went Under a Knife; Did He Really?
"I mean, I obviously get Botox and fillers, and I have no shame in that. I feel beautiful inside and out, and that's all that matters. If you can enhance that a little bit to maintain your youthfulness, why not?"
Moreover, Silva also revealed that she is not planning for more surgeries any time soon. Well, good for her as she looks more like a plastic person which may be the reason the reality star was dropped from Hollywood movie even after filming it.
Darcey Silva Surely Has Gotten Lip Fillers Though It Was More Of A Horror Story Than Happy Endings
The lips of Darcey Silva looks horrible after injecting numerous needles.
Usually, lip fillers are done for enhancing one's beauty; however, it's not in the case of Darcey Silva. After the lots and lots of lip augmentation, lip thread lift, and lip injections, her lips look so horrible as if it has an allergic reaction. Well, fans even suggested TLC star to stop overdoing lips, or it will explode after few more needles.
Darcey Silva's Nose Bridge Looks More Defined Than The Past.
Darcey Silva seemingly got her nose a little fix.
Source: Reddit
Darcey Silva got a non-surgical procedure called a PDO thread nose lift at the Cosmetic and Laser Dental Studio in Brooklyn, and she absolutely loves the result so far. This non-surgical procedure is permanent, which uses Poly L-Lactic Acid threads to enhance the shape of the nose.
Darcey Silva's Jaws Seemed Chiseled Than Ever; You Can Guess The Reason Behind It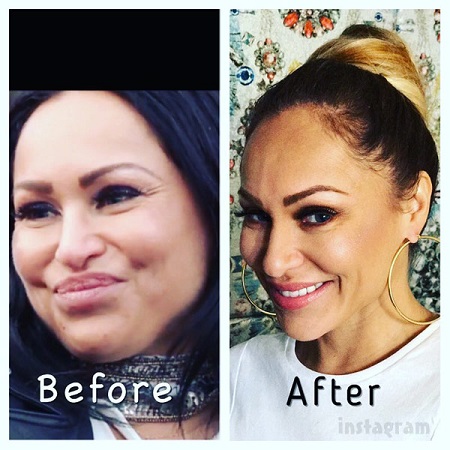 Darcey Silva's face got no facial fat now.
Source: Toopanda
Darcey Silva has always been open about her love for plastic surgery and cosmetic procedure. Though the 45 years old have a more contoured face than the beginning of the show, fans are not happy with her drastic facial transition. Nevertheless, fans also love her face before the Sculptra contour and botox, where her face seems naturally beautiful.
Darcey Silva Boob Job, True or False?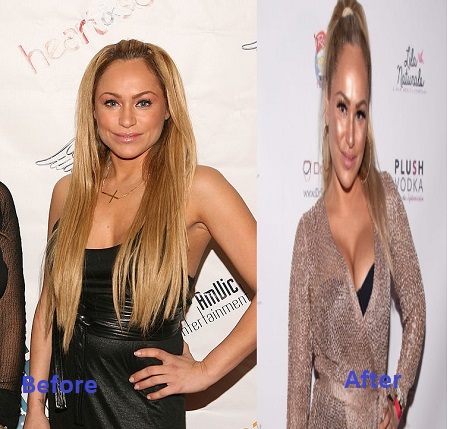 One can clearly see that Darcey Silva has breast surgery, right?
Being a fan of cosmetic procedures, it's no surprise that Darcey Silva has had breast augmentation surgeries. However, she is not satisfied with her already enlarged bust and recently surgically enhanced her breasts again.
Darcey Silva Underwent Mommy Surgery With Her Twin, Stacey Silva.
Not only Darcey Silva, her twin sister, Stacey Silva, has also shown her love for plastic surgery time and again. The twins got their "mommy surgery" at Avana Plastic Surgery in November 2020.
Watch: Darcey Silva & Stacey Silva - The twins' transformation (Mommy Makeovers) | Avana Plastic Surgery
They even recorded the whole process of getting Botox, tummy tuck, liposuction, lip injections, and more for commercial of Avana Plastic Surgery. Likewise, they also got injections in a, uh, different set of cheeks.
Darcey Silva Has A Perfect Sets of Teeth; Thanks To Her Dentist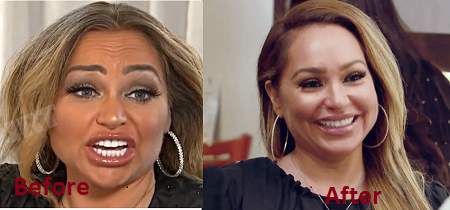 Darcey Silva's dentist surely gave her a beautiful smile.
If you think Darcey Silva has undergone cosmetic procedures only for her face and body, then you are wrong. The British businesswoman has now gotten pearly whites teeth, which fans have not seen on 90 Day Fiance before.
Also read: What is Darcey Silva's Net Worth? Grab Details of Her Sources of Income and Earnings!
Silva last has her teeth whitening and full dental veneers at a dental cosmetic clinic called Sevil Smile Studio in Turkey. This cosmetic dentistry studio offers implants and veneers to teeth whitening, crowns, gum shields, cosmetic fillings, and gum contouring.
Don't forget to head to our Entertainment section for more exciting news and gossips. And stay updated with Glamour Fame to keep track of the entertainment world.
-->