A Detail on Legendary Singer, Willie Nelson's Four Marriages and Children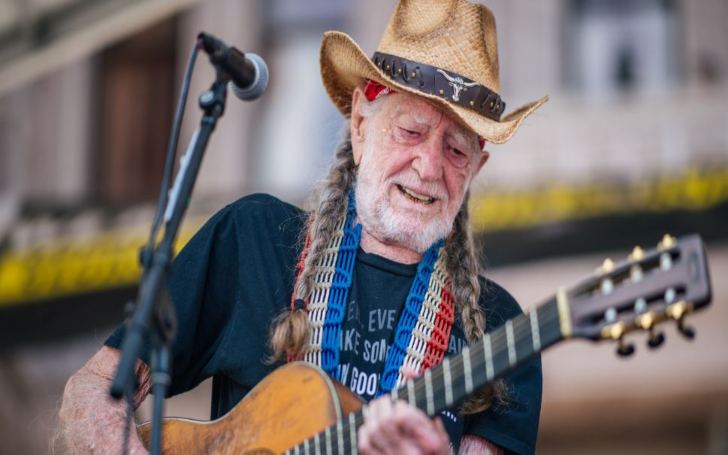 Willie Nelson is a legendary American musician, singer, and songwriter who has left an indelible mark on the country music genre. Born on April 29, 1933, in Abbott, Texas, Nelson's distinctive voice and unique style have made him a beloved figure in the music industry.
With a career spanning several decades, Nelson has released numerous chart-topping hits and has been recognized with countless awards, including multiple Grammy Awards. Known for his signature braided hair, outlaw image, and heartfelt storytelling through his music, Willie Nelson has become an iconic figure and a true legend in the world of country music.
Three Decade Long Wonderful Marital Life With Wife Annie D'Angelo
Despite the complexities of his personal life, Willie Nelson's wandering eyes and infidelities ended up working in his favor. While already married and with a successful music career, Nelson began an illicit affair with Annie D'Angelo, who was working as a make-up artist on the set of the 1986 film Stagecoach, in which Nelson was starring alongside Johnny Cash.
In his memoir, Nelson expresses his deep affection for D'Angelo, referring to her as "the one." Their relationship started in 1986, but it wasn't until Nelson's divorce from his previous wife that he was able to marry D'Angelo. They have been happily married for over three decades and have two sons together. Nelson describes their connection as unique, surpassing that of his previous marriages.
Gaining Popularity After First Marriage
Willie Nelson was previously married to Martha Matthews. They tied the knot on November 23, 1952. However, their marriage faced difficulties, and they eventually divorced in 1962. Despite their separation, Nelson maintained a close relationship with his children.
Martha later remarried and continued to support Nelson's career as he rose to fame in the music industry. While their marriage did not last, Nelson's bond with his children remained strong throughout the years, and he played an active role in their lives even after his divorce from Matthews.
Second Marriage With Singer, Shirley Collie
Willie Nelson was married to Shirley Collie from 1963 to 1971. They tied the knot on October 27, 1963. Collie was also a country music singer and had a successful career of her own. However, their marriage faced challenges, and they eventually divorced in 1971.
After their divorce, Nelson and Collie went their separate ways and pursued their individual careers. Nelson continued to establish himself as a renowned musician, while Collie continued her work in the music industry. While their marriage did not stand the test of time, their contributions to country music remained significant.
Second Wife, Shirley Collie Died in 2010
Shirley Collie was a talented American country music singer known for her contributions to the genre. Born on March 16, 1931, in Chillicothe, Missouri, Collie embarked on a successful career in music. Collie's notable songs include "Dime a Dozen," "Why Baby Why," and "Willie's Winter Love."
While her career and personal life were intertwined with Nelson's, Collie made her own mark on the country music scene with her exceptional talent and undeniable presence. Collie Nelson passed away on January 27, 2010, in Springfield, Missouri at the age of 78.
After battling a long illness, she succumbed to her condition. She was laid to rest at White Chapel Memorial Gardens in Springfield. At the time of her passing, Collie was survived by her husband, Ed Melton, and her sister, Mary Lou Ritchie. Despite her departure, Collie's contributions to the country music industry and her time as the wife of Willie Nelson remain an important part of her legacy.
Also See: Queen of Rock 'n' Roll and Close Friend of Willie, Tina Turner Died At the Age of 83! Know About the Cause of Tina's Death
Willie Nelson's Third Spouse
Willie Nelson entered his third marriage when he wed his former mistress, Connie Kopeko, in 1971. Surprisingly, Kopeko was a recent high school graduate at the time. They already had a daughter together before getting married, and they welcomed another child after their wedding.
Nelson and Kopeko lived a relatively quiet life together with their daughters for over seventeen years. However, the pattern of failed marriages continued for the country singer.
In a joint memoir with his late sister Bobbie Nelson, Willie expressed remorse for once again jeopardizing a marriage due to his infidelity. Ultimately, Nelson and his third wife ended their relationship in 1988.
How Many Kids Does Willie Nelson Have?
In total, the famous singer and actor, Willie Nelson have eight kids. Lana Nelson is Willie's eldest daughter, born in 1953. She has worked in the music industry and has occasionally performed alongside her father.
Susie Nelson born in 1956, is another daughter of Willie. Like her siblings, she has also pursued a career in music and has occasionally collaborated with her father. Paula Carlene Nelson born in 1969, is Willie's third daughter. She has followed in her father's footsteps as a singer-songwriter and has released her own music.
Amy Lee Nelson Born in 1973, Amy is Willie's fourth daughter. She has primarily focused on her career as a visual artist and has gained recognition for her unique artwork. Lukas Autry Nelson born in 1988, is Willie's eldest son. He is a talented musician and has formed his own band, Lukas Nelson & Promise of the Real. Lukas has also collaborated with his father on various musical projects.
Jacob Micah Nelson born in 1990, is Willie's second son. He is also a musician and has joined Lukas in the band Lukas Nelson & Promise of the Real. Raelyn Nelson youngest daughter, was born in 1989. She has ventured into music and has released her own solo material. Further, his other son, "Billy" Hugh Jr died by suicide.
Stick To Glamour Fame For More
-->