Who is Johnny Cash's First Wife? Check Out His Relationship Timeline
Published Sun Dec 22 2019 By Matthew
No love story ever came close to that of Johnny and June. But who came before June in Johnny's life?
The everlasting sweetheart story to date, Johnny Cash and June Carter remain the most iconic couples of all time. Johnny Cash, born J.R. Cash on February 26, 1932, probably needs no introduction. The legendary 'Man in Black' has given out quite a collection of best-selling pieces of music to the world throughout his five-decade career. Whether it's 'Ring of Fire' or 'Don't Take Your Guns to Town', almost all of his songs remain timeless.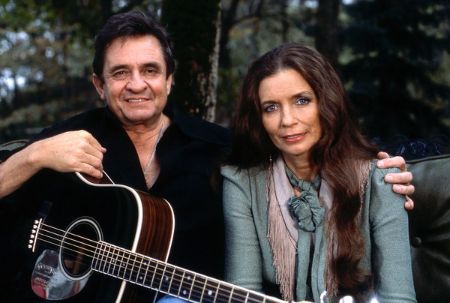 Johnny Cash and his wife June Carter.
Source: Zimbio
The classic love story of Johnny and June is probably the one that almost everybody has heard. Despite being married to their spouses, both fell in love with each other and spent their lives together after getting married. Ring of Fire, co-written by June Carter, was a love letter from June to Johnny.
Everyone knows that June Carter was Johnny's soulmate, but who came before June, and what about Johnny's first wife? Well, that's what we're going to discuss today.
Johnny Cash's First Wife: Vivian Dorraine Liberto
Before June Carter, Johnny Cash fell head over heels for Vivian Dorraine Liberto.
The year was 1950, and the 18 years old Cash was all set to be deployed as a U.S. Air Force Morse code operator. Three weeks before his deployment, on July 18, 1951, Johnny went to an ice rink at San Antonio, and there he met Vivian. Near closing time, Cash asked Vivian for a skate in the arena and soon felt like he found the love of his life.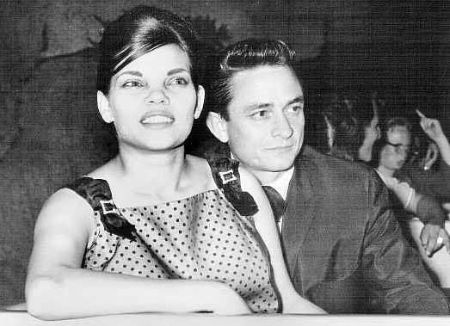 Johnny Cash and his ex-wife Vivian Dorraine Liberto.
Source: Pinterest
A quick romance followed after that, during which Cash carved 'Johnny Loves Vivian' on a bench along San Antonio's famed River Walk. Promising to write to each other, John left for Germany and kept his promise for three years. Even during his time in Germany, Cash confessed to being with other women and promised Vivian never to do it again only to find himself repeating his behavior.
He returned home on July 4, 1954, only to find Vivian greeting him with open arms. They married a month later at St. Anne's Catholic Church in San Antonio.
With Fame Came Drugs
A song written in 15 minutes' Cry Cry Cry' by Johnny and performed with the Tennessee Two made Cash Sun's artist. Vivian was pregnant with the pair's first child Rosanne. After that, it was only success for the singer.
Cash began touring with famous artists like Elvis Presley, Jerry Lee Lewis, and Roy Orbison. The tours also attracted women toward Johnny, and when Vivian asked him if he was ever tempted, he said, "I walk the line for you." Then came the song that he dedicated to his wife, 'I Walk the Line,' which became number one hit song right around the couple's second child Kathy was born.
Watch: Johnny Cash - I Walk the Line (Live in Denmark) (from Man in Black: Live in Denmark)
Moving to California after their third child Cindy was born, John's habits began degrading, and he started getting involved with drugs and alcohol. Trying to lead him away from all this, the family tried moving to Casitas Springs after the birth of Tara, Johnny's last child with Vivian.
Also See: Jeremy Roenick Wife - Get All the Details of his Married Life
This, however, would not be the case as Johnny under the influence of alcohol accidentally set fire to the 508 acres of Los Padres National Forest in California in 1965.
The Carter and Cash Love Story
Right after releasing 'I Walk the Line,' Johnny Cash made his first debut on the Grand Ole Opry stage in July 1956. There, for the first time, he met June Carter, Carl Smith's wife.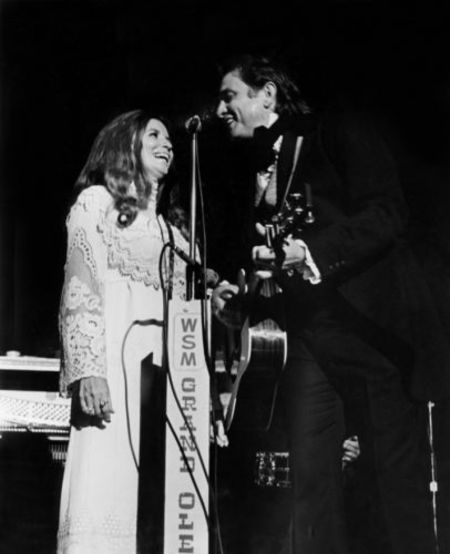 Johnny Cash and June Carter at Grand Ole Opry
Source: Twitter
When Johnny said,
I've always wanted to meet you
June responded,
I feel like I know you already
Born Valerie June Carter on June 23, 1929, in Maces Springs, Virginia, June was brought up in a musical family. By the time she met Johnny, she was already touring with Elvis Presley.
Born Valerie June Carter on June 23, 1929, June Carter Cash.
Source: Silvio Canto
Talking about their meeting, June wrote in the note on Cash's 2000 box set, Love, God, Murder,
I can't remember anything else we talked about, except his eyes. Those black eyes that shone like agates… He had a command of his performance that I had never before. Just a guitar and a bass and a gentle kind of presence that made not only me, but whole audiences become his followers.
The twosome began touring together constantly after that and went on to fall in love. During this, June's marriage with a police officer named Edwin Nix ended in 1966. Vivian filed for divorce in 1966 but was not granted until 1967.
Married June Cash In 1968
Following the divorce of Johnny and Vivian, he got married to June Carter in 1968 after proposing her in front of a crowd of 7000 in February.
Also See: Did Harry Styles and Kendall Jenner Date? Grab All the Details of Their Relationship History!
They went on to have a very successful music career together and live their lives together for over thirty years before passing away only four months apart. Carter passed away in May 2003, followed by Cash in September of the same year.
Johnny Cash, June Carter and their son John Carter Cash.
Source: Town and Country
Both shared a son named John Carter Cash, who was born in 1970.
That's all we have for you regarding Johnny Cash's relationship history.
For more celebrity love life and relationships, check out the entertainment section over at Glamour Fame.
-->