Queen of Rock 'n' Roll Tina Turner Died At the Age of 83! Know About Cause of Tina's Death
Iconic Rock 'n' Roll Queen Tina Turner Passes Away at 83: Discovering the Circumstances of Her Demise!
Tina Turner, born Anna Mae Bullock on November 26, 1939, was an iconic American singer, songwriter, and actress. Her powerful voice, energetic performances, and captivating stage presence have made her a legendary figure in the music industry.
With a career spanning over six decades, Turner has achieved immense success and recognition, becoming one of the best-selling artists of all time.
She rose to prominence as the lead vocalist of the Ike & Tina Turner Revue but later embarked on a highly successful solo career. Known for her signature hits like "What's Love Got to Do with It" and "Proud Mary," Tina Turner has become an enduring symbol of resilience, empowerment, and musical excellence.
Wonderful Marital Journey With Husband, Erwin Bach
Tina Turner's relationship with Erwin Bach has been a significant part of her personal life. Erwin, a German music executive, and Tina Turner began dating in the mid-1980s and maintained a committed relationship for many years. They eventually tied the knot in a private ceremony in July 2013, after being together for more than 25 years.
Their wedding took place at their home on the banks of Lake Zurich in Switzerland, surrounded by close friends and family. It was an intimate celebration reflecting their love and commitment to each other. The couple opted for a Buddhist-inspired ceremony, incorporating elements of Tina Turner's spiritual beliefs.
Settled With Husband in Switzerland
Following their marriage, Tina and Erwin settled into a tranquil and private life in Switzerland. They cherished their time together and enjoyed a quiet existence away from the public eye. They forged a profound bond and stood by each other's side through numerous ventures.
Throughout their marriage, Tina Turner and Erwin Bach focused on nurturing their relationship, prioritizing love, respect, and companionship. They relished their shared interests and traveled together, finding solace in their mutual love for music, art, and nature.
The love birds stayed together for more than four decades until Tina passed away in 2023. Their romance is indicated as true love never dies for many upcoming generations.
Divorced With Musical Legend Ike Turner
Ike Turner and Tina Turner had a tumultuous relationship that began in the late 1950s. They married in 1962 and formed the Ike & Tina Turner Revue, achieving success with hits like "River Deep - Mountain High" and "Proud Mary."
However, their marriage was plagued by Ike's abusive behavior towards Tina. After enduring years of physical and emotional abuse, Tina found the strength to leave the marriage in 1976. Their divorce was finalized in 1978, marking the end of their professional and personal partnership.
Despite the challenges they faced, Tina Turner's resilience and talent propelled her to solo stardom, while Ike's actions tarnished his reputation.
Tina Turner Was the Mother of Four Children
Tina Turner has four children from different relationships. Her first child, Craig Raymond Turner, was born in 1958 during her relationship with Raymond Hill. Craig tragically passed away in 2018.
Tina had two sons, Ronald Renelle Turner (Ronnie) and Michael Turner, with her ex-husband, Ike Turner. Ronnie was born in 1960, and Michael was born in 1963. After their parents' divorce, Tina became their primary caregiver.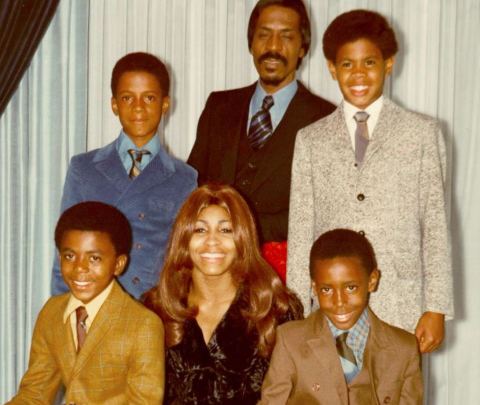 In 1986, Tina married German music executive Erwin Bach. They did not have children together but had a close bond as a couple.
Lastly, Tina Turner and her long-time partner, Erwin Bach, welcomed their son, Raymond Craig Turner (commonly known as Craig) in 1958. Craig chose to keep a relatively low profile and did not pursue a career in the public eye.
Tina has expressed her love and devotion to her children throughout her life, highlighting their importance and the joy they have brought to her journey. Despite the challenges she faced, Tina's role as a mother remains a significant part of her personal life.
Battling With Cancer and Kidney Failure
Tina Turner faced multiple life-threatening illnesses throughout her life. In her 2018 memoir, "My Love Story," she revealed that she had been living with untreated high blood pressure since 1978, which led to kidney damage and eventual kidney failure.
In 2013, just weeks after her wedding to Erwin Bach, she suffered a stroke that required her to relearn how to walk. In 2016, she was diagnosed with intestinal cancer, and her attempts with homeopathy did not yield positive results.
Given her low chances of receiving a kidney transplant, Turner contemplated euthanasia and joined Exit, an organization that supports assisted dying. However, her husband, Erwin Bach, volunteered to donate a kidney for her transplant. On April 7, 2017, Turner underwent kidney transplant surgery.
Queen of Rock and Roll, Tina Turner Died on May 2023
Tina Turner, the revered 'Queen of Rock 'n' Roll,' passed away peacefully today at the age of 83 after a prolonged illness at her residence in Kusnacht, near Zurich, Switzerland.
Her loss is deeply felt, as the world mourns the departure of a music legend and an extraordinary role model. Born in the United States, Turner left an indelible mark on the rock music landscape with her exhilarating stage presence and a string of chart-topping hits that included "The Best," "Proud Mary," "Private Dancer," and "What's Love Got to Do With It."
Following the news of her passing, heartfelt tributes poured in from renowned figures such as Sir Mick Jagger, Sir Elton John, Diana Ross, Bette Midler, and Giorgio Armani, among others, all acknowledging the profound influence she had on music and her enduring legacy.
Tina Turner's remarkable talent and unwavering spirit will continue to inspire generations to come, ensuring that her name remains etched in the annals of music history.
Stay Tune To Glamour Fame For More
-->