A Hollywood Love Affair: James Kennedy & Ally Lewber Relationship Journey!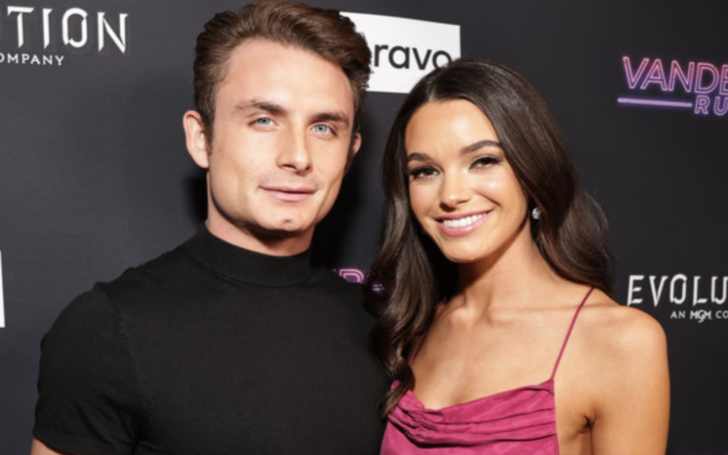 Just a short while after ending his engagement with Vanderpump Rules co-star Raquel Leviss, James Kennedy swiftly found romance with Ally Lewber. The news of this new relationship surfaced in March 2022.
Following his split from Leviss, the British-born reality TV star crossed paths with the entertainment journalist in January of the same year. The couple has been dating for several months, igniting James Kennedy's happiness and anticipation for the unfolding chapters of their journey ahead.
Ally Lewber and James Kennedy Confirmed Their Relationship On Instagram
Ally Lewber made her initial appearance on James Kennedy's Instagram page in March 2022, during a tropical retreat where the couple shared romantic moments. This getaway served as the backdrop for their official confirmation of being in a relationship.
Leading up to the trip, Kennedy had been dropping hints about his new girlfriend, and the Instagram photo series became the much-awaited introduction for fans of Vanderpump Rules to Lewber and their blossoming love story.
In a heartfelt caption accompanying a carousel of images from their magical journey, Kennedy expressed his sentiments, stating, "This has been the most enchanting experience of my life. Here's a glimpse of our day's adventure... Spread love and positivity, as life is too precious."
The carousel included captivating snapshots of Kennedy and Lewber sharing kisses in the captivating setting of Tulum. Additionally, the couple marked their official red carpet-debut, further solidifying their public presence as a couple.
Both Ally Lewber and James Lewber in Vanderpump Rules
Ally Lewber, a vibrant addition to the Vanderpump Rules cast, has quickly made her mark. Known for her refreshing honesty and unfiltered commentary, she navigated the complexities of Kennedy's friend group with candor.
Her relationship with James Kennedy added a new dimension to the show, as they faced challenges within their circle. With an eye for design and a knack for creating cozy spaces, Lewber's influence is evident in their shared home.
As their journey unfolds, fans anticipate how this dynamic personality will continue to impact the show's dynamics in the upcoming seasons.
James Kennedy Called Off The Engagement With Raquel Leviss
Vanderpump Rules stars James Kennedy and Raquel Leviss have officially ended their engagement during the filming of the show's 9th season reunion. The couple, aged 29 and 27 respectively, decided to part ways due to differing life goals.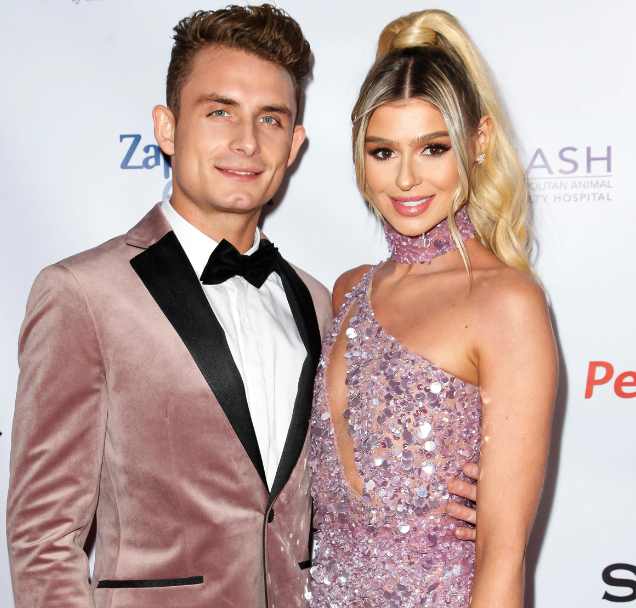 Leviss returned her engagement ring on camera during the reunion, and the breakup was later confirmed by both in similar Instagram posts.
The couple had been together for five years and got engaged in May with a Coachella-themed proposal. Despite the split, they expressed mutual respect and well wishes for each other's future.
Get To Know About Ally Lewber
Ally Lewber is a renowned television host, receptionist, and reality show personality. Notably, she gained prominence during her tenure as an ON-Air Host at Afterbuzz TV for approximately two years.
Her television journey also includes a stint on the reality show "The Valley," which was broadcast on WDTN-TV in 2014. Beyond her on-screen roles, Ally has held pivotal positions in esteemed companies like Jim Havey Public Relations, 20th Century Fox Productions, WDTN-TV, and Mosaic Media Group.
However, her relationship with James Kennedy notably thrust her into the spotlight, further enhancing her visibility.
About James Kennedy, Age, Bio, and Career
James Kennedy, a prominent figure in the entertainment industry, is an English DJ, music producer, and reality TV personality. Born on January 24, 1992, in London, he gained widespread recognition as a cast member on the reality show Vanderpump Rules.
With a magnetic stage presence and a knack for music, Kennedy has not only taken the DJ scene by storm but has also ventured into acting and producing.
His energetic persona and eventful personal life have made him a compelling and often controversial figure in the world of reality television and celebrity culture.
Net Worth of James Kennedy and Ally Lewber in 2023
James Kennedy's girlfriend, who has established a diverse income stream through hosting, reality shows, reception work, promotions, and journalism, boasts an estimated net worth of approximately $1 million.
In contrast, James Kennedy, the renowned internet personality and Vanderpump Rules star commands an impressive net worth of $6 million in 2023. With each episode of the show earning him $40,000, Kennedy continues to thrive in the realm of celebrity and entertainment.
Houses and Luxurious Cars
Notably, he made a significant investment in real estate by acquiring a Burbank property for $1.35 million. This newly renovated 1,327-square-foot residence stands out with its distinctive attributes, including a bespoke kitchen, 2 bathrooms, elegant hardwood floors, upgraded windows, fencing, and an expansive driveway that leads to a detached garage.
James's automobile collection is equally noteworthy, featuring five remarkable vehicles: a Range Rover Autobiography, Bentley GT, Mercedes C-Class, BMW X5, and his initial purchase, a Porsche acquired for $70,000 from a used-car dealership. The aggregate value of his car collection constitutes a notable 15% of his overall net worth, reflecting his penchant for luxury and style.
James Kennedy Gifted Beautiful Diamond Necklace To His Girlfriend
James Kennedy's generosity towards his new girlfriend, Ally Lewber, is evident through his lavish expenditures. He indulged in luxury by gifting her a limited-edition Louis Vuitton bag valued at $15,000, showcasing his penchant for opulence.
Additionally, he adorned her with a remarkable diamond necklace from Cartier, a stunning piece that came with a price tag of $29,000.
Rumors are swirling that James's generosity might even extend to a grander scale, with whispers suggesting he could potentially acquire a Lamborghini Urus for Ally. This extravagant gesture is rumored to come with a substantial loan assistance of $300,000, further emphasizing his desire to provide her with the finer things in life
See Glamour Fame For More
-->