Vanderpump Rules: Tom Sandoval Accuses James Kennedy Of Mixing Booze With Uppers
Published Wed May 15 2019 By Andrew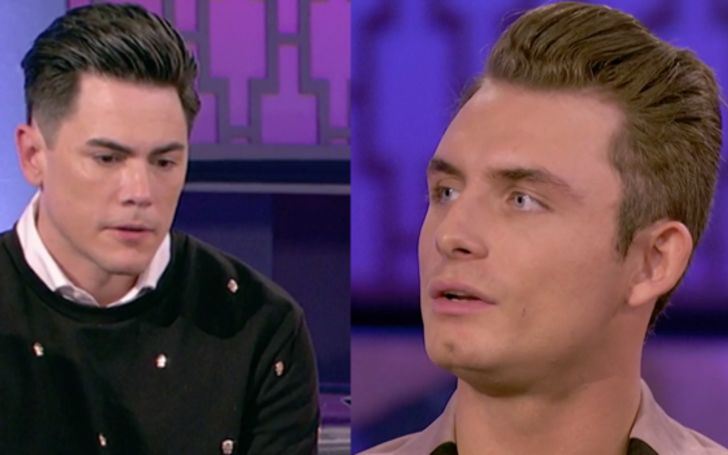 James Kennedy accused by Tom Sandoval that he mixed booze with uppers at Vanderpump.
Things got quite weird and heated in the recent reunion show of 'Vanderpump Rules' when James Kennedy's drinking problem came to the discussion. According to Tom Sandoval, Kennedy allegedly laced the booze with uppers and the men went at it hard.
The May 13 Vanderpump Rules marked one of those reunion specials which featured a wide variety of wild moments, but James Kennedy's drinking problem is which grabbed the attention.
James Kennedy accused of mixing 'uppers' in his drinks.
SOURCE: Hollywood Life
Lisa Vanderpump, lamented as host Andy Cohen asked James,
"He doesn't seem to understand, he can't stop. He is his own worst enemy, Are you back to drinking and partying?"
His answer didn't go over well with his castmates as he stated,
"No, I'm not back to drinking and partying. I've been DJ-ing a lot and I've been working a lot,"
One of his co-stars sure wasn't satisfied with his answer and called him out for being "sh*tfaced" at a friend's recent birthday party. James was going on about how he is drinking but not like old days before Lisa cut him off mid-sentence, questioning his honesty about sobriety.
Kristin Doute then went on to complain about the comprehension while maintaining that he is "f**king tired of this narrative" about James' drinking. Right after, Tom Sandoval jumped in with his claim that he has seen Kennedy at his absolute worst and that seems to be the case when the reality star is mixing alcohol with other things.
He went on to add, "See, you'll have a beer, be totally chill, totally fun, mix it with other things then you're like the worst." Furthermore, James thought that Tom meant mixing beer with vodka.
Also Read: Vanderpump Rules: Jax Taylor SLAMS Producers For Making Him Look Like a Jerk!
But something different was intended! When Tom suggested that he meant more of a uppers type which acts as James' "kryptonite".
Lisa Vanderpump barged into the discussion to tell James for getting angry at the truth while Tom snapped denying the accusations telling Tom to shut up. Then, Lisa took it upon herself to scold James about the fact that he was being very rude and projecting an uncool vibe as Tom has been on James' side in the past, standing firmly by his side.
James then took a shot at Stassi Schroeder's new hair extensions, which steered the conversation away from the drinking discussion.
Check out: James on Vanderpump Rules' fourth season.
Lisa ended up firing and rehiring James in the latest rendition of Vanderpump Rules, despite his difficulties. She also maintained that there would be no appreciation for a one-dimensional character in the show while also acknowledging the good in Kennedy.
-->