A Love Story: The Enduring Relationship of Frances Yarborough and Don Knotts
Frances Yarborough, also known as Francey Yarborough, was the wife of the late actor and comedian Don Knotts. He was a highly acclaimed actor, best known for his iconic role as Deputy Sheriff Barney Fife on the popular sitcom The Andy Griffith Show in the 1960s.
Frances Yarborough became Don Knotts' third and final wife before his passing in 2006. The couple first met in the late 80s and embarked on a marital journey together. Although their marriage lasted only a few years, they shared a significant period of their lives and created memories together. Frances Yarborough remains part of Don's personal history and legacy.
Don Knotts and Frances Yarborough Married in 2002
Francey Yarborough, first met her husband Don Knotts while working as a production assistant on the syndicated comedy show "What a Country!" in the late 1980s. Don Knotts, who was known for his role in "The Andy Griffith Show," had just finished his own sitcom when they crossed paths.
In his book, "Andy and Don: The Making of a Friendship and a Classic American TV Show," Knotts described Frances as a beautiful and kind-hearted actress who had moved to Hollywood to pursue improvisational comedy. At the time, Frances's main job was to assist Don by helping him learn his lines.
Their professional relationship eventually blossomed into a romantic one, and the couple tied the knot in 2002. They shared a special bond that lasted until Don Knotts' passing in 2006.
A Huge Gap Between Frances Yarborough and Don Knotts
When Frances Yarborough and Don Knotts first met, there was a significant age difference between them, with Yarborough in her twenties and Knotts entering his sixties. Despite the age gap, their connection was undeniable. According to Yarborough's recollections in the book "Andy and Don," they were kindred spirits who instantly formed a rapport.
Yarborough described their early days together, saying they would talk for hours, sharing stories about their families and their own goofy lives. She found Knotts to be vulnerable, a quality she had never encountered before. Their outings to La Scala in Beverly Hills were filled with laughter and trading stories.
Their shared appreciation for the nuances of people and their ability to make each other laugh helped solidify their bond. In 2002, Yarborough and Knotts took their relationship to the next level and got married, cherishing the connection they had built over the years.
Francey Yarborough Helped Don Knotts From Bad Habits
When Don Knotts crossed paths with Francey, he was caught in a lifestyle characterized by late nights, excessive drinking, poor eating habits, and heavy smoking. However, their encounter proved to be transformative for the beloved actor.
Shortly after meeting Yarborough, known for her calming presence and support, Don Knotts made a pivotal decision to quit smoking. It happened in a moment when he heard a wheeze, prompting him to drop his cigarette and never return to the habit again.
This significant change in his life not only reflected his commitment to his health but also symbolized a turning point in his overall well-being. With Francey by his side, Don found the strength and motivation to make positive changes, demonstrating the profound impact that a supportive partner can have on one's journey toward personal growth and well-being.
Don Knotts Married Three Times
Frances Yarborough's marriage to Don Knotts captured significant media attention. The couple privately exchanged vows in 2002, marking Frances as Don Knotts' third wife. Their marriage lasted until Don's passing on February 24, 2006, at the age of 81. Throughout their time together, they did not have any children.
Before marrying Frances, Don had previously been married twice. His first marriage was to Kathryn Metz in 1947, but they divorced in 1964. They had two children together, Thomas Knotts and Karen Knotts, the latter being an actress and stand-up comic who studied at the USC School of Cinematic Art. Don's second marriage was to Loralee Czuchna in 1974, which also ended in divorce after nine years.
Frances Yarborough's union with Don Knotts brought a new chapter in both their lives, solidifying their connection and creating lasting memories until Don's final days.
Also See: Legendary Actor Al Pacino is Expecting Child With Girlfriend, Noor Alfallah!
Legendary Actor, Don Knotts Died At the Age of Eighty One
Don Knotts passed away at the age of 81 on February 24, 2006, at Cedars-Sinai Medical Center in Los Angeles due to complications of pneumonia related to lung cancer. Prior to his death, he received treatment at the medical center but returned home after feeling better. Knotts was laid to rest at Westwood Memorial Park in Los Angeles.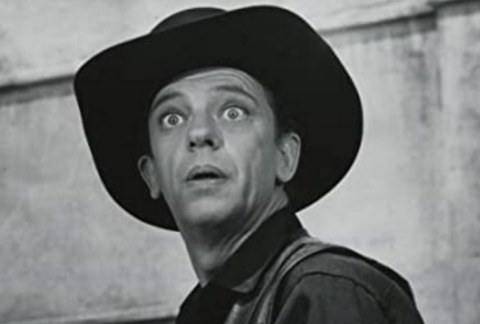 Knotts' obituaries recognized him as a significant influence on other entertainers. In early 2011, the simple granite headstone at his gravesite was replaced with a bronze plaque that depicted several of his iconic movie and television roles.
A statue honoring Don Knotts, created by Jamie Lester, was unveiled on July 23, 2016, in front of The Metropolitan Theatre on High Street in his hometown of Morgantown, West Virginia. The statue serves as a tribute to his legacy in the entertainment industry.
Recommended: 'Nightmare on Elm Street' Actor John Saxon Dead at 83
Frances Yarborough and Don Knotts's Net Worth
Frances Yarborough, at the time of her passing, was believed to have a net worth in the millions of dollars. She inherited a significant portion of her late husband's properties following his death in 2006. Don Knotts, her husband, had an estimated net worth of around $20 million at the time of his passing.
One of their valuable assets was their house in Glendale, which was worth $1.295 million in 2013. Frances Yarborough passed away on October 28, 2013, at the age of 86. According to sources, her death was a result of natural causes.
Frances Yarborough's inheritance and the properties she acquired from Don Knotts' estate added to her wealth, which contributed to her substantial net worth at the time of her passing.
Is Don Knotts's Third Wife, Frances Yarborough an Actress?
Frances Yarborough led a largely private life, and details about her professional career are not widely available. According to reports, she worked as a government secretary in America. Additionally, she had a part-time acting career, although she appeared in only one movie, 1976's The Electric Chair, where she portrayed a jury member alongside notable actors such as Larry Parks, Katherine Cortez, Don Cummins, and Nita Patterson.
Frances Yarborough was a Christian and became a member of the Walhalla First Baptist Church. However, further information about her professional life and other work endeavors remains undisclosed in the media. She gained fame primarily through her marriage to Don Knotts, who was a highly renowned figure in his career field.
For More Updates on Different Celebrities Stick With Glamour Fame
-->