Actor Miles Teller is Married; Exchanged Vows with Model Keleigh Sperry in a Beautiful Hawaii ceremony
Published Tue Sep 03 2019 By Travis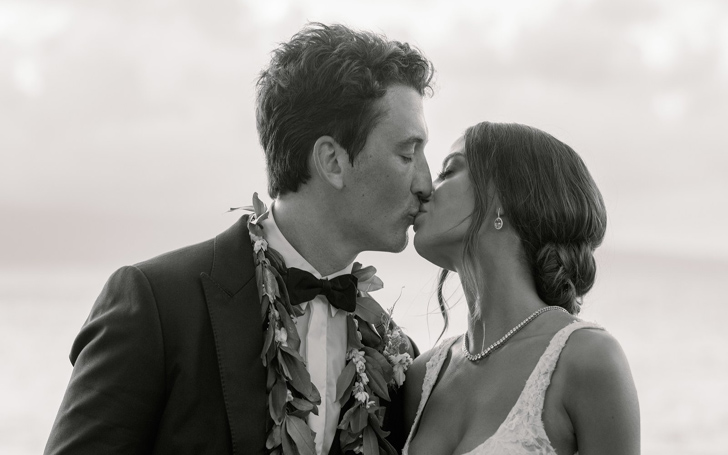 Miles Teller and Keleigh Sperry flew to Hawaii to get married surrounded by their family and friends.
Sunday on 1 September 2019 was the day when Miles Teller and his longtime girlfriend Keleigh Sperry exchanged vows to spend eternity together, loving and caring for one another, in sickness and in health, to always love one another and be faithful to each other. IT was a long journey for the two on their way to the beautiful day in Maui, Hawaii, where they became Mr. and Mrs. Teller.
Grammy is not exactly Miles' scene; he is an actor and actors are pretty rare when it comes to attending the biggest musical award of the year. But fate held a different idea for Miles who stumbled into the Grammy after-party, and it was there he met his future wife. In 2013, while 'Black Keys' was playing on the stage, entertaining the various stars and celebrities in attendance, one person took the imagination of Miles, and he was taken by Keleigh, the moment he saw her for the first time.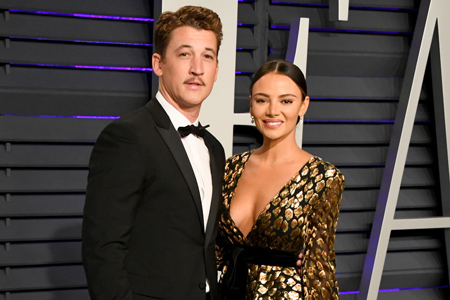 Source: Entertainment Weekly
Miles went to talk to her and after numerous attempts to get her to dance; he was finally successful in taking her to the dance floor. By this point, Miles was not sure about how things were going for the two, and he thought he was making a mess of the whole things. While on the other hand, Keleigh thought he was a charming man whom she "adored" from the first time they met.
After a couple of days, the two went on a date, and their relationship took off. The relationship lasted for more than four years when Miles decided it was time to put a ring on her finger by getting down on his knees. Miles said it is always difficult to surprise Keleigh so when the couple went on a trip to Seychelles, Keleigh thought he was going to propose on the beach, but Miles was not going to be predictable.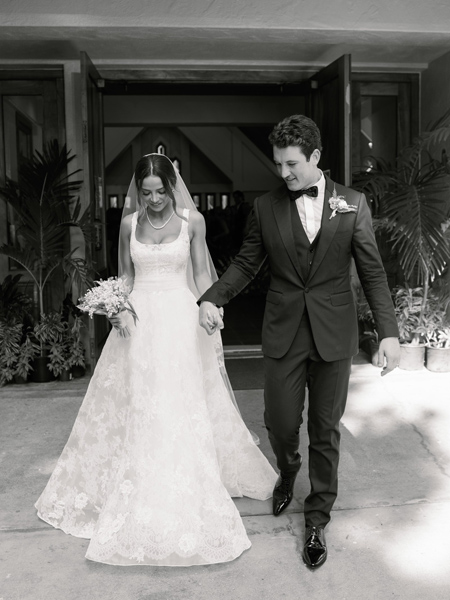 Source: Vogue
The four-year-old couple then left for Africa where Miles planned to surprise Keleigh during the safari. Miles attached a rose on a tree and Keliegh said she was surprised after seeing a rose stuck on a tree during the wintertime. She went over and took the rose and also a note attached to the rose which showed the date the couple started dating and the preset date, Keliegh turned around, and Miles said to her, "that was the first day you became my girlfriend and today is the last," then he got down on one knee and asked her to be his wife.
There was never a single moment of doubt between the newly engaged couple who picked Maui for their marriage ceremony. Miles and Keleigh almost always spent summer together there with Keliegh's parents, and they both loved the place, which is why it was chosen as the location for the marriage ceremony.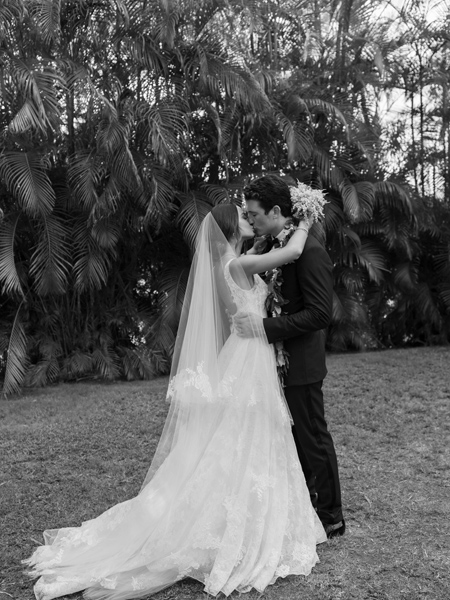 Source: Vogue
The couple worked with Christie Rose Events located in California as well as Unveiled Hawaii from Maui to turn their vision into a reality. They both agreed the event organizers were an important part of making sure they get the feel of the event just right.
Keleigh worked with Monique Lhuillier and created the exact dress she was looking for, something light and elegant since the marriage ceremony was taking place in a church she wanted to wear something which represented values but was also comfortable to move around in and Monique allowed her to find exactly what was in her mind.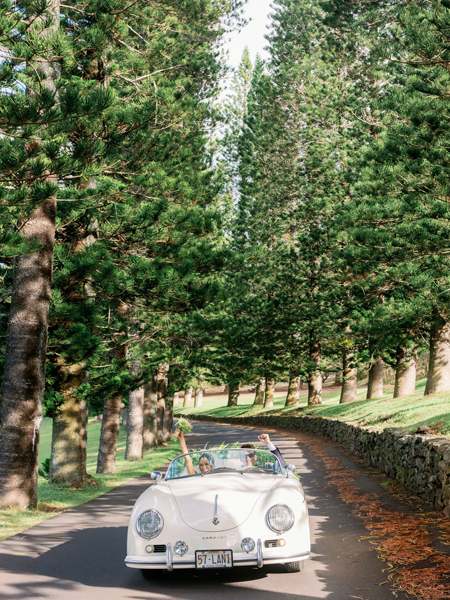 Source: Vogue
Hedi Slimane is a designer who worked with Miles before and he was there for the Whiplash actor to make sure he was ready for the wedding. Miles wore a custom made Celine which the designer chose to make sure there is a classic feel to it and also allows the actor's charisma to shine through.
Also Read: Who Is Matthew McConaughey Wife Camila Alves? How Long Has The Actor Been Married? Learn Details Of Their Sweet Love Story!
The wedding ceremony took place in a church on the island, and the couple exchanged rings made by Jen Meyer. The gold rings were followed by vows the two wrote themselves and the ceremony came to a close with the couple sharing a kiss surrounded by bridesmaids wearing Reformation dresses and groomsmen looking cool in their Bonobos suits.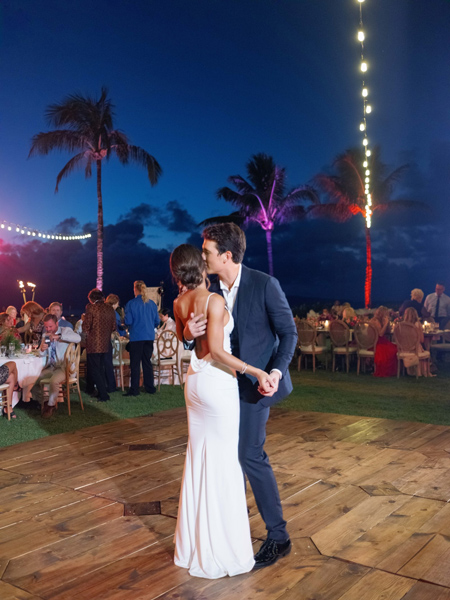 Source: Vogue
After the ceremony, the beautiful Mrs. Teller slid into an exquisite Oscar de la Renta dress after the newly minted Mr. and Mrs. Teller took to the dance floor for their first dance as a couple. The song choice was also perfect with Vince Gill's 'If I Didn't Have You' bringing the formal event to a close while the guests moved into a smaller ballroom and let loose.
Also Read: Is Game Of Thrones' Grey Worm Actor Jacob Anderson Married? Who is His Wife? Does He Share Any Children?
Kygo was there performing for the new couple, and the two danced till the morning like the way they did the first night they met. We hope this is a long-lasting and fruitful marriage for the two and we want to congratulate the newly minted couple for their wedding.
-->