Adam Sandler Recalls Getting Angry At Jimmy Fallon Over Saturday Night Live Impressions
Published Wed Apr 08 2020 By Eden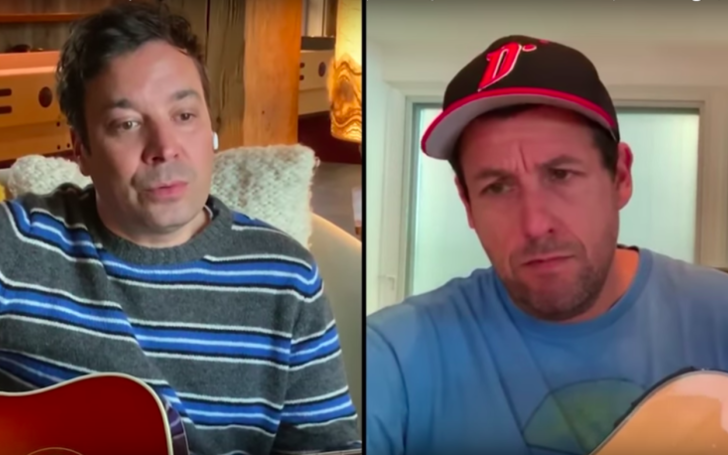 Adam Sandler was once angry at Jimmy Fallon over SNL impressions.
COVID-19 couldn't be causing bigger havoc in the world right now, but even coronavirus cannot shut down late-night shows for too long. Jimmy Fallon is one of the popular names in the industry who's found a way to host a low-budget version and interview celebs currently in self-isolation.
Adam Sandler was the latest guest in Fallon's condensed Tonight Show, and they ended up talking about Saturday Night Live. The host asked Sandler if he remembered their phone conversation from 20 years back. Turns out, the actor's memory is indeed sharp, and he recalled the time Jimmy asked permission to impersonate him for an SNL sketch.
Watch: Adam Sandler Shares How He First Felt About Jimmy's SNL Impression
Sandler approved Jimmy's request at the time; however, he was later left pretty angry at his impressions. The 'Happy Gilmore' star said:
I do remember back then – that's like 20 years ago or something – always getting calls from anybody who mentioned your name from my friends in my hometown, going, 'You see they were making fun of you? Blah blah blah.' And I had to be like, 'Oh yeah, really?' But as I got older, I was like what the hell is the difference, man? It's fun. Who cares?
Sandler believes he grew to understand the art of parody better with age. He's been at the receiving end of several impersonations, and he knows exactly what it feels like. On the other hand, he's also experienced the touch of resentment upon getting targeted for merely living one's life.
Check out: Adam Sandler and Jimmy Perform "Don't Touch Grandma" (The Tonight Show: At Home Edition)
The actor understood the other side of the story as well since he used to perform impressions of famous celebrities on SNL. He would often bump into those celebs, and to his pleasant surprise, they carried no ill-feeling towards him.
I remember on SNL I did a few people who were pissed at me afterward, and I didn't understand because I was so young. I don't remember which actors and stuff, but a skit is written, and all of a sudden you're supposed to do an impression of somebody. And then I went to like a Knicks game or something, and somebody I did was there, and [they ignored me]. They ice you, right?
It's nice to see Jimmy Fallon and Adam Sandler share such experiences that's not often talked about on mainstream media.
Visit Glamour Fame for more interesting news of your favorite shows.
-->