Who is Alex French - Some Facts to Know About the Tik Tok Star
Published Fri Apr 17 2020 By Eric
Nowadays, there are so many social platforms available for everyone all around the world. It has benefited a lot of people to gain massive attention, and many of them even created a career from their social page. Alex French also come under the radar of those people who are surfing the tide.
Alex's rapid rise in fame with her cheerful TikTok videos generated desire inside of viewers to know more about her, which brings us on today's article. Here we will share with you some interesting facts to assist you guys in gaining more insight on your TikTok starlet Alex French.
Alex French Wiki/Bio
Born on March 19, 2003, the uprising TikTok star Alex French is one of four children of her parents Bart and Stephanie French from Texas. In her family, as a sibling, she has at least three young brothers James, Charlie, and Owen French.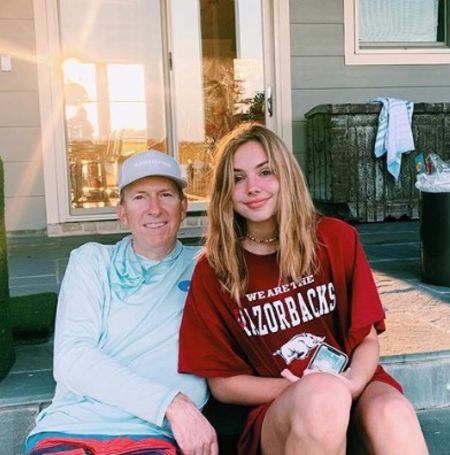 TikTok starlet Alex is the daughter of her parents Bart and Stephanie French.
Photo Source: Instagram account of Alex French
According to Earn The Necklace, 17, French is a high school teen who is currently acquiring academic qualification from McKinney Boyd High School.
Also See: Who Is TikTok Star Charli D'Amelio?
However, several media tend her to be 20 years old, which is a misconception, as the young TikTok star is still enjoying teenage life. Still, despite her age, she was active in Christian youth programs, which provided her chance to travel to Brazil on a mission.
French 'Hi' Video Gained Many Views
If you keep yourself updated with TikTok clips, then you might encounter with Alex French "Hi" video, which went viral, helping her to grab prominence height with millions of followers in her account.
Alex French's Most Viewed TikToks
In the video, Alex literally says hi dozens of times repeatedly, over and over again in different backgrounds. A simple clip like that with her beautiful smile hooked many of her new viewers and launch her into the success.
She is also Active on Instagram and YouTube
French is also active on Instagram and YouTube.
Photo Source:Instagram account of Alex French
It is usual for kids of this era to be active in social media. So, we think it isn't surprising to know that except for TikTok Alex, French can be found on Instagram and Youtube too. She successfully accumulated more than 499k followers in her Insta account and adding more followers as the day goes by form her daily new post.
Recommended: TikTok Star Bella Cuomo Net Worth - Find Out How Rich is Cris Cuomo's Daughter
However, unlike Alex TikTok and Instagram account, her YouTube account has no content. Still, she managed to acquire subscribers, which cross 3.16k until today. So, young star French is doing great in earning more followers in her social media.
Alex Got a Pet Dog Name Annie
Alex French do usually posts her photo with her BFF Annie, who is her pet. Yes, going through her Instagram post, we can see many pictures where she is enjoying her time with man's best friend dog.
Alex loves her dog, so much that she even gave her dog Annie an Instagram account of her own. There she show-off many clicks of her dog doing various activities.
TikTok Starlet French Was Accused of Using the N-Word
Days aren't all colorful like a rainbows and butterflies when you are famous. Fame do capture some negative attention. On the one hand, people praise your work; on the other, there will always be someone who hates your guts for what you do no matter how good you are at it.
Alex French n-word *FULL EXPLANATION*
The TikTok starlet, Alex French, also faced the same fate after gaining the attention of many from her TikTok clips. There was this incident where one of the Instagram users accused her of using N-word in a Instagram DM conversation.
Click To Read: Farrah Abraham Faces Backlash After Making Inappropriate TikTok Video with Her Daughter Sophia
After then, people started to backlash Alex saying mean things in her comment box. However, she did manage to retain herself from critics with the help of her faithful followers who proved it to be fake, and she still posts new videos now and then for her fans.
For more interesting facts and details related to your favorite celebrity feel free to visit Glamour Fame.
-->