All You Want to know about Mads Mikkelsen family; Brother played in The Witcher
Published Sun Jan 05 2020 By Travis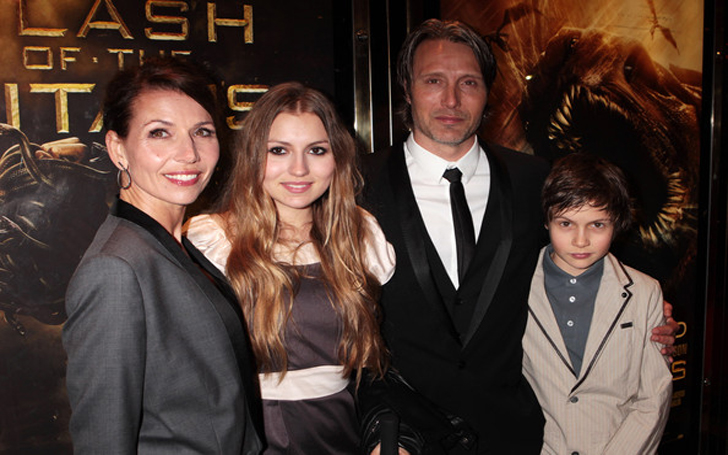 Mads Mikkelsen is the pride of Denmark, the multiple times Danish Sexiest Man Alive winner became a local movie sensation and later brought his talents to the Hollywood where everyone woke up to the greatness and talent of the Scandinavian actor. Now, Mads is considered to be one of the most reliable character actors working in Hollywood.
Mad Mikkelsen started his career as a gymnast and later dancer as the actor met his wife through his dancing career. The actor danced on stage for a while, but he needed a career change soon after because he needed to do something new for himself. Mads went to a drama institution at the Arhus Theatre School and soon embarked on his career as an actor.
Watch: Mads Mikkelsen as Hannibal Lecter in the hit series Hannibal
The biggest break of his career was with the Pusher movie series, directed by Nicolas Winding Refn. The movie series put the actor on the map, and soon Mads appeared in beloved TV shows, which resulted in the star of the actor to rise. But nothing helped his exposure as an actor than the amazing turn as a villain in the Bond movie 'Casino Royale.' Le Chiffre's character brought fame and recognition as well as massive opportunities for the actor.
But the career of the actor was one thing; his family life was a whole different beast entirely. The actor said no matter how busy he got, he always made time for his family, and the care he shows for his family is probably the reason why they are still together to this date.
Mads Mikkelsen Family – Who is the Hannibal Actor's Father and Mother?
The parents of Lars and Mads Mikkelsen.
Source: Pinterest
Mads Mikkelsen was born on 22 November 1965 in Copenhagen, Denmark, to his mother Bente Christiansen and father, Henning Mikkelsen. His father worked all his life as a bank teller and was also involved in the trade union. On the other hand, Mads' mother was a career nurse, and they all lived in Norrebro, where he was raised alongside his brother.
Mads Mikkelsen's Wife – Meeting Through Dancing and Getting Married
Mads Mikkelsen is married to his wife Hanne Jacobsen for almost 20 years.
Source: Glamour Fame
Mads started his career in show business as a dancer, and while he was working on a show, choreographer Hanne Jacobsen was also there. The two quickly fell for one another and started dating soon after, with their first date said to be in 1987.
Mads and Hanne dated for about 13 years when he finally asked her to marry him, and in 2000, in the presence of their friends, family, and children, the couple exchanged their vows and got married. They've been together for over 32 years and been married for almost two decades.
Kids of Mads Mikkelsen – Mads and His Wife Hanne are Parents to their Two Children
Mads Mikkelsen and Hanne Jacobsen are parents to their two kids.
Source: Pinterest
Mads and Hanne started dating in 1987, and the couple moved in together soon after. While the actor was still working as a dancer and also going to drama school, the couple welcomed their first child. Their first kid Viola Mikkelsen was born in 1992 and followed by the birth of their son, Carl, in 1997. Viola is 27 years old, whereas Carl Mikkelsen is 22, and Mads talked about how they used to come to the set of his movies while they were still young.
Mads Mikkelsen is the Younger Son of His Parents – Lars Mikkelsen is Mads Elder Brother.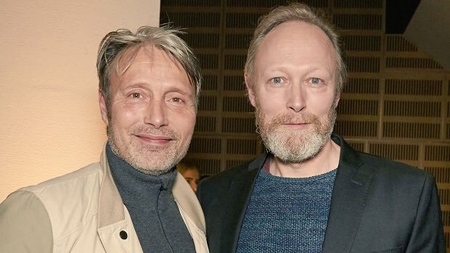 Lars Mikkelsen is the elder brother of Mads Mikkelsen.
Source: Instagram
Mads Mikkelsen had the benefit of being the younger child as he was the second kid of his parents. Lars Mikkelsen, Mads elder brother, was born on 6 May 1964, and the two grew up together in Norrebro.
The Hannibal actor talked about growing up with his brother and going to the old man's pub with his older brother during his younger days. Lars is also an actor like Mads, and most recently, he played the villain figure of a mage in the hit Netflix series The Witcher. The character of Stregobor is still alive, and he will most probably return in season 2 of The Witcher, where Geralt needs to get his revenge on the character.
Also Read: The Skarsgard Family - Grab All The Unknown Facts Here!
Before you leave, make sure to visit Glamour Fame to be in the know of all the happenings in the world of show business.
-->