Who is Amy Klobuchar's Husband? Details of Her Married Life
Published Fri Dec 20 2019 By Travis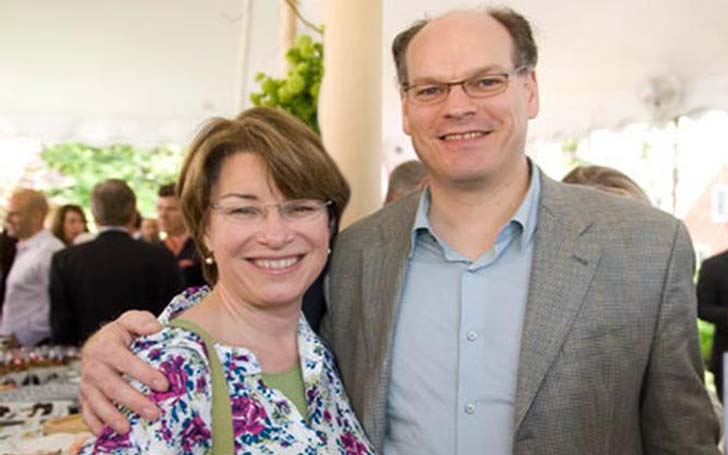 Amy Klobucher is the presidential candidate hailing from the State of Minnesota, she was a late entry into the presidential campaign, and her announcement during an ice storm also made her an internet favorite. Amy is also a longshot to become the President, but it is not slowing down the Senator from Minnesota.
Amy is supported by her husband for over 26 years, and he is probably one of the reasons why she is toughing it out with the 2020 Presidential election. When a person is running or working towards anything in life, good support at home is where it all starts, and she got it all with her husband and daughter.
Watch: Amy Klobucher announces to run for the office of the President of the United States
The Presidential candidate may not be the favorite of most people to win the election, but she is putting a good fight. You may never know; she was the first female Senator of Minnesota so, being the first female President of the United States seems like the right second step, and also, her husband will become the first "first-gentleman." So, learn all the details of Amy Klobuchar and her husband.
How Did Amy Klobuchar and Her Husband John Bessler Meet?
Amy Klobuchar was done with law school, and she was working as in law from at the start of the 90s. Then in 1993, she met a young and dashing man John Bessler in a Café in Minneapolis. The meeting at Coyote Café was not something either of them probably envisioned into making such a great impact on their lives.
But soon after the first meeting, the two were dating, and they knew there was something special about the relationship between the two. John was also a lawyer and later on would become a published author, writing books about capital punishment, and the married relationship between the couple was a good one, something built on trust and common ground.
Amy Klobuchar and John Bessler got Married in 1993
After half year of dating Amy Klobucher and John Bessler got married.
Source: Instagram
The first meeting between the couple was enough to get them to fall in love with one another, and a walk down the altar was not far for the duo. Amy and John dated for about six months when the question was popped, and the family and friends were gathered in Minnesota to witness the marriage ceremony of Amy and John.
On the morning of 10 July 1993, Amy Klobuchar and John Bessler went out canoeing, and by the afternoon of the same day, the couple was pronounced man and wife. They became husband and wife and started their lives together and also recently celebrated their 26th marriage anniversary.
Amy Klobucher and John Bessler got married in 1993.
Source: Instagram
Amy wrote a sweet message on their anniversary on Instagram; she captioned the couple's photo, "Happy anniversary John! On the day we got married, we went canoeing in the morning. Thanks for being the kindest husband, a wonderful dad, a lot of fun, and someone who always steers a steady canoe."
Also Read: Donald Trump Impeachment - A Brief Story!
If you ask the couple the reason for their successful marriage, they will definitely say understanding and support. In the sun or the rain or the snow, John is always there for Amy, standing by her side and supporting her. When a couple makes sacrifices for one another, it is definitely going to be the root of a successful marriage.
Amy Klobuchar and John Bessler are Proud Parents of Their Daughter Abigail Bessler
Amy and John lived a full life, one filled with ups and downs, love, anger, pain, and also the affection of their one and only child. Though the idea may be old, the love of a child is something all parents must feel, and Amy and John shared it with their daughter Abigail Bessler, who was born two years after the couple got married.
Abigail is not only a beautiful young lady, but she is also a talented student who is currently working for a New York City Councilman, and when she gets the time, a stand-up comedian on the side.
Abigail Bessler with her father John Bessler and mother Amy Klobucher after her graduation from Yale in 2017.
Source: Instagram
Abigail graduated with full honors from Yale in 2017, and Amy and John were proud, Amy wrote, "Congratulations Abigail! Dad and I were so proud of you as you crossed that stage today to get your college degree (with many high honors at that)! It wasn't that long ago that you were taking that one big step up the stairs of the yellow school bus and now you're stepping out into the world as a kind, well-spoken and grounded young woman, with a dose of good humor that will serve you well in the years to come. We love you! Mom and Dad."
Abigail is also supportive of her mother's choice to run in the current Presidential election and said in an interview she is ready to help her in any way possible.
Also Read: Former United States Representative John Dingell Wife - Details of his Married Life
Before you leave, make sure to visit Glamour Fame to be in the know of all the happenings in the world of show business.
-->