Former United States Representative John Dingell Wife - Details of his Married Life
Published Fri Dec 20 2019 By Travis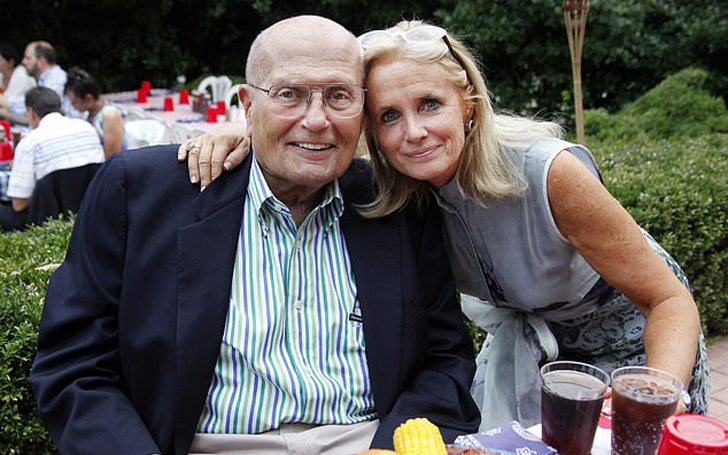 John Dingell was a respected House of Representatives member where he served from 1955 to 2015 for over 59 years, and at the time of his resignation, was the only member of the House who served in the 1950s. The respected Michigan Representative was a vocal Democrat, and he did not cower in front of power when taking the truth, which is probably the reason why even after his death ten months ago, the former U.S. Representative is still getting attacked by Donald Trump.
The attacks were loathsome and ugly coming from a sitting President with Donald Trump saying during a rally in Michigan, "Maybe he's looking up," implying the respected Michigan representative is in hell instead of looking down from heaven. Trump was fuming at the Democrats going through with the impeachment, and then he decided to go after a dead Representative much to the anger of Republicans, Democrats, and widow as well as the John Dingell wife, Debbie Dingell.
Watch: Donald Trump mocks the dead husband of Debbie Dingall
Debbie Dingell came from the prominent family of Fisher Body, and she also worked for General Motors for most of her adult life. Then she met her husband, and in a way, the two changed each other. Here is everything you need to know about the meeting and marriage of John Dingell and his wife, Debbie Dingell.
How did John Dingell and Debbie Dingell (nee Insley) Meet?
John Dingell and Debbie Dingell met on a flight to Washington and soon they started dating.
Source: The Washington Post
John met his wife, Debbie, in the early 80s, when he was traveling from Detroit to Washington. A chance meeting on a flight to the capital was the scene where the two became acquainted. Debbie was sitting right next to John in the bumpy flight, and he was doing his best to get her not to feel anxious about the flight.
At the time of their meeting, she was 26 years old, and he was knocking on the door of 54. There were 27 years of gap between the two, but it did not stop the giant burly man to hit on the beautiful young lady. She was not interested in the advances at first, but after he asked her to go out with him for about 15 times.
"He was persistent but not in a #MeToo way," Debbie said, but she was charmed by the nature of the man, and she agreed to go out with him. About six months later, she was in love, and the couple started not only to go out but fell in love with one another. It was a sweet start to a relationship, which lasted the better part of almost 40 years and something which made them both better people.
When Did John Dingell and Debbie Dingell get Married?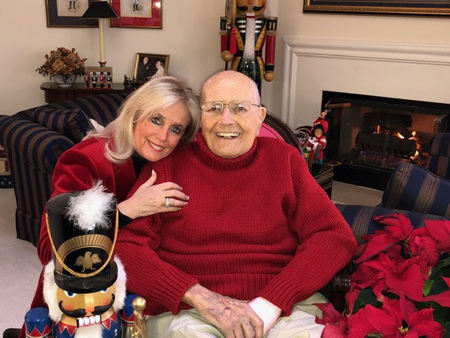 John and Debbie Dingell got married in 1981 after a few months of dating.
Source: The News Herald
A chance meeting brought them together, two unlikely people who would've never been together in the first place. She was a Republican, he was a Democrat, she came from an affluent family, and he made his career as a politician, she was a devout Catholic while he lived with his four children after divorcing his first wife of over 20 years, Helen Henebry.
It may seem as though chance brought the two love birds together, but Debbie for Debbie, it was God who wanted them to be together. After dating for a while, the couple exchanged vows and became husband and wife in May of 1981. Soon after John Dingell was and Debbie were married, she changed her name to Debbie Dingell and became a Democrat.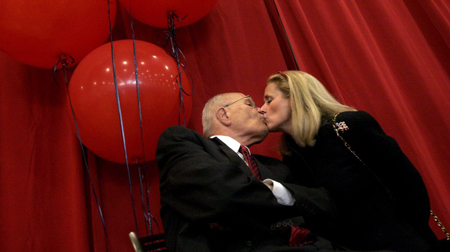 John and Debbie Dingell were married of almost 40 years at the time of his death.
Source: Detroit Free Press
As she explains it, the marriage was a relationship of giving and take, they compromised for one another, and the reason for their successful marriage was they made a promise to never go to bed angry; it was a promise they kept till the day of his death.
Also Read: Who is Tulsi Gabbard's Husband? Grab Details of Her Married Life!
"Life is a compromise. We both agreed when we got married never to go to bed angry," Debbie explained. "Honestly, when you marry a man that much older than you, you can't expect people to change. If you really love them, you have to learn how to give." Her advice and his willingness to listen were the reason she was a great political sounding board for John, and till his last term in office, the father of four kept saying he was the luckiest man alive to be married to such a fantastic person.
Final Moments of John Dingell and Debbie Dingell's Marriage – Death of an Icon
Debbie Dingell was absent from the 2019 State of the Union address when she got text messages from all her friends asking where she was, and she told them all her husband was taking a turn for the worst. He battled with heart problems from the early 2010s, and then he was on his last breath in February of 2019, and a day after the State of the Union address, John Dingell was no more.
In the final act of his life, John Dingell wrote an op-ed for The Washington Post, where he said, "It's simply not possible for me to adequately repay the love that my friends, neighbors, and family have given me and shown me during my public service and retirement. But I would be remiss in not acknowledging the forgiveness and sweetness of the woman who has essentially supported me for almost 40 years: my wife, Deborah."
Also Read: Meet the 2020 Presidential Candidate and Author Marianne Williamson
To his last breath, the man was dedicated to his wife, and she was to him, and after he died, it took a while for Debbie to come to terms with what she lost. It is probably something she will never get back, but the memories of a gentle soul in a giant body will keep her going as she extends the legacy of John Dingell, one of the greatest sons of Michigan.
Before you leave, make sure to visit Glamour Fame to be in the know of all the happenings in the world of show business.
-->