Andrew Tate Arrested By Romanian Authorities
Published Tue Jan 17 2023 By admin
Andrew Tate is an Internet sensation who has taken the world internet by storm. He is an American-British businessman and former Kickboxer who became an Internet celebrity. His controversial commentary on various social platforms has made him the most popular personality on the Internet.
Apart from his unconditional social fame, Tate is equally popular with his professional career. He is a four-time world champion in the sport and is known as King Cobra. In 2009 he won his first ISKA Kickboxing title and doubled his fame. Here is everything you need to know about the most controversial internet personality, Andrew Tate.
Andrew Tate Arrested By Romanian Authorities
The huge media personality Andrew often grabs mass attention through his words. This time he created a huge buzz in the internet world after Romanian authorities arrested him. On 29th December 2022, he and his brother Tristan Tate was charged with human trafficking along with two women.
The police allege that the group forced the victims to create paid pornography for social media sites such as Only fans. All this started after a man called the U.S. embassy reporting his former girlfriend was captivated by Tate's brother in Pipers, Romania.
Romanian authorities raided the houses and discovered four women who were kept against their will. According to Tate's lawyer, Eugen Vidineac, they are held in custody for further thirty days for investigation.
Also See: Ronni Hawk Arrested For Domestic Violence
Romanian Police Seized $4 Million Worth of Assets.
With a raid, the ANABI (Assets Recovery and Management Agency) seized almost $4 Million worth of assets. They revealed all the information in a press release. The team seized twenty-nine assets, including 15 cars, luxury watches, and sums of money from several countries.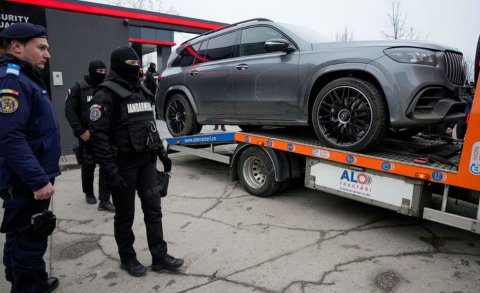 According to the ANABI, the seizure was made under the command of prosecutors of the Directorate for Investigating Organized Crime and Terrorism. Video has been published regarding the raid where the authorities have a compound and seized several high-value vehicles, including Rolls Royce, Mercedes Benz, and BMW.
DIICOT alleged that Tate and his crew who have formed a criminal group stretched over Britain and the United States for human trafficking. Also, they stated that the victims were raped on two separate occasions in March 2022. DIICOT added Tate's team sexually exploited more than six victims.
British Investigations In 2015
This is not the first time the huge media personality Tate has been involved in allegations. In January 2023, VICE News stated that he had been accused of rape by two women, which Andrew denied.
The allegation was made by the two victims back in 2015. However, after four years of investigation, Crown Prosecution Service CPS dropped the file charges due to a lack of evidence. On the other hand, the victims commented that the authorities mishandled their cases.
Who is Andrew Tate?
Andrew's full name is Emory Andrew Tate III, born on 1st December 1986 in Washington D.C. United States. He is of mixed race, and his birth sign is Sagittarius. His father, Emory Tate, is well known American chess international master.
Tate and his brother, Tristan, were raised in Illinois, Indiana. Later, after his parents split, the two brothers went to England for a better future. From a very early age, he learned to play chess, as influenced by his father, and attended several competitions.
Kickboxing and Big Boss Appearances
In 2005, he started practicing martial arts and worked in various TV advertising companies for pocket money. After three years of hard work, he was ranked 7th best in Britain by the ISKA and later ranked number 1 in Europe. With his great performance and skill, he was nicknamed a King Cobra after Tate won several titles and gathered huge attention.
In 2016, he made a guest appearance on the British reality show Big Brother. However, just after six days after his presentation, he was removed by the producers after his video was leaked of hitting a woman. VICE News later confirmed that his removal was due to a police investigation that closed in 2019.
Is Andrew Tate Married? Does He Have a Wife And Children?
The former Kickboxer is widely recognized for his anti-views regarding women in the media. In 2016, he even struck a woman with a belt which went viral. With his bad-boy nature and highlighting views, people often wonder whether he is married and he is a parent. Continue reading to find out.
Andrew is currently living a life as a single freeman. He hasn't been involved in romantic relationships for quite a long time. The media personality has strong views regarding marriage and has no desire to walk down the aisle soon. He had several affairs and relationships in the past, but neither went long and highlighted.
Regarding being a father, it is still unknown whether Tate is a parent. In many interviews, the Internet sensational mentioned that he has more than ten kids. But there is no proof of him having a baby. Maybe shortly, all of his personal life will be revealed.
Recommended: Does Morgan Wallen Have a Child? Who is the Mother?
Is Andrew Tate A Billionaire? Learn about Tate's Net Worth and Earnings
Andrew Tate's internet journey has been controversial. In one podcast, he stated that he is a billionaire and generates multi-million through his involvement. However, it has yet to be proven whether Andrew holds such money. Some of his loyal fans insist that he enjoys a lavish net worth of $400 Million.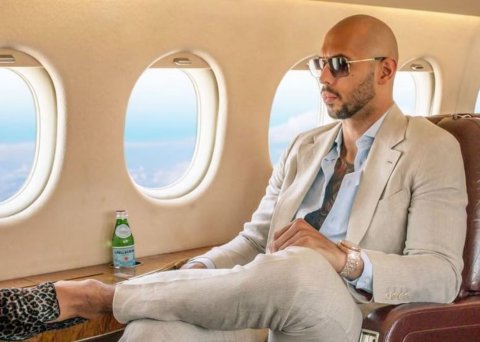 According to Celebrity Net Worth, he holds a net worth of $50 Million. The former Kickboxer's main source of income is from the internet world. His website private members club costs $4,497 to join, and to subscribe; it costs $49. 99. One of his Hustler's University has over 1000,000 subscribers from which he generates $5 Million monthly revenue.
Moreover, the Tate brothers also claimed that they had made more money by investing in cryptocurrency and casinos. Although nothing has been confirmed, the Romanian authorities are still investing in the two brothers.
Multi Millions Car Collections
Social media influencer Tate often flexes his lavish lifestyle, including his car collection. Back in 2022, he sent a tweet to Greta Thunberg, an environmental activist, saying he has more than thirty-three cars. Some of his cars collection include Bugatti Chiron Pur Sport worth $5.2 Million.
Two Ferrari 812 worth over $1.2 Million. Moreover, Andrew also owns Rolls Royce Wraith, Two Lamborghinis, a McLaren 720s, and many more. Most of his cars were seized by the police during the raid in January 2023.
For More Content, Visit Glamour Fame
-->