Antoni Porowski And Jonathan Van Ness Are NOT Dating!
Published Mon Aug 05 2019 By Sea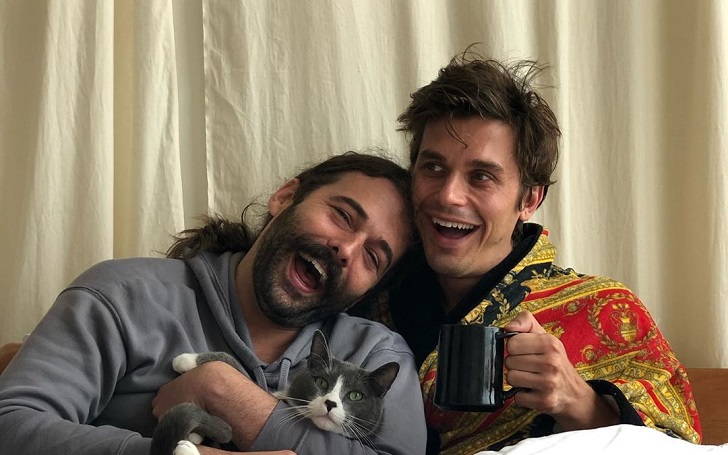 Antoni Porowski and Jonathan Van Ness shot down the viral rumors that they were dating, with Van Ness clarifying the issue up on Twitter.
When Antoni Porowski shared a photo of him and Jonathan Van Ness kissing on social media, the fans went crazy. After denying many times after the post that they are not an explicit couple, Van Ness took to Twitter last Friday to clarify the situation, once and for all.
Van Ness, 32, tweeted to the fans that they are not a couple... Yet. In fact, they are a couple of terrific friends, but not a romantic pair as of yet. But he did mention it is possible. One day, maybe the 'Queer Eye' fans will finally get what they wanted.
Of course, posting all those intimate pictures online will make anyone think that they are dating. There were kissing and hugging photographs of the duo. Even off-screen, they were often seen holding hands and hugging it out during interviews.
It was 'Fourth of July' when it all started out to be serious. Porowski, 35, posted a picture the next day, of them kissing each other in the back seat of a car, affirming that they celebrated America's Anniversary along with their own. Yes, their relationship rumors (or inquiries) were sparkling for a year.
In March, Queer Eye's Fab Five sat down on WIRED to answer the most searched questions about them and their Netflix hit show. At one point, there was a query of the relationship between Van Ness and Porowski. The pair explained that they're not a couple, and put the rumors to rest. The same month, Porowski had confirmed that he was dating 'Flipping Out' alum, Trace Lehnhoff, anyway.
Watch: Queer Eye Fab Five Answer Web's Most Searched Questions
The comments section on Porowski's kissing post got all fired up, and it got more interesting when their co-star Karamo Brown indicated that they might be a thing. But moments later, Van Ness, who split up from Wilco Froneman in January, posted a picture claiming they are not a thing yet, but someday they might fall in love.
Even after putting the thing to rest, Van Ness further sparked a flame with another post a couple of weeks later. The rumor just got bigger. Fans were like, "Quit playing games with our hearts❤️". They were not angry; they just were a little infatuated with the pair being a couple. They wanted it.
In People's exclusive clip from Friday's episode of 'Strahan and Sara', the cast of Queer Eye laughed off at the rumor of the pair being in a relationship. Brown again suggested the fire could arise with the smoke already fuming up. "I'm just gonna say, where there is smoke, there is fire."
Read More: More LGBTQ+ Characters Promised By Marvel Producers
Brown, 38, then kissed both Porowski and Van Ness on the head and host Michael Strahan joked he'd just poured more gasoline on the fire. Of course, the gasoline was already poured when a verified Instagram account appeared on July 5 that belonged to the pair, named Jvntoni, which already has racked up 216k followers.
Well, with everything that they are releasing to the public, they may get together one day, but that day is certainly not today. Hold your horses until then, and get ready to have your hearts flutter every time they share us an intimate photo of them.
-->