Antoniette Costa Takes A Gorgeous Selfie Wearing Thrive Causemetics. Learn About The Flourishing Vegan And Cruelty Free Beauty Line!
Published Wed May 15 2019 By Jessica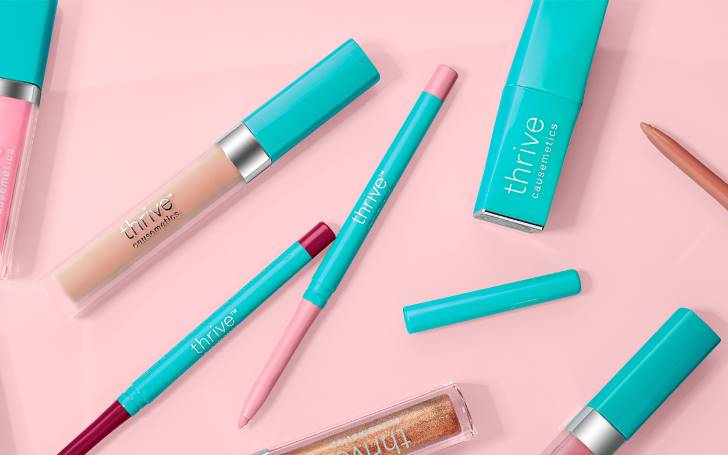 Antoniette Costa looks stunning wearing Thrive Causemetics lipstick on Instagram.
Apart from her full-time music career, Italian-American beauty Diva, Antoniette Costa is also a part-time selfie taker. Do allow us to call her the Queen of selfies.
The 32 years old singer is never shy and always fully confident when it comes to sharing her dazzling and super flawless pictures on social media.
Recommended: Kylie Skin: When Is Kylie Jenner's New Beauty Line Coming And What Will It Be Like?
Taking to Instagram once again to offer thousands of her fans a new glimpse of her flawless face, Antoniette shared a brand new selfie.
Antoniette Costa wearing Thrive Causemetics lipstick.
SOURCE:
Antoniette Costa
The latest picture posted on the photo-sharing application just a couple of hours ago showcases the co-founder of Humans of Fashion Foundation gracefully showing off her full face under a black umbrella.
"Verified Mayshowers ☔️🌸🌺 (continued...)" simply wrote Antoniette in the caption section.
In addition to the selfie where Antoniette is shunned in a black florist kimono style top, the internet star also made sure to let her fans know what she was wearing on her full lips to make her selfie appear super gorgeous.
The bright pink lipstick Antoniette Costa wearing is by Thrive Causemetics, a charitable beauty line that has been successfully thriving in the past four years since its establishment.
Karissa Bodnar, a highly experienced makeup artist, and product developer founded the company in honor of her late friend, Kristy Kristy she lost to cancer at the age of just 24.
Also read: Rihanna's New Luxury Fashion Line Is A Groundbreaking Moment for Fashion
The vegan and 100% cruelty-free cosmetic company based in LA offers all kinds of cosmetic products such as Buildable Blur CC Cream Broad Spectrum SPF 35, Filtered Effects Soft Focus HD Setting Powder, Overnight Sensation Brightening Sleep Mask, CC Cream + Sponge Set, Contouring Duo, Blush + Bronzer Set, Cosmo Power Multi-Dimensional Strobing Blush, Cosmo Power 3D Strobing Highlighter, Sun Chaser Blur + Sculpt Bronzing Powder, Triple Threat Color Stick, Setting Powder + Brush Set, Brilliant Eye Brightener, and Liquid Lash Extensions Mascara - all ranging from $20 to $70.
Thrive Causemetics does not only sell attractively packaged products but their products are also highly qualitative and reliable that effortlessly work great for our skin and makeover.
In making their products unique and excellent in the market, Bodnar used all the cruelty-free formula and without relying on harmful chemicals like parabens or sulfates.
As a matter of fact, the beauty expert traveled across the world to find the best ingredients and formulas to use for her Thrive Causemetics product.
The great thing is that this beauty company also focuses to empower women and save animals lives through funds and donations.
Whilst its been only over four years since this beauty line started their journey, Thrive Causemetics has successfully donated $25 million to more than 50 organizations that work in the field of women empowerment.
Don't miss: 5 Common Beauty Mistakes Brides Make Before Their Wedding
Today, Thrive Causemetics is not only popular among the two hundred thousand followers the company has on their Instagram, but also among A-listers makeup artist on Youtube such as Kathleen Lights and Emily Noel.
-->