Are Nicki Minaj And Kenneth Petty Set To Get Married?
Published Tue Jul 30 2019 By Sea
Nicki Minaj and her boyfriend just got their marriage license. They were in the down-low about that, but the wedding may well be official.
Nicki Minaj and boyfriend Kenneth Petty took a trip to the Bev Hills Courthouse in Los Angeles on Monday, July 29, and filled out their marriage license and apparently got the required paperwork for a wedding. They were seen standing in line at a window that read, 'marriage licenses and ceremony appts. only', while trying their best to not to be recognized, but who wouldn't!
It's a little confusing since the rapper already claimed on her 'Queen Radio' show that they already got their marriage license back in June. Minaj also revealed in April that they are ready to make their relationship official. Nonetheless, their license is official now since Petty paid for it in the courthouse.
The MEGATRON singer and her sugar haven't selected an official date, but Minaj is already addressing him as her 'husband'. Since a marriage license typically lasts unexpired only for a maximum of 90 days, the official announcement may come out soon.
Every night when I get out of the shower, my husband takes this really good lotion that we just bought, and he massages my feet, and rubs them, and he rubs each toe individually, and the heel, and the ball of my foot, and he does it all. It's just so sexy.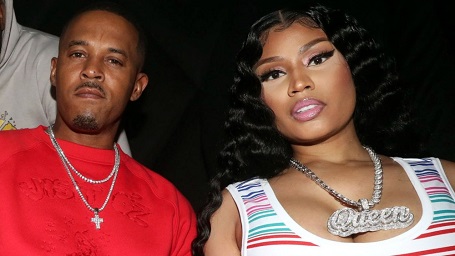 The two go way back to their teenage years and have rekindled that romance since being together last year. It's kind of nice for the two. Petty never calls Minaj as 'Nicki' but as 'Onika' as in her original name Onika Maraj, and he's been doing it from those teenage years. Despite social media users criticizing Minaj's romance with him, mentioning his 1995 conviction for first-degree attempted rape and 2006 first-degree manslaughter pleads, Minaj firmly defended her relationship, stating that he makes her happy.
Minaj also referenced her wedding in Chance the Rapper's collaboration of 'Zanies and Fools'. The same line in her rap also made people think that she was pregnant. She rapped, "Bout to walk down the aisle and be a mommy." The 'mommy' part may be just slang for being Petty's wifey though.
Also Read: Nicki Minaj Net Worth is Reported $85 Million, Detail About Her Career and Income Source
The 'Barbie Dream' singer cannot absolutely wait for the wedding to happen. When the pair walk the alter together, it will be one of the most talked-about weddings in modern time, that's for sure. We just have to wait for the official announcement.
-->