Ariana Grande Responds to Backlash Over Headlining Manchester Pride
Published Thu Feb 28 2019 By Tess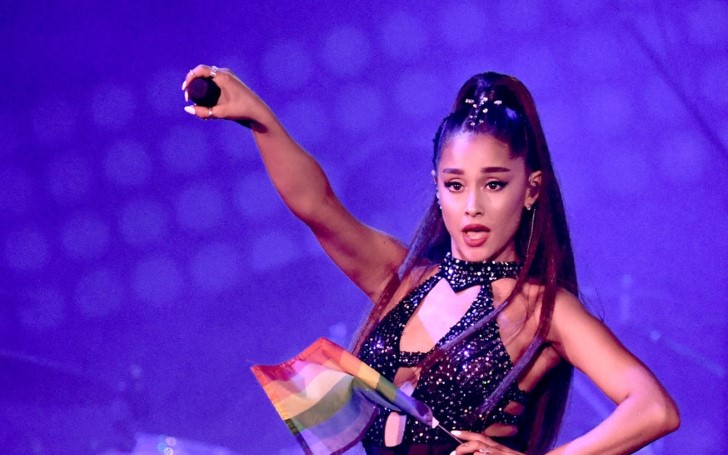 Ariana Grande responds to the backlash over her headlining Manchester Pride.
Two years after the suicide bombing on her Manchester concert, the US singer Ariana Grande once again announced she will be headlining Manchester Pride Festival performance.
On Monday, the 7 Rings singer confirmed her performance at the annual LGBTQ+ event through a post on Twitter.
After her announcement, several fans debated whether the singer who is straight would be the best choice for the event which focuses on supporting the LGBTQ community.
Ariana Grande had just the right answer to the commentators who questioned her appearance at the event.
Also see: Ariana Grande Reveals She Recorded Alternate 'Thank U, Next' If She Tied The Knot With Pete Davidson
Starting her note in twitter the pop singer says, "I have nothing to do with ticket pricing — manchester pride sets those rates, and they're mostly out of my control."
The singer further added:
"the lgbtq community has been so special to me and supportive throughout my career. the relationships i have with lgbtq fans, friends, and family make me so happy. i want to celebrate and support this community regardless of my identity or how people label me. and also i wanna visit a city that means so much to me. lgbtq representation is incredibly important, and i'm always proud to share that stage with lgbtq artists!"
Her note continued:
"over the years, pride events have been headlined by performers and artists of all sexual orientations and genders, including straight allies like cher and kylie minogue. i do think there's room for us to talk about these issues without equating a performance *for* an lgbtq audience with exploitation of the lgbtq community. if you truly feel like i didn't deserve to be offered this spot, i respect that. but i did accept it excitedly and gratefully.
Ariana concluded she is not claiming to be" the hero of the LGBTQ rights movement". She just wants to make her LGBTQ fans "feel special and celebrated and supported."
Read more: Ariana Grande Shares Cryptic Message on Late Ex-Boyfriend Mac Miller's Birthday
The festival is Ariana's first performance in Manchester after the One Love concert organized to raise money for the emergency fund following the terror attack at her Manchester Arena show in 2017.
The event takes place from 24th August to 26th August.
-->