Ariel Winter Showed Off her Amazing Figure in Los Angeles With Her Boyfriend Levi Meaden
Published Wed Jan 16 2019 By Jessica
Modern Family actress Ariel Winter showcases her thigh in a cute outfit as she steps out with boyfriend Levi Meaden in Los Angeles.
It's no secret that Ariel Winter is a Goddess. One can only wish they could be like her. How gorgeous is she really? To count on from her long dark hair that exposes her bright face to look chicer to her beautiful curves. Honestly, let's leave it, the list continues to go on forever.
Besides her natural beauty, the actress who appears in the TV sitcom Modern Family never dresses in boring clothes to appear stunning (though she doesn't need it).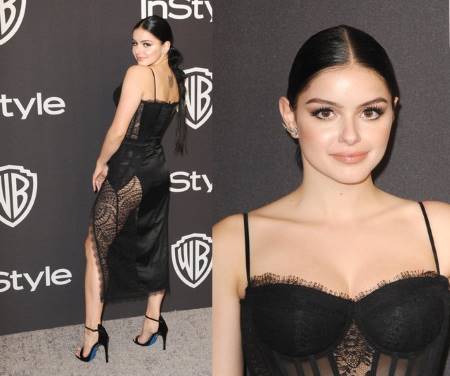 Ariel Winter at the 2019 Golden Globes After Party
SOURCE: Celebrity Pics
As we already mentioned, the beautiful 20 years old actress recently flaunted her body in a cute polka dot skirt that exposed her thigh.
You may also like: Tom Hardy Welcomes Second Child with Wife Charlotte Riley
Miss Winter stepped outside in LA running errands alongside her 31 years old boyfriend Levi Meaden.
Ariel Winter spotted in LA wearing polka dot skirt
SOURCE: GAC
And obviously, Ariel looked too cute just like her name. As a matter of fact, alongside her polka dot skirt, she accompanied the outfit with a black coat, a black bag and matched her dress with a thigh boot.
Ariel kept her clothes from top to bottom in black this time too, just as she does in most of our outfits.
Don't miss: Kim Kardashian Flaunts Her New Diamond Grillz on Instagram - How Much Does It Cost?
Furthermore, the young actress also carried a small side purse with her.
Actress Ariel Winter as
seen together with boyfriend Levi Meaden
Likewise, her Canadian boyfriend opted for a casual outfit as well.
Levi can be seen in black trousers, black sneakers, and a blue shirt. Protecting himself from the cold weather, he wore a dark navy blue bomber jacket.
The helpful boyfriend of Ariel carried their stuff in a wrapped box what looked like a gift, whilst his princess girlfriend walked freely with just holding a cup of coffee in her hands.
Seriously, the Breaking In actor is boyfriend goals.
See more: Why Did Game of Thrones Change The Night King Actor in Season 6?
The couple moved in together last year in May despite constantly receiving criticism for the huge age gap they share.
Modern Family actress Ariel Winter showcases some PDA with boyfriend Levi Meaden at the 2019 Golden Globe After Party

SOURCE: Daily Read List
As a matter of fact, the actress even replied to the critics saying:
"'I don't understand why someone would even comment on our situation at all. There are tons of people of all ages that live with their boyfriend."
Likewise, as per The Daily Mail, her boyfriend reportedly responded in an interview saying 'he is 'trying to navigate' his newfound fame between the high-profile role and being Ariel's beau.'
This recent public appearance of the couple comes after the last time they attended the Golden Globes After Party together in Beverly Hills.
-->