Is Ashley Benson Dating Cara Delevingne? Get All The Exclusive Details!
Published Fri May 31 2019 By Andrew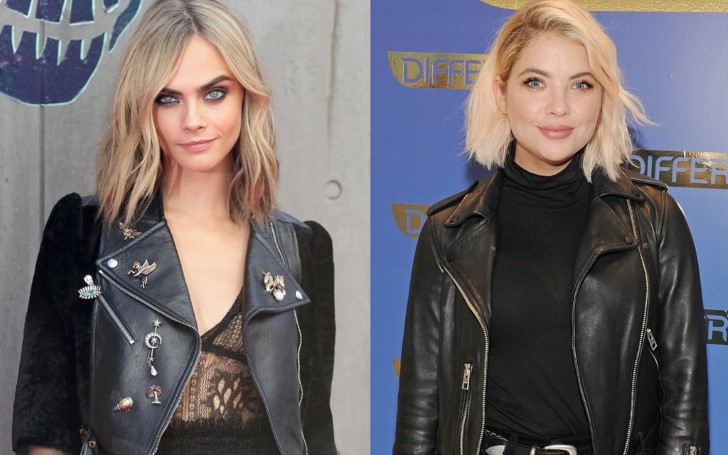 It has been more than ten months since model Cara Delevingne, 26, and Pretty 'Little Liars' actress Ashley Benson, 28, first came through with a PDA while leaving a concert together. Although the incident didn't carry much significance at the time, we now are clear that this was actually the start of the pair's relationship.
But the duo over the past ten months embarked on the impossible as they completely refused to confirm what's going on between them. The pair denied dating rumors despite being caught making out and cuddling while also grabbing each other's butts. We now wonder, do we really still have to consider them rumored lovers?
Here is the extensive timeline of their relationship.
May 1, 2018
Apparently, this is the date where the romance began to take hold of the two. The Tuesday night saw paparazzi capturing Delevingne and Benson as they exited Lauryn Hill concert held at the Apollo Theater in New York City.
Cara Delevingne And Girlfriend Ashley Benson.
SOURCE: Extra.ie
Given the fact that Paris Jackson, Delevingne's rumored girlfriend at the time wasn't present during the concert further emphasized growing closeness between Ashley and Cara (Delevingne and Jackson displayed their first PDA back in 2017 MTV Movie and TV Awards, and in March 2018, they made out while on a double date with Macaulay Culkin and Brenda Song.)
May 3, 2018
Benson took to her Instagram story to share a cryptic selfie of herself and Delevingne. The photo was captured by a number of her followers.
You may also like: Check Out These Gucci Collection Which Promotes Abortion Rights Amid Wave of Abortion Restrictions in U.S.
May 18, 2018
Cameras got the hold of Delevingne and Benson holding hands while making their way out of Lucky Strike in Soho, New York City. The images that broke its way to the public swiftly made its way to the public garnering countless tweets from fans who "ship" the relationship "so hard."
May 20, 2018
Just weeks in on their sighting while leaving them in Lauryn Hill concert, fans romantic going on between Benson and Delevingne, found out pretty quick that neither of them confirms the relationship. At a Saturday Night Live taping, quite a few audience members took notice of the two "making out" in the audience.
May 27, 2018
Delevingne hugs Benson from behind in showcasing a great romantic gesture while she pays a parking meter in West Hollywood. At the same time, Australian teen magazine Girlfriend came through with the news that "officially dating and WHAT." There's still is no comment directly from Benson or Delevingne, though.
August 12, 2018
Delevigne's 26th birthday bash in Hollywood was marked by a star-stubbed party where Zoë Kravitz, Kate Beckinsale, and Margot Robbie showed up. The actress' Instagram post featuring the moments of the party in which she maintained that she's "still giggling with MERmazing memories."
August 14, 2018
This date marked a phenomenal date for the couple's coming out to the public for their "passionate kiss" at Heathrow airport. Although Devine's hair looked quite awful the picture in itself is quite a cute one.
Don't miss: Arnold Schwarzenegger stands Up for a 102-Year-Old Woman Who's being Evicted by her Landlord
September 28, 2018
Benson makes her way to Paris to be in attendance of the Balmain runway show, which Delevingne happen to be walking in. After the show, the pair were seen leaving the gig together.
January 4, 2019
Benson publicly grabs Delevingne's butt, talk about a relationship milestone.
February 14, 2019
On Valentine's Day, Delevingne's photo while helping to load the luggage to what the Daily Mail refers to her, "her girlfriend".
March 5, 2019
As the Chanel show of Karl Lagerfeld ended in Paris, stylist Jamie Mizrahi took to his Instagram to post flicks of Delevingne and Benson having a "post show cuddle puddle" in the backseat of a car. The emoji chosen by Mizrahi including one of two women kissing just tells it more about the story.
-->