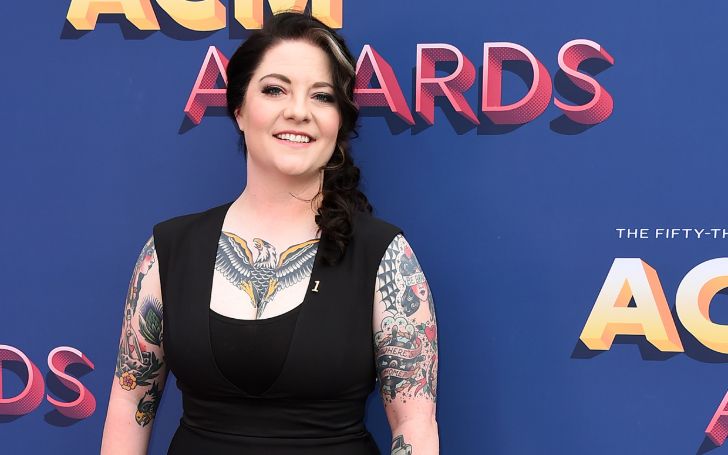 Those who are into country music, for them the name Ashley McBryde isn't new at all. But for those who have no idea who is Ashley, then let us remove the curtain for you guys. She is an American country music singer/songwriter who achieved great heights in the music biz from her talent. McBryde made a debut by releasing her self-titled album independently in January 2006.
Further, Ashley also released her second album 'Elsebound' without the help of any record label in June 2011. Her works were marvelous; as a result, it got tons of attention, and she even earned several nominations and awards in her long-run career. McBryde became one of the Grammy nominees for Best Country Album during the 61st Annual Grammy Awards. She won the title of New Artist of the Year in the 53rd Annual Country Music Association Awards, which held on November 13, 2019.
Now the phenomenon of getting tats for a celebrity is not an odd thing in our society. Most of the artist get inked in their body for various reasons. Some wanted to preserve specific memories through their tattoos, while others just wanted to explore themselves and want to have some fun by painting their body with different arts. Ashley also got herself tat in multiple functions and her she does it to celebrate specific occasion where she achieves something great in her life. McBryde love to look after her past events; as a result, she frequently gets inked to secure particular memories so that she could reminisce those accomplishments in the near future.
The Country Singer Ashley McBryde Tatted Eagle Portrayal For Her Red Carpet Walk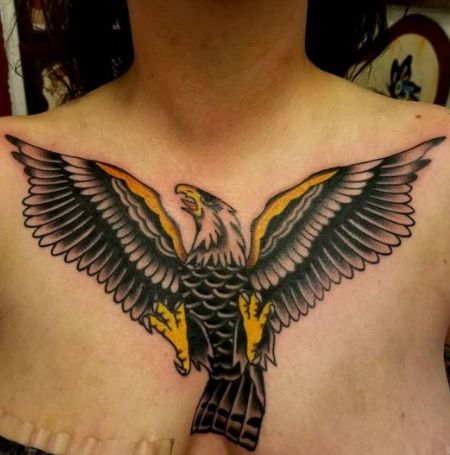 The Eagle tattoo in the chest of Ashley McBryde is her favorite tat.
Photo Source: Instagram account of Nancy Miller
As we disclosed to you guys, the country singer Ashley McBryde loves to preserve certain memories in her mind through her new tats. She got an eagle portrayal inked in her chest to remind her red carpet walk. The 36 years old artist McBryde when she got the opportunity to walk down in the red carpet, she got excited. Her hard works were paid up, and she started to run with the big guys in the game. Therefore, to gather the guts for taking her steps in the red carpet, Ashley went to her tattoo artist Nancy Miller.
Ashley McBryde Tells About Her Tattoos
According to The Boot, McBryde called her tattoo artist, Miller, for her suggestion. She told Nancy about her huge accomplishment and wanted her to suggest something in order to give strength to show on that event plus a symbol that will assist McBryde to keep the memory fresh for every single day of her life.
Recommended: John Finlay Tattoos and Their Meaning
Subsequently, Nancy suggested an Eagle tattoo for Ashley. Because an Eagle represents the powers and messages of spirit and is the connection to divine with his high altitude flight compare to other birds, it was perfect timing for McBryde to get an Eagle tat. The beautiful voice artist Ashley loved her suggestion and got inked, and since then, she wears an Eagle tattoo in her chest to reflect her success.
McBryde Get Inspiration For New Tattoos From Sailor Lore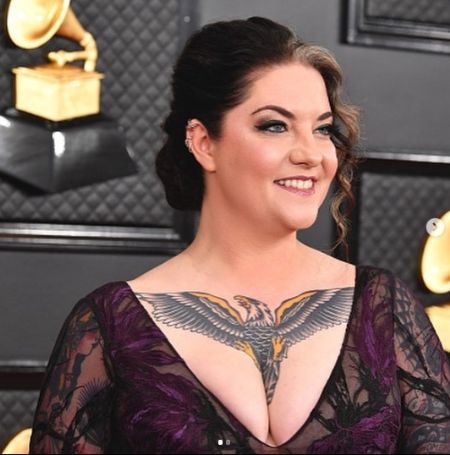 The Grammy nominee Ashley love her chest tattoo.
Photo Source: Instagram of Ashley McBryde
Like we told you, people, Ashley McBryde get new tattoos in her body when she accomplishes something great in her life. She got those inspirations from sailor lore. When a sailor crosses or reaches a particular mileage, that deserved a tattoo because of which Ashley always prints a new portrayal that represents her success.
Nancy Miller is The One Ashley Calls For Inking Her Body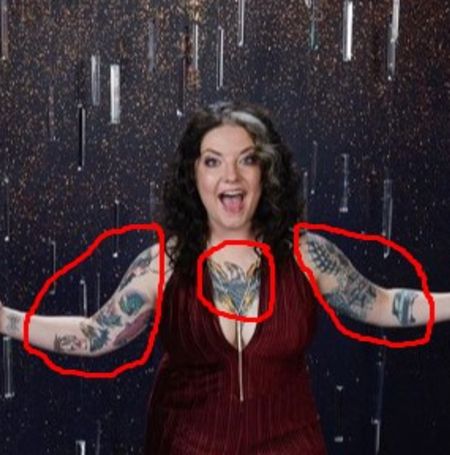 Nancy Miller is the tattoo artist to ink her several tattoos.
Photo Source: Instagram of Ashley Mcbryde
If you guys are in this line, then you guys already know who Nancy Miller is? She is a tattoo artist who became a great friend of Ashley McBryde. She is the one person to whom the country star Ashley trust for inking new tattoos. McBryde favorite tat until today, the Eagle chest piece was one of Miller art. Further, Nancy was the person who suggested her for the Eagle tat.
Ashley Hates One of Her Body Tattoo Which She Tatted When She Was a Teenager
Yeah, fellas, the famous singer Ashley McBryde isn't proud of every single tattoo she acquired in her body. It is normal for some people to hate some of the art which they tatted in their body, as a result, most of them try to remove the artwork from their skin. While some succeed in detaching their tat but for others, it will always be there, reminding their mistake.
Also see: Hyun Bin Girlfriend - Is the South Korean Actor Dating Someone?
When McBryde was 18 years old, she wanted to do crazy things in the way of asserting her independence of being an adult. She then went to a tattoo house and asked the tat artist to ink her body. In one of her interviews in Ty, Kelly, & Chuck show the American songwriter, Ashley admitted that she hates one of her body tattoo, which is a picture of a fat baby devil in a bikini, and it's a tramp stamp. Though the tattoo artist asked her a couple of times to make sure if Ashley really wanted that tat, but she was in sober and persuade the artist to get inked, as per Pop culture.
Feel free to visit Glamour Fame for more updates.
Ashley McBryde Chest Tattoo, Ashley McBryde eagle Tattoo, Ashley McBryde regret, Ashley McBryde tattoo for mom
-->