Aussie Fitness Model Tammy Hembrow Slammed For Racy Bikini Video
Published Tue May 28 2019 By Alice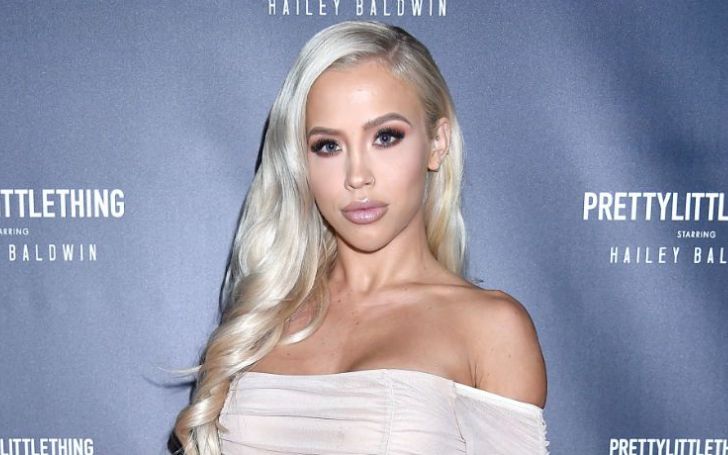 Model Tammy Hembrow opened up about having "cellulite" but most of the fans are not convinced about it.
Aussie fitness expert Tammy Hembrow has always been comfortable showing her body in public and sharing her pictures posing in a number of sexy outfits, including bikinis, lingerie, and even going nude, especially on Instagram.
The 25 years old was recently criticized by trolls for posting sexy lingerie-clad selfies to her Instagram, despite being a mother to two young children.
Also Read: Farrah Abraham's Latest Racy Pics Have Fans Calling Her "Trans"
But without caring about online taunts, Hembrow shared her most outrageous Instagram video on Monday, flaunting her famous derrière in a tiny purple bikini.
The 25-year-old fitness model shared a short clip with her 9.4 million followers where she paraded a sexy dance while hanging and soaking up the sun in poolside.
Tammy decked out in a tight, hot-pink thong bikini that flaunted her most famous assets and hardly covered her busty chest. She styled her long, blonde hair back into a low braid and donned a touch of eye makeup and pink lipgloss.
Sharing the racy post with her followers, the Youtuber captioned it as: "Poolside bod check w my @womensbest bcaas before I hit the gym! Nuthinnnnn wrong with a lil cellulite ladies ! Most of us have it 💁🏼‍♀️ #womensbest".
Despite the positive message, many of her fans slammed the post because they can't see any cellulite on her booty.
Recommended: Kailyn Lowry Slams Body-Shamer For Obsessively Spreading Hatred!
One user wrote: "Cellulite??? Don't see any here".
Whilst another said: "Typical, humble it with cellulite even if we know that's not what ur trying to show".
A third person rather questioned: "What cellulite".
Aussie fitness expert Tammy Hembrow opened up about having "cellulite".
SOURCE: Daily Mail
While lots of fans also posted a Unicode emoji illustrating their confusion over Tammy's words not matching her image, some even praised the popular blogger for "keeping it real" with her followers and also saw the funny side, saying they hoped their cellulite looked like Tammy's.
You Might Like: Demi Lovato Fires Back at Article Body-Shaming Her
"Thanks for keeping it real girl," one fan wrote.
"Yessss! We all have it and should all embrace it, you look amazing," another agreed.
"Wish my cellulite looked like hers ay ladies can I get an amen," one person even teased.
Tammy is known around the world for her jaw-dropping booty transformation.
SOURCE: Instagram
Tammy has been an Internet sensation for the past five years due to her dramatic body transformation and 'clean eating' lifestyle.
Speaking to New Idea in 2017, the high profile influencer revealed she workouts three to five days a week and prefers a combination of HIIT, weights, and cardio.
The social media sensation also emphasized the importance of eating protein-rich food and complex carbohydrates to maintain her flawless physique.
-->