Kailyn Lowry Slams Body-Shamer For Obsessively Spreading Hatred!
Published Wed May 15 2019 By Jessica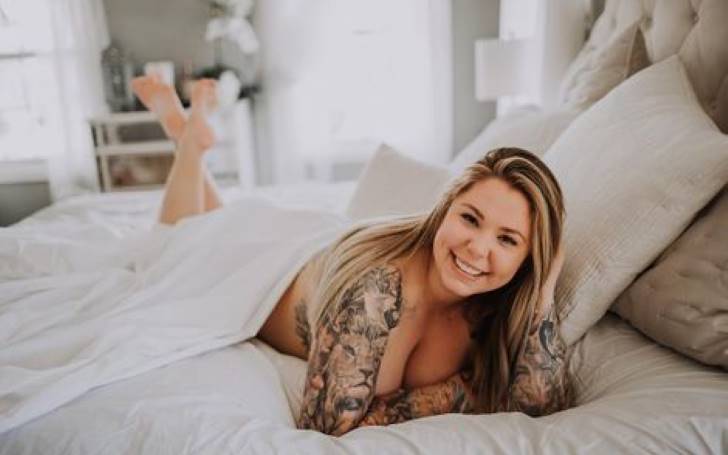 Teen Mom 2 star Kailyn Lowry calls out her body shamers for spreading hatred on social media.
Kailyn Lowry is never hesitant to speak her mind whether it's for calling out MTV for the reunion party or the bullies that troll her body weight.
The Teen Mom 2 star flew to Costa Rica to enjoy the tropical vacation with her co-star BFF Leah Messer and obviously, the two mothers took to social media where they flaunted their holiday trips with tons of pool and beach images.
Recommended: New Bachelorette Hannah Brown's Ex-Boyfriends Revealed!
Both Lowry and Messer look amazing in the pictures liked by thousands of her fans who showered the comment section with tons of lovely messages.
Teen Mom Star Kailyn Lowry poses by poolside in Costa Roca.
SOURCE: Kailyn Lowry
Unfortunately, since there exist bad people among the good, it didn't take long for those arseholery of people to throw their negative and unasked opinion to make Kailyn feel about her body figure.
Whilst many of these displeasing haters mocked her body size some called her attention seeking for wearing bathing suits to a beach. (seriously??)
Not just on Instagram, apparently, these bullies are following Kailyn on Twitter as well.
When this 27 years old reality star tweeted: "Having kids means older two eating half a (loaf) of bread and Nutella while you're bathing the littlest. & realizing you have no bread for school lunches"
Also see: Has Jinger Duggar Finally Made Peace With Her Parents?!
An anonymous person under the name Tonya Tressler replied to her post, writing: "Looks like you eat a couple loafs a day!! Go on a damn diet! Having kids is NO EXCUSE to look like that! I've had 2, and in my 30's. I'm 5'6" and only weigh 135. That's seriously gross to see you in a 2 piece bathing suit"
As for the mother of three, she had an impressive answer for the hater rather than going off on the fake account.
In her words, Lowry replied: "If my body bothers you that much … you also have some things to work on"
Poor hater, she had no idea of what was ahead of her as she should have thought of the consequences before offering her unsolicited thoughts.
Since Kaily's loyal followers count to more than one million, her fans slammed the hater and comforted the star with encouraging words.
One of the fans said: "Try being 135lb of kindness not rudeness jeezy peeps! Kail you look good girl!"
Whilst another one added: "You must feel really big behind your computer screen. Lol"
A third person commented: "Hahaha that was unnecessary. What a waste of time. Maybe today, try being less mean. Women should bring each other up not drag each other down."
"Kailyn, ignore the trolls, you are beautiful, I wish I had your body. They are just envious of what you have accomplished." another replied.
Don't miss: Fans Outraged By Jenelle Evans' Pet Pics Following Dog Murder
Kailyn is a mother to three children; Isaac Elliot Rivera, 9, Lincoln Marshall Marroquin, 5, and Lux Russell Lowry, 1.
-->