The Bachelorette's Hannah Brown Reveals Her Ideal Husband
Published Mon Mar 18 2019 By Jessica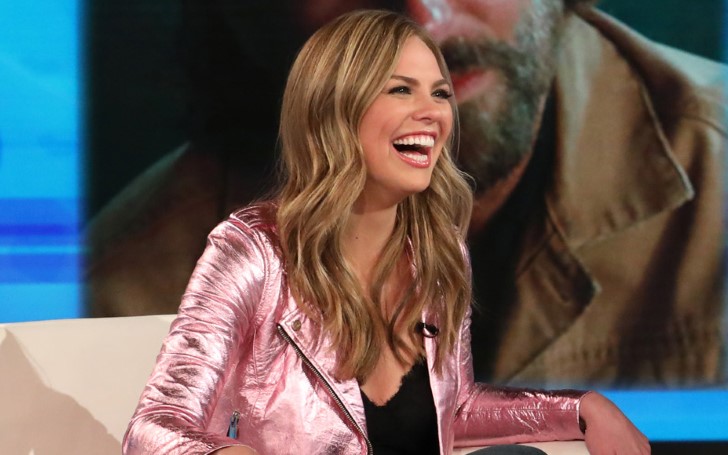 The Bachelorette's new lead Hannah Brown reveals the qualities her future husband should possess.
Just last week, The Bachelorette's host Chris Harrison announced Hannah Brown as the new bachelorette for the current season, and in only in less than five days, the new suitors and the bachelor nation can now get to know about the qualities Brown searches for in her future potential husband.
Last night at The Ellen DeGeneres Show, Miss Brown was the special guest marking her debut appearance at one of America's most loved reality host shows.
Hannah Brown on The Ellen DeGeneres Show.
SOURCE: ET Canada
Stunned attractively in faded black jeans, black plunging top, and a pink shiny jacket with her blonde shoulder-length hair curled in loose waves, the star looked all glowy to be received by the host on the show.
You may also like: Meghan Markle and Prince Harry Split From William and Kate After Fight; The Queen and Prince Charles Support The Split
As the 24 years old reality star is all prepared to take the lead role on the new season of The Bachelorette, she makes a revelation to Ellen, 61, that she is certain of what she wants in her future husband.
Apparently, Brown is super hyped to bring out her "beast" mode alter ego on the show that lies ahead of her as she further spilled out all the criteria she looks for in the new suitors.
See more: Pet Semetary (2019): Jason Clarke Believes This is The Scariest Adaptation Yet From Stephen King; Directors Changed One Key Element From The Novel
Hannah cheerily responds to Ellen after she popped the question. In her words, the happy go lucky girl says:
"I can't wait to release the beast."
The beauty pageant queen continues:
"Gotta be good looking. Just a good human… a good heart, kind, strong, but ultimately I want at the end of this for them to know me and and know every part of me and not just some version that I packaged together."
The entire interview will be telecasted tomorrow, 18th March on NBC at 4 PM Eastern.
As Hannah can't wait to find out her soulmate, we reminisce the After the Final Rose special episode which aired on 12th March where the young Alabama native met her first five suitors. It was Cam among those five different guys Hannah decided to pin the rose in after he successfully stole her heart with an impressive rap performance. So, is he the one?
Brown ended her romance with the former Bachelorette lead, Colton Underwood after he dumped her on the seventh week of the last season. Colton then picked Cassie Randolph over the two remaining ladies at the final episode.
Don't miss: Urban Decay Soon To Release a Game of Thrones Themed Makeup Collection
Anyway, good luck to Hannah Brown on finding her potent future husband.
-->