Ellen DeGeneres Gives a Hilariously Perfect Reaction to Jennifer Lopez's Engagement
Published Tue Mar 12 2019 By Jessica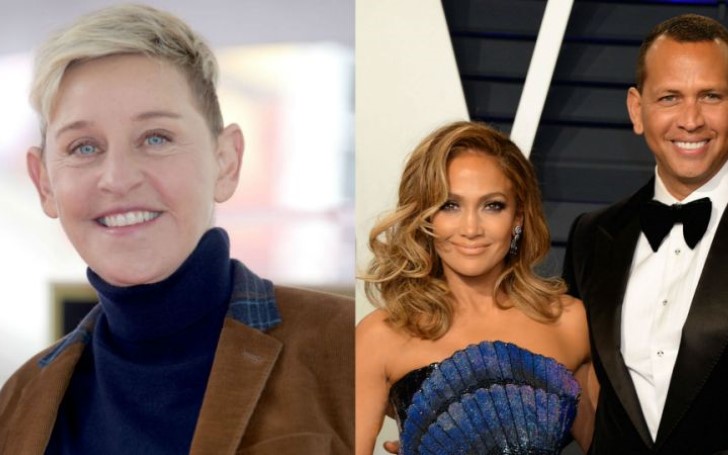 Comedian star Ellen DeGeneres reacts to Jennifer Lopez's engagement news with a funny comment.
American actress and singer Jennifer Lopez took to Instagram and made an announcement on Saturday to share the happy news that she got engaged to her boyfriend of two years, Alex Rodriguez, who also counts as her fifth fiance.
Jennifer's now fiance, Alex popped the question when the couple flew to the Bahamas to spend a romantic holiday all by just the two of them.
The 49 years old singer shared an image on the photo-sharing app where she flaunts her 15-carat enormous diamond ring estimated to be worth more than $2 million.
Jennifer Lopez on Ellen DeGeneres show
SOURCE: ET Canada
Whilst the 'The Boy Next door' star has been only engaged for just two days, it appears that Lopez already found a maid of honor for her big day and she happens to be none other than famous TV host Ellen DeGeneres.
You may also like: Kendall Jenner Has a New Pet! KUWTK Star Shares a Video on Instagram Showing a Snake Slithering in Her Hair
As we mentioned earlier Jennifer previously shared an image on her Instagram that shows off her engagement ring. However, the mother of two didn't tag Alex on that precious picture, but instead, she tagged only one person aka Ellen.
Surely, the host had to respond to the post with a funny comment. The 61 years old commented on the picture saying:
"Yes. I'll be your Maid of Honour."
DeGeneres who has been supporting Lopez's relationship with the former baseball star since the beginning told Lopez in her last appearance on her show that Alex texted her to tell off her (Ellen) that they will be getting married soon.
Lopez then replied with "He did not say that."
Almost a month later, the TV host now opened up on the recent episode explaining when she previously gifted Jennifer a giant clock as a reminder to Alex that the time was ticking for the next big step in their relationship.
Don't miss: Transgender Model Anjali Lama Looks Stunning in her First Calvin Klein Campaign
Ellen then said:
"I guess that's why she tagged me. I'm pretty sure that's the reason."
The comedian clearly looked happy for the newly engaged couple, she somehow also admitted the couple is now making it harder for her on the matter regarding whether Jennifer would keep her hyphen the same or take a new one related with his 43 years old partner.
Ellen joked:
"I don't know if it's J-Rod, A.Lo, Lo-Rod, J.Lo-Rod ... I don't know."
The TV star also didn't forget to mention the already public's attention-catching diamond ring. Displaying a big picture of the image the lovebirds shared on social media, DeGeneres said:
"Apparently, that ring cost $5 million. I mean, it looks like it. It's gigantic. She's gonna have to be really, really careful when she's washing dishes with that."
Considering the weight on the ring, Ellen further jokingly said that Alex 'has to hold her hand up.'
See more: Late US Olympian Kelly Catlin's Family Speaks Out; 'She Was 'Tortured Mentally'
Well, although it's not certain whether J.LO would actually choose Ellen for her wedding day, there's no doubt she would make an amazing maid of honor.
Meanwhile, it seems like Jennifer and Alex might be tackling some serious issues in their relationship as Jose Canseco recently accused Mr. Rodriguez of cheating on his fiance, publicly further calling him 'a piece of s***.'
-->