Jose Canseco Accuses Alex Rodriguez of Cheating on New Fiancee Jennifer Lopez
Published Tue Mar 12 2019 By Jessica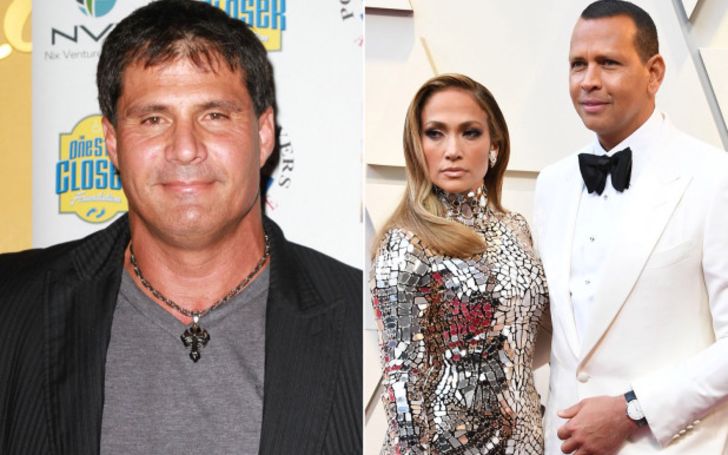 Former New York Yankees star Jose Canseco publicly accuses Jennifer Lopez's new fiance Alex Rodriguez of cheating on her.
Is Jennifer Lopez's relationship with her fifth fiance aka Alex Rodriguez on the verge of being destroyed? Could Jose Canseco be trusted over his allegations? Or is he just seeking for attention?
Lopez and Rodriguez got engaged last Saturday on a romantic vacation, and only in less than two days of sharing their engagement news to the world, a storm has risen into their relationship as Canseco just publicly accused A-Rod of being an unfaithful partner to his fiancee.
The 55 years old former New York Yankees star recently took to his Twitter account to blatantly accuse the newly engaged, who is also a fellow former Yankees player, of cheating on Jennifer, further calling him a 'piece of s***.'
Jose Canseco accuses Alex Rodriguez of cheating on Jennifer Lopez.
SOURCE: Vibe Magazine
In his series of tweets, Canseco clearly claimed Alex had an affair with his former wife whom he divorced in 1999, Jessica Canseco. His tweet read:
"Watching World of Dance watching J.Lo text Alex Rodriguez little does she know that he is cheating on her with my ex-wife Jessica poor girl she has no idea who he really is"

"Alex Rodriguez stop being a piece of shit stop cheating on Jennifer Lopez"
The athlete further continued mentioning that 'he was there' when Rodriguez made a phone call on her ex-wife's phone. His tweet didn't stop there. As a matter of fact, Jose even dared Alex for a physical challenge to a boxing match.
You May Also Like: Late US Olympian Kelly Catlin's Family Speaks Out; 'She Was 'Tortured Mentally'
His tweet continued reading:
"Alex Rodriguez I challenge you to a boxing match or an MMA match anytime you want"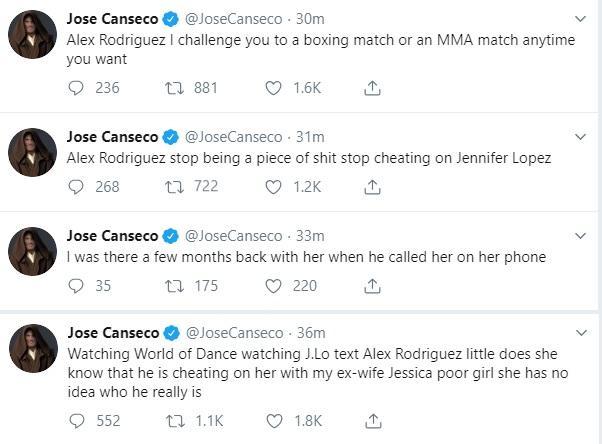 Jose Canseco accuses Alex Rodriguez of cheating on Jennifer Lopez on Twitter.

Regarding Jose, this is not the first time he made a public controversial declaration. The controversial star previously admitted he used steroids during the 17 years of his career in the book "Juiced: Wild Times, Rampant 'Roids, Smash Hits & How Baseball Got Big", which released in 2005.
On the other side of the story, the 'On The Floor' hitmaker said 'Yes' to Alex's romantic proposal on their vacation to the Bahamas following their second year anniversary last month. Jen shared a long and heartfelt message as a tribute to her partner.
The lovebirds shared the happy news on their Instagram account with an adorable picture that showcased Jennifer's multi-million dollars ring, which experts claim the ring is worth at least $3.5m.
See More: Sophie Turner and Joe Jonas Share a Public Kiss at a Knicks Game
Meanwhile, both Rodriguez and his fiance Lopez is yet to publicly speak on the cheating allegations made by Jose.
-->