Who is Bart Millard's Wife? Learn About His Married Life Here
Who is Bart Millard's wife? Learn everything there's to know about his married life here!
Bart Millard's early years are just the story of another normal boy with an ordinary upbringing to casual spectators. But his formative years, in reality, were filled with despair caused by his own father. Bart's early years were marked by abandonment and physical abuse, which took a massive toll on him while growing up.
Regardless of the circumstances he grew up in, later, he succeeded in his own craft and became known as the celebrated singer-songwriter and leader of the contemporary Christian band "Mercy Me."
But Millard's story as penned by him in his memoir reflects little on his juvenile ordeal and more on the miraculous revelation that followed after. Continue reading to know more about Bart's married life with his childhood confidant.
Bart Millard Leads a Blissful Married Life
The Grammy-nominated singer is currently married to his childhood sweetheart and confidant Shannon Millard. The couple shares five children together namely Sam, Gracie, Charlie, Sophie, and Miles.
The Millard family shares the sweetest bond with each other as seen from the outside. The parents of five said it took a lot of effort and sacrifices on their part to nurture the happy and healthy relationship that they have today.
Bart Millard and Shannon are married for more than 20 years and share five kids together.
Photo Source: People
Bart and Shanon's story goes way back to 1988 when they first met in a church as young teenagers. In a recent interview about his marriage, Bart says, their marriage posed more challenges as it coincided with Bart's Mercy me's journey.
Check Out: Who is Nicki Minaj's Boyfriend? Find Out About Her Relationship Status
The couple shares the keys to a happy marriage and family. They talk about keeping balance in life and making planned efforts to spend more time with each other.
On setting good examples for the kids, Bart quotes: "We're affectionate with each other in front of our kids, I know they're watching, and I know that plays a part in how they'll treat the person they'll be with."
Bart Millard's Wife Has Been a Driving Force Behind His Success
The Millard couple married for more than two decades now first took the world's notice with Bart's memoir later turned to the global hit 2018 film "I can only imagine."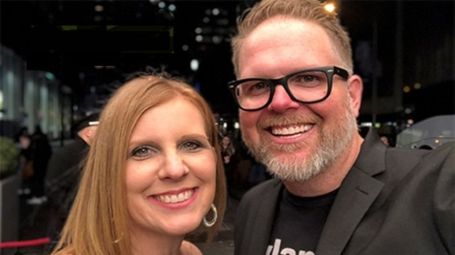 Bart's wife Shannon has been the driving force behind his notable career throughout the years.
Photo Source: Just Richest
Shannon Millard has been called the driving force behind her husband's immaculate success. Known as a staunch Christian, there is close to no information about her in the public domain.
Recommended: Who is Bill Gates' Wife in 2021? Find About His Married Life Here
A housewife and a doting mother of five, Shannon says, her days are mostly spent managing the family of seven and putting constant effort to keep them happy and moving. She says, "There are seasons we do well and seasons we kinda fail, but we're always trying."
Bart Millard's Story Of Hurt And Healing
As portrayed in the film, Bart recalls his father Arthur to be a monster only he knew of. Abandoned by his mother at 3, Millard became the target of his father's rage and suffered physical abuse at his hands.
The 2018 hit film, "I Can Only Imagine," was based on Bart Millard's life.
Photo Source: Hollywood vs History
But the story that started from horrific events between the father and son soon turned into a tale of love and forgiveness. Bart says, his father, on the brink of life, going through terminal cancer soon started to change radically.
Also See: Is Aubrey Plaza's Married? Learn Her Relationship Status in 2021
Bart remembers his father becoming the godliest person during his last days on earth. The "Mercy Me" frontman quotes; "The kindness and love of God appeared and transformed Arthur from the inside out, god redeemed the irredeemable."
For more information and news on your favorite stars, stay connected to Glamourfame.
-->