Who is Becky Mantin Husband? Get to Know About Her Married Life
Published Wed Mar 17 2021 By Bran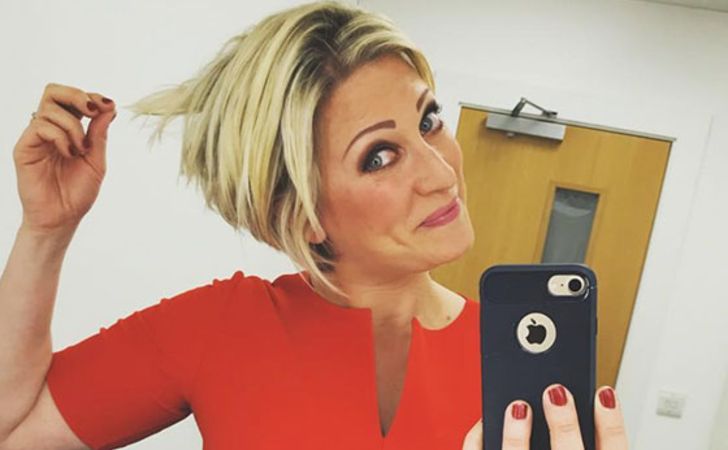 Everything you need to know about the married life of Becky Mantin with her beloved husband right here in this article.
Rebecca 'Becky Mantin, aka Becky Mantin, is one of Britain's most loved television personalities as the diva has been gracing the silver screens for over a decade. Her introduction would be incomplete without bringing up the exciting detail of how she is a weather presenter and forecaster for ITV Weather.
Born on 18 October 1980 in Norwich, Norfolk, Becky Mantin was ambitious enough to burn the midnight oil for years to achieve her television dream. In fact, the charismatic forecaster also happens to have an attractive resume being the weather presenter on 'Good Morning Britain' on ITV Breakfast.
Check Out: Jonathan Taylor Thomas Wife - Is the 90s Teen Heartthrob Married?
In recent times, a lot of people and media have put immense interest to know about the married life of the weather presenter, Becky Mantin. And that's where we fill you in with the details throughout this article.
Becky Mantin Blissfully Married To Yatchman Husband
Becky Mantin and Jack Heald tied the knot in 2009.
Photo Source: Biography Line
Becky Mantin likes to keep things straight and lowkey, especially when it comes to her love affairs. Despite such intentions, her soaring popularity across the English media didn't help her spend her private life under the radar. Things couldn't be kept hidden as Mantin got married to a former yachtsman named Jack Heald. The pair tied the knot way back on December 12, 2009, in an intimate wedding ceremony in Walberswick.
Also See: Pooh Shiesty Brother Died Of Cancer - All The Details.
Becky Mantin and her husband prefer to keep things among themselves under the shadow, maybe not to let fame come into the way of their peaceful relationship. That is probably one of the reasons why they two never opened up on how they started dating or fell in love.
Becky Mantin is a mother of four adorable children.
Photo Source: Wikipedia
Becky Mantin's relationship with her husband is quite interesting, considering the fact that her spouse is a former yachtsman. Jack Heald actually switched his entire profession to become a rugby coach instead. After exchanging their vows in 2009, the celebrity pair welcomed four children named Rory, Thomas, Elizabeth, and Charlotte in 2010, 2012, 2015, and 2019 respectively.
Becky Mantin Back To Work After Pregnancy
Becky Mantin continues to become an inspiration to everyone out there, not just with her amazing career as a forecaster but also as an empowered woman who returned back to work as a working mother. The mother of four received wide did face hardship at first as she needed to commit completely to her work while thinking of her precious children at home.
Becky Mantin's husband, Jack Heald is a rugby coach.
Photo Source: Dailymail
In an interview, Mantin even opened up on how she was quite occupied even during the short breaks she received, such as filling in forms for school, and doctor appointments, etc.
Earlier in 2007, Becky Mantin did suffer from a physical setback after sustaining a concussion and memory loss after a surging accident. The diva did make a comeback to presenting a year later in 2008.
Related: All About Keyshawn Johnson's Wife In 2021.
For more news and updates about your favorite stars, please stay connected with us at Glamour Fame.
-->