Bella Throne and Mod Sun's relationship hits the rock bottom after a year and a half since dating.
The Midnight Sun star Bella Thorne announced the end of her relationship with rapper Mod Sun in an Instagram post on Monday.
The 21-year-old posted a throwback picture of herself with her now ex-boyfriend with a caption alongside a broken heart emoji which read, "I will always love you. All good things must come to an end."
Their split came after the two fought in front of other guests at the VIP section following a performance of The 1975 on Friday night at the Coachella weekend.
The duo began dating a year and a half ago and seemed almost inseparable. Their news came as a shock to all the fans to which one of the fans commented, "Please tell me you're joking :( all of my favorite couples celebrity and non-celebrity keep breaking up :(".
Read more: Dani Dyer and Jack Fincham Have Split Up After Four Months of Relationship
Their relationship, however, was unconventional as Throne and Mod Sun was in a polyamorous relationship with Youtuber Tana Mongeau.
Earlier in October, Throne confirmed to The New York Post, being in relationship with two or many people at the same time is really intriguing and beautiful.
"It's definitely really intriguing and quite beautiful that you can open yourself up to have this kind of fluid relationship between three or four or five or however many people."
This, however, didn't last long as Thorne revealed on Twitter about the end of her relationship with Tana in February 2019, where she wrote: "Tana and I aren't together anymore, pls stop asking. We love U guys."

Similarly, Mongeau, also shared the news writing, "I love her forever don't get that twisted. she changed my life forever. don't rly wanna talk on it."
Don't miss: Meghan Markle and Prince Harry Split From William and Kate After Fight; The Queen and Prince Charles Support The Split
Mongeau further reassured fans their relationship ended on good terms and they didn't share a bit of bad blood.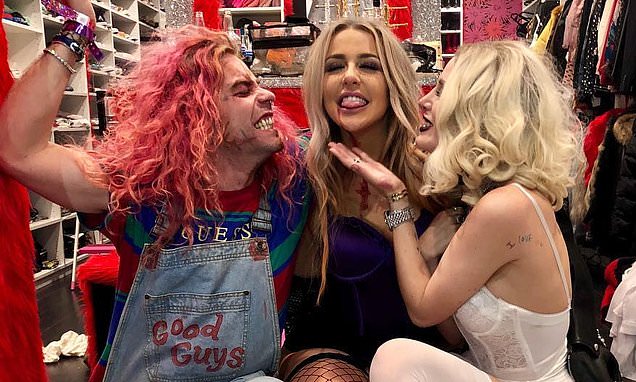 Bella Throne with Tana Mongeau and Mod Sun.
SOURCE: Daily Mail
Earlier before Thorne's and Tana's relationship ended, the actress also raved about her open relationship with Mongeau and Sun to the Gay Times.
"I don't think anybody will really understand the bonds that I share with Mod or Tana. Yeah, we joke around about poly, but we aren't in the sense that we don't put a word, a box or label too many things. It is what it is."
Bella's split from her musician boyfriend Mod comes nearly two months after she broke up with YouTube star Tana Mongeau.
-->