Who is Bobby Finke's Mother? Learn All About His Parents & Family!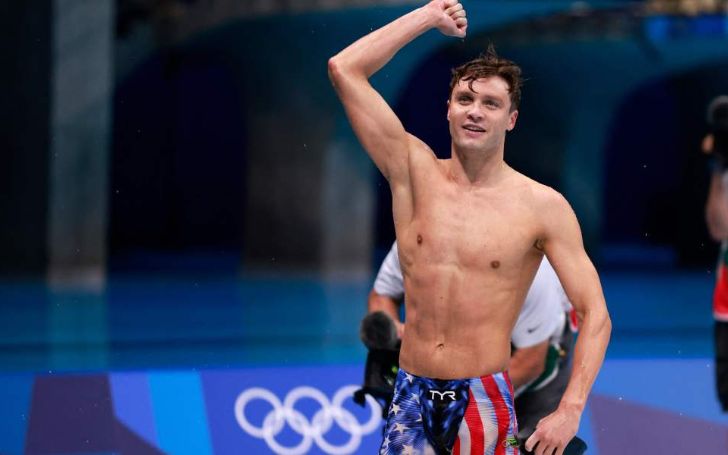 Bobby Finke's Mother and His Early Life: Learn All the Details Here!
Robert Finke, aka Bobby Finke, did us all proud as he won gold in the 1500-meter freestyle at Tokyo. Finke was an unexpected star as he won the men's 800-meter freestyle and another 1500 free on Sunday. The first time Olympian took home two gold medals; he quotes, "I didn't know I had these swims in me."
On November 6, 1999, Finke was born in Tampa, Florida. He started his career early as 14. Bobby broke the Florida Age Group State Championship at that age. Curiosities sparks around the swimmers' life as he emerged as the unexpected winner. His parents, who are also an intrinsic part of the sports, said that they couldn't be more proud of their son. But how much do we know about his loving parents? Let's find out.
Who is Bobby Finke's Mother?
Bobby Finke's mother, Jeanne Finke, used to swim for Ball state. His father, Joe Finke, too, was a professional swimmer during his days. The senior Finke is now a swim coach with Saint Petersburg Aquatics. Finke said that he is excited to meet his parents after his big win. "I'm going to hug my family, of course," said Bobby.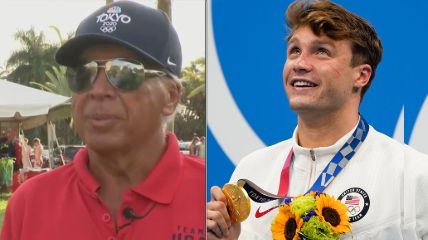 Finke's father is a swim coach with Saint Petersburg Aquatics.
Photo Source: WJHL
Finke's mother hasn't shared her astonishment yet, but his father is proud and thrilled. Joe said he was expecting his son to come fourth place. "My wife, his mom, and his two older sisters were screaming and jumping up and down. It's still a dream," the coach told ABC News sports reporter Kyle Burger.
Don't Miss: Who are Noah Centineo's Parents? Learn About His Family Life Here
Bobby's agility and knack for swimming are innate gifts from his parents. The same flair is also passed onto his older sisters, Autumn Skye and Ariel Summer, also professional swimmers. Speechless of his son's unexpected victory, Joe Finke said, "Somebody wake me up, because it's not supposed to happen."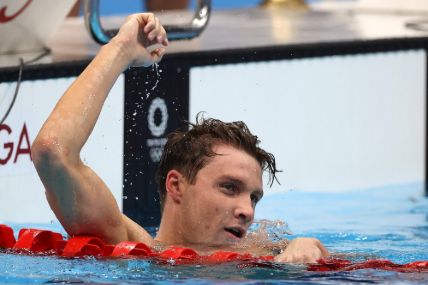 Bobby's dad says, 'it still feels like a dream.'
Photo Source: People
Finke's family also consists of his one younger brother and two dogs, a German shepherd and a golden retriever mix. "I like to say he's my dog but he's really like the family dog," he said during a press conference. An insider revealed, the Olympian's family showed a range of emotions when Bobby won the match.
Bobby Finke Reflects on Emotional First!
Bobby Finke finished the 800-meter style with a personal best time of 7:41:87. He went past Italy's Gregorio Paltrinieri and Ukraine's Mykhailo Romanchuk. A student at the University of Florida, Bobby, during his press conference, said just being able to represent his country was an honor.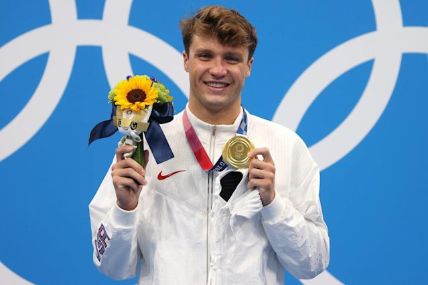 "I came in not expecting the medal," said the 21-year-old first-time Olympian.
Photo Source: Yahoo
The Clearwater native's family wasn't the only one who was jumping with joy. Finke's coach, Anthony Nesty, had the same reaction. A video of the coach jumping, screaming with excitement has now gone viral. Tokyo Olympics was doubly special for Finke coach, as Kieran Smith won the bronze medal.
Check Out: Who are the Parents of Julia Butters? Learn About Her Family Life Here
The 21-year old's winning time in 1500 meters was 9.05 seconds. Reflecting on the life-altering moment," he said. "I came in not expecting the medal. To come out with two golds means the world to my family and me and my teammates."
For more information and news on your favorite stars, stay connected to Glamour Fame.
-->