Lewis Burton Speaks Out on His Girlfriend's Suicide, "My Heart is Broken"
Published Sun Feb 16 2020 By Sea
Tributes are pouring in for Caroline Flack, but none will be more important than from her loved ones. And boyfriend Lewis Burton is left heartbroken.
In a shocking turn of events, 'Love Island' presenter Caroline Flack was found dead in her London flat on Saturday. A lawyer for her family confirmed she'd taken her own life.
In a touching tribute to the 40-year-old, boyfriend Lewis Burton promised her departed soul that he would "ask all the questions you wanted and I will get all the answers." The tennis player started the Instagram post with "My heart is broken we had something special."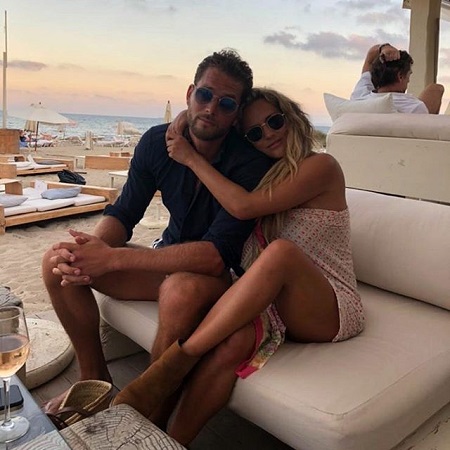 It's obvious the loved ones would be the most heartbroken ones.
Source: Lewis Burton, Instagram
"I am so lost for words I am in so much pain I miss you so much I know you felt safe with me you always said I don't think about anything else when I am with you and I was not allowed to be there this time I kept asking and asking," he continued.
Promising to be her voice, he also vowed to make her proud everyday. He also posted an Instagram Story of Flack's post that said, "In a world where you can be anything, be kind," and himself wrote, "I will love you forever," over it.
Burton continues to reminisce Flack.
Source: Lewis Burton, Instagram Stories
The two were not allowed to be in contact due to a court order that said she was to stand trial in March for allegedly assaulting him in December. Hence Burton's sadness over not being able to be with her during her final moments, which honestly would've changed the situation right now.
Her management company said she was "under huge pressure" after her denial of doing anything being thrown out the window. While Flack stepped out of her role in 'Love Island', the show said they would be ready to take her back once the situation is sorted out. It just seems like a distant memory now.
Flack's management company also criticized prosecutors for pursuing her "show trial", especially after Burton himself was not supporting this. He shared several posts over the past few weeks on Instagram affirming they were working things out. He also said she had been a victim of a media "witch hunt" after the incident.
In the midst of her own backlashes, Jameela Jamil also was one of those to speak out in tribute to Flack. As she's herself suffered, 'The Good Place' actress referred to what Flack was facing as "f**king horrendous."
"I love you with all my heart 💔," was Burton's last words of the promise.
Stay connected to GlamourFame for updates.
-->