Who Is Bret Michaels and What Is His Net Worth?
Inside Bret Michaels' career and net worth: The complete breakdown here!
A singer, songwriter, and actor, Bret Michaels' celebrity sure stems from his long, multi-faceted career, but the red bandana-clad singer's legion of fans better love him as the frontman of the glam metal band Poison, formed in 1983 and comprising of Bret, C. C. DeVille, Bobby Dall, and Rikki Rockett. Michaels has also had a successful and still thriving solo career since 1983.
Bret Michael Sychak was born on March 15, 1963, in Butler, Pennsylvania. Diagnosed with type 1 diabetes as a child, Michaels's long journey and dreams through life were often obstructed by his constant chronic condition. The recent headline about the singer getting hospitalized just moments before hitting the stage with his band members exemplifies how Michael has navigated his career and constant health setbacks.
What is Bret Michaels's net worth?
Michaels' yearning for a career in music started at a young age. The Poison frontman was a teenager when he formed a band named Paris, which would later be changed into Poison. Under Michaels' leadership, the band became a hugely-successful boys group in the mid-80s to the 90s. According to Celebrity Net Worth, the Butler-born rockstar has an estimated net worth of $14 million, ample of which comes from his band's grand success.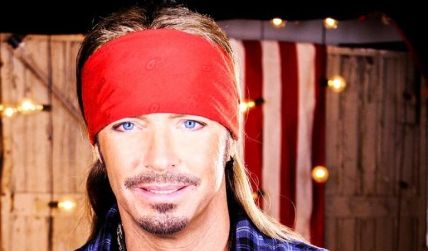 Bret is best-known as the frontman of the band Poison.
Photo Source: Instagram
Kicking off their first deal with Enigma Records, the band became a hit with their single Talk Dirty From Me, from their first album, Look What the Cat Dragged In. More success and recognition followed with Bret-penned songs Every Rose Has Its Thorn, Nothing But a Good Time, and ultimately two consecutive multi-platinum ranked albums, Open Up and Say… Ahh! and Flesh and Blood.
Check Out: Is Damian Hurley Rich? What is his Net Worth? All Details here
While the band's records were selling like hot cakes, Michaels and the other members were raking hefty cash from their tours worldwide. Amid the band's soaring success in the 90s, Bret was also experiencing tension with his fellow bandmate DeVille, who left the band after an altercation with the frontman and was replaced by Richie Kotzen. After hiring Kotzen, later replaced by Blues Saraceno, Poison released Native Tongue, Crack a Smile... and More!, Hollyweird, Power to the People, and the Behind the Grind album in 2021.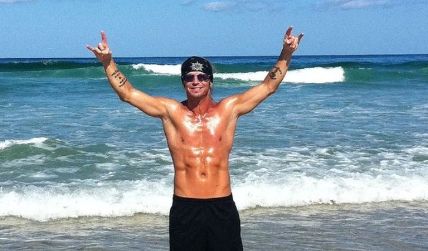 Michaels was diagnosed with type 1 diabetes as a child.
Photo Source: Instagram
Michaels's solo music feats include his hit album A Letter from Death Row, later followed by a movie with the same-titled, starring Michael and Martin Sheen. Bret's solo career produced a trove of blue rock and country-rock albums like Songs of Life, Rock My World, Custom Built, his highest-charting album, and Jammin' with Friends.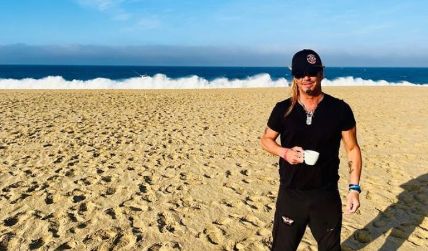 The Poison frontman won 'The Apprentice' in 2009.
Photo Source: Instagram
Aside from his laudable feats in the music industry, the Poison frontman has also amassed notable onscreen and television credits over the years. After starring in the 1998 thriller Letter from Death Row, the Talk Dirty to Me hitmaker and his old mate Sheen produced many films, including Free Money, No Code of Conduct, and In God's Hands. The Poison frontman's reality television credits include Nashville Star, his own shows, Rock of Love with Bret Michaels and Bret Michaels: Life as I Know It, and NBC's The Apprentice, which he won in 2009.
Bret Michael was hospitalized while touring!
Michael's long history of health struggles and halted concerts continues to this day. The rockstar was recently rushed to a hospital nearby after he experienced a scary reaction to his diabetes medication. Michael's sudden health scare led his other band members to call off the show in Nashville.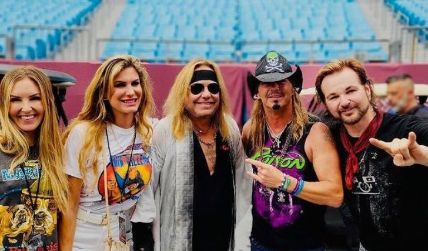 Bret was rushed to a hospital after the singer experienced a triggered reaction to his medication.
Photo Source: Instagram
Though fans of the metal band were disappointed with the cancelation, and some even took to Twitter to voice their sadness, the incident reminded Michael's fervent fans about the rocker's number of similar occurrences in the past and how he returned stronger and with a renewed fighting spirit. In 1998, Michael infamously collapsed on stage, a mishap that prompted the Poison frontman to reveal his chronic diabetes diagnosis to the world after the media covered the collapse as a result of a drug overdose.
Check Out: What Is Dakota Johnson's Net Worth? Everything to Know About the Actress's Career.
Michael's unforeseen health crisis continues to loom, and the band's fans wonder if the scheduled shows in Florida and Sunday in Mississippi this coming weekend are also fated to be canceled. The Every Rose Has Its Thorn singer apologized to his fans in his newly-released statement, where he also assures fans about his comeback.
Bret promises to be back very soon.
Source: Extra TV
"I was truly fired up to get on stage in the music city and perform, but due to an unknown complication & following hospitalization, it was not possible," Michael said in the statement he posted on Instagram. The Poison singer adds, "I send my deepest apologies for being unable to rock the stage tonight. I am working on being back 100% very soon."
Stay connected to glamour fame for more.
-->