CallMeCarson Girlfriend - Find Out If He is Dating Someone
Carson King (born May 10, 1999), better known CallMeCarson, is an American YouTuber who got his popularity for playing games such as Minecraft. Carson first started back in 2012 on his birthday. The YouTuber gained fame from his 'Invading Discord Servers,' and 'DevianArt is NOT Safe' videos.
CallMeCarson's main 'CallmeCarson' channel focuses on reviewing memes, games, and other videos with his friends. While his second channel 'CallMeCarsonLIVE' is for the games, he plays with his friends and broadcast them live.
Since 2012, he has been pretty consistent with his contents, but he was on a break from March 12, 2020. Taking to his Twitter account, he announced his indefinite break following his mental health condition. So, this brought light to his personal life. He is going through some issues regarding his love life, so let's find out if CallMeCarson has a girlfriend or not.
CallMeCarson Girlfriend - Is He Dating Someone?
Carson King AKA CallMeCarson is currently single, but that was not the case a few months earlier. The YouTuber was dating his ex-girlfriend, Kate, who is better known as 'Katerino.' The former couple parted their ways a few months earlier.
CallMeCarson is currently single, but he was dating his ex-girlfriend, Kate, aka Katerino.
Photo Source: Peeku YouTube
Kate, aka Katerino, is also a Youtuber just like Carson. It would not be wrong if we say she is just like Carson. She also got her popularity from playing games like Minecraft and streaming them on YouTube and other streaming platforms like Twitch.
Also See: Is Courteney Cox Married? Who is Her Husband?
Their relationship was going strong until they broke up. Some suspected their breakup was the reason for Carson's mental health issues, but King later clarified that his breakup has nothing to do with his mental health, while we assume it just added to his problems. So, what happened to them? Let's find out.
CallMeCarson's Ex-Girlfriend Cheated on Him
Well, this was hard to believe for us, fans, as well, while we can't imagine what Carson had just gone through when he found out. According to the reports, King's former girlfriend Kate, aka Katerino, cheated on him with his best friend, Fitz.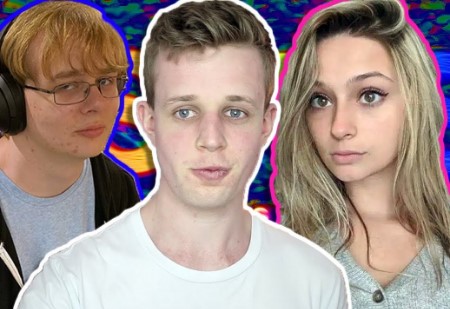 CallMeCarson's ex-girlfriend Katerino cheated on him with his best friend Fitz.
Photo Source: Peeku YouTube
Fitz, just like Carson and Kate, is also a YouTuber. In fact, Fitz is, or should we say 'was,' CallMeCarson's best friend. We are really not sure how he is coping with the things that happened recently when your former girlfriend and best friend betray you; it's something hard to take in.
While fans and followers of Carson assumed his mental health issues are related to his breakup, well, it makes sense, too, because you got cheated by your best friend a girlfriend at the same time. But just like we previously mentioned, he had mental health problems, according to CallMeCarson himself.
But one thing he did which he did regret for, and also apologized for it. When King found out his girlfriend cheated on him with Fitz, he made it public following which Fitz and Katerino faced a massive backlash from the community and fans. But Carson felt sorry for them and apologized for jeopardizing their career.
You May Also Like: Jimmy Fallon Net Worth - Find Out How Rich the Late Night Show Host is
For more information on your favorite celebrities' lifestyle, stay tuned to Glamour Fame, and don't forget to sign up for the newsletter.
-->